How to Change Address in RC Book online in Goa
RC Update Goa : RC book is very importance document for vehicle and vehicle's owner, RC book have all details about vehicle such a vehicle owner name, address, vehicle types, fuel type, engine number, chassis number, manufacture year and etc. If your residence address change and you want to change your address in vehicle RC Book Goa then your are right place in this post we provide all information about Address change in RC book online in Goa.
Read More : How to Download RC book certificate in Goa ?
RC Book Address Change online in Goa
If you are changed your house for any reasons and want to change the address in the vehicle registration book in Goa then need to change address iv vehicle RC book. Sometimes the document comes to your address for your vehicle . In this post we show you How to change address in RC Book online using Parivahan website ?. Goa state provide faceless services, faceless means no need to visit RTO office if your Aadhaar Card details such as Name, Date of Birth and Father's name/spouse name exactly matches the existing RC Book record in RTO database.
Fees of Address change in RC Book Goa
Vehicle Types
Fees
(a) Invalid Carriage
Rs. 25
(b) Motor cycle
Rs. 150
(c) Three wheeler/Quadricycle/Light Motor Vehicles:
i) Non transport;
Rs. 300
ii) Transport
Rs. 500
(d) Medium goods vehicle
Rs. 500
(e) Medium passenger motor vehicle
Rs. 500
(f) Heavy goods vehicle
Rs. 750
(g) Heavy passenger motor vehicle
Rs. 750
(h) Imported motor vehicle
Rs. 2500
(i) Imported motor cycle
Rs. 1250
(j) Any other vehicle not mentioned above
Rs. 1500
How to Address Change in RC Book online in Goa Faceless ?
Your resident address has been changed and you want to change address in your vehicle RC Book online in Goa then first to visit a Parivahan website : https://parivahan.gov.in/. open this website and select main menu to Online Service, will open drop down menu and select Vehicle Related Services option show in below image.

Now select Goa state from drop down menu. after select your state redirect vahan parivahan website.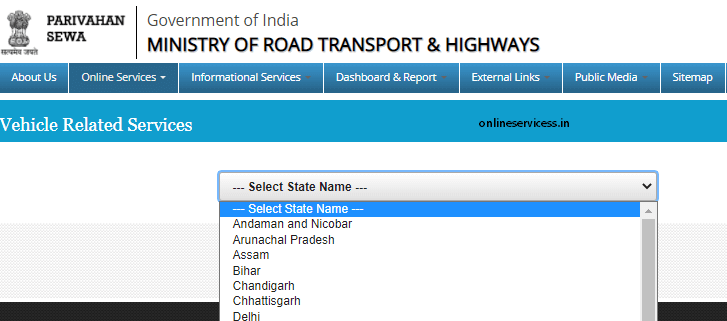 Now open Goa state rto website and left side have box to select Goa State and RTO then click on proceed button.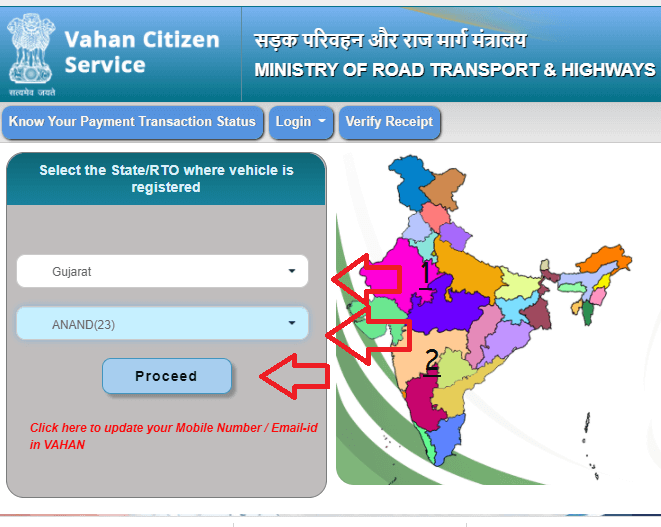 Select from menu to Service > RC Related Service > Apply for Address Change of RC.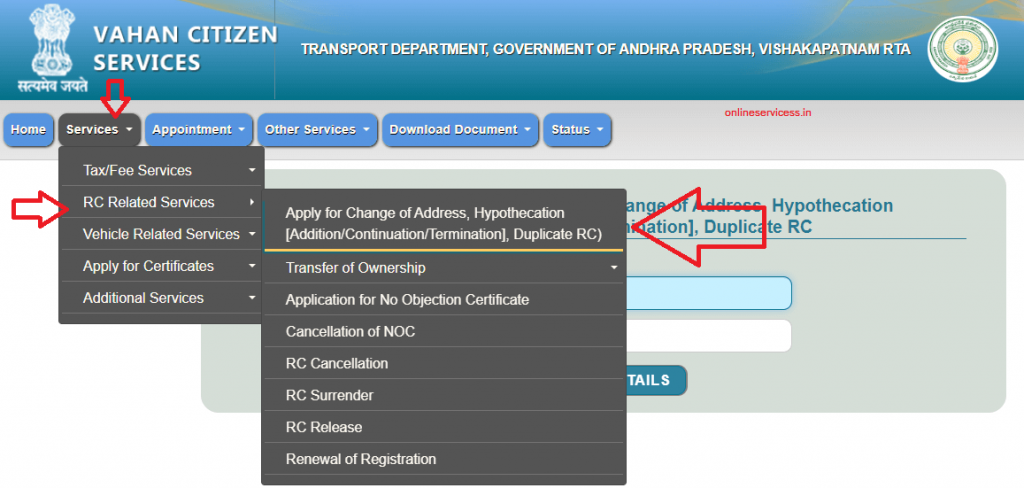 Enter your Vehicle Registration Number and chassis number and click on Verify Details Button.

Now you will get the complete details of your vehicle. Here you can see the complete information of your vehicle. Whose name is your vehicle, when was the vehicle registered and when is the insurance for your vehicle going to end? You can see all such information here. select to address change option.
Now show two option for authentication EKYC option, first is a Submit via Aadhar Authentication and second is a Submit without Aadhar Authentication. select first option submit via Aadhar Authentication, this is faceless services, you must authenticate with Aadhar base e-Kyc by using your Aadhar number.


Now enter your Aadhar number and generate opt and accept term and condition check box.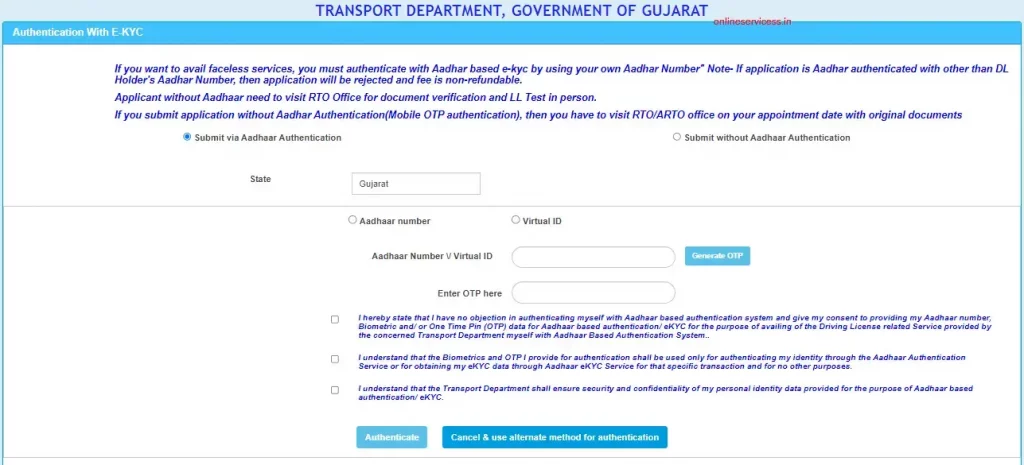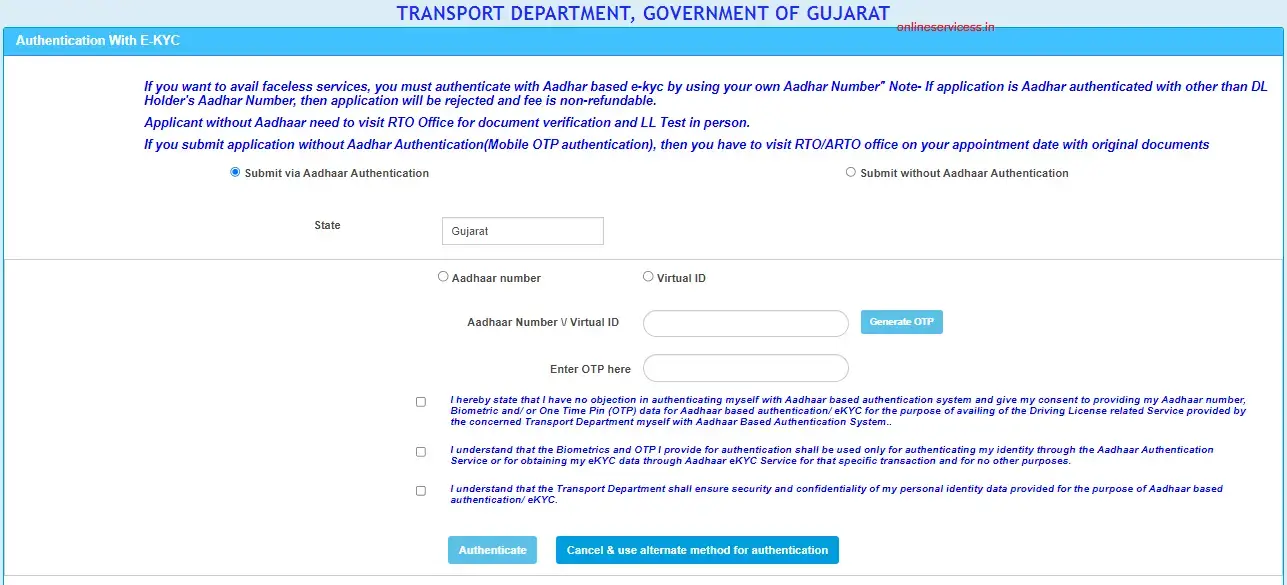 Click on authenticate button and your Address update in rc book, no need to visit RTO office if your are using Submit via Aadhar Authentication, If submit without Aadhar authentication application then need to visit RTO office.
Reference by : https://parivahan.gov.in/
Read More :