AP New Learners License | Andhra LLR Apply Online, Application Form
Driving licence Andhra Pradesh : The State Government has launched a dedicated portal to provide Online services Related to Driving License, Vehicle Registration etc. As you now, every person who wants driving license needs to Learner Licence. first obtain a Learner's License (LLR). After 30 Days, he/she can apply for Permanent Driving License. In this article, I am sharing the process using which you can Apply Online for New Learner's License in Andhra Pradesh.
AP New Learners License
The government of Andhra Pradesh has launched the online portal for the convenience of the citizens while applying for a license. The name of the Portal is epragathi.
Fees of driving licence in Andhra Pradesh
Sl.No.
Purpose
Revised Amount (Rs.)
1
Issue of learner's licence in Form 3 for each class of vehicle
150/-
2
Learner's licence test fee or repeat test fee, as the case may be
50/-
3
For test, or repeat test, as the case may be, of competence to drive (for each class of vehicle)
300/-
4
Issue of a driving licence
200/-
5
Issue of International Driving Permit
1000/-
6
Addition of another class of vehicle to driving licence
500/-
7
Endorsement or renewal of authorisation for vehicle carrying hazardous goods
100/-
8
Renewal of driving licence
200/-
9
Renewal of a driving licence for which application is made after the grace period.
300/-
Note: Addl. Fee at the rate of 1000/- for delay of each year or part thereof reckoned from the date of expiry of the grace period shall be levied.
10
Issue or renewal of licence to a school or establishment for imparting instructions in driving
10000/-
11
Issue of duplicate licence to a school or establishment for imparting instructions in driving.
5000/-
12
An appeal against the orders of licensing authority referred to in rule 29
500/-
13
Any application for change in address or any other particulars recorded in the driving licence e.g. address etc.
200/-
14
Issue of Driving Licence on surrender of Military/Forengn Driving Licence
200/-
15
Issue of Duplicate Driving Licence
100/-
How to apply AP Learners License Online Form ?
Apply Learner license online application in Andhra Pradesh then first of to Visit the Official Andhra Pradesh Transport Department website : aptransport.org . After open this website, select License menu to " Learner's Licence", show in below Image.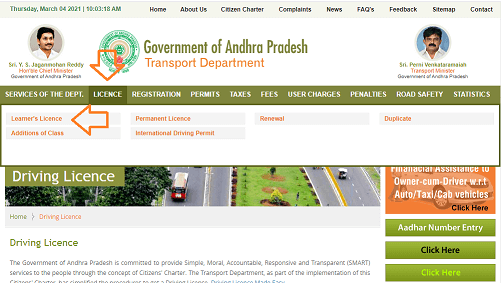 Now Open new web page and open page like below image.

Select menu option to " Licence " to click on " Learner's Licence (LLR).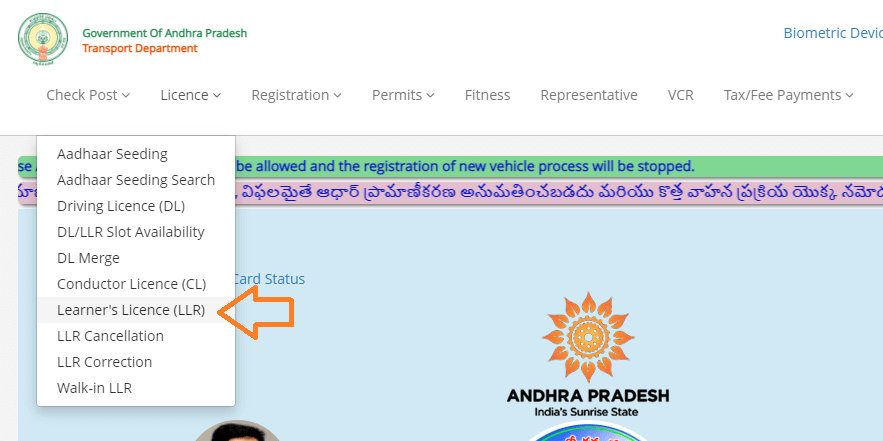 Now Read all carefully Learner's Licence Instructions after scroll down and click on " Click here to apply for apply Learner Licence".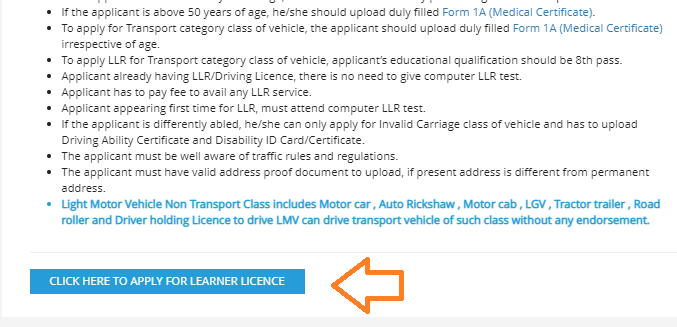 After Open new page, Select your services type :
LLR Fresh (if the applicant not having any DL/LLR)
LLR Renewal (if the applicant having expired LLR)
LLR Retest (if the applicant failed the LLR exam)
LLR Endorsement (if the applicant already having DL)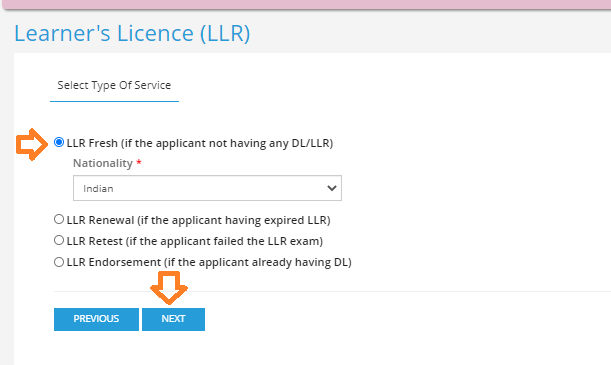 If the applicant want to apply for first time learner Licence then select LLR fresh and select nationality after you should click on NEXT Button.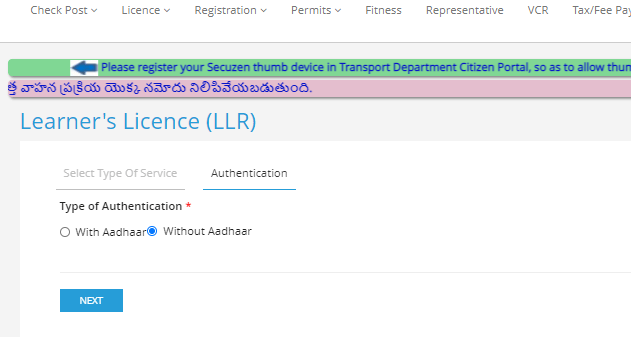 Now Select authentication type to choose any one option : with Aadhar card or Without Aadhar card. we choose without Aadhar Card and click on NEXT button. if you select with aadhar card then you enter your aadhar number and authenticate will requirement to further process.
Will open form page and you will fill all details correct and click on next button.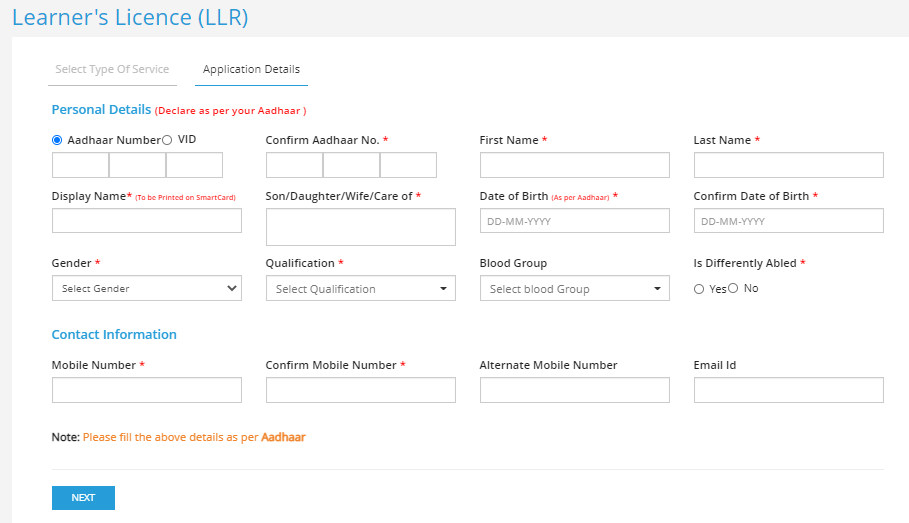 You will have to Provide All Details Like – Aadhaar Number, Qualification, Blood Group, Mobile Number etc. etc.
After Filling All the Required details, you will have to Pay Application Fee
After successful fee payment, you will see the confirmation and application Number
Take the Print out and Visit the Nearest RTO for Online Test
Once you Clear the RTO Exam, Your LLR will be processed and you can collect it within a day or two
I hope you have successfully applied for LLR in Andhra Pradesh using the Steps Given. You can share your feedback in the comments section.
More Information: https://aptransport.org/html/fees-licence.html