Which is the best government job in India and why?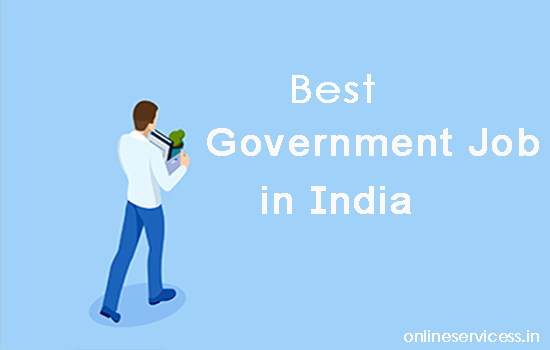 Best government job in India : I'll give you a brief idea about some of the top-rated government jobs in India. Job- security and work-life balance are the two aspects for which anyone would fall for these jobs:
1.Indian Foreign Service (IFS): Indian Foreign Service officers are selected through Civil Service exams conducted by UPSC. The perks of this job are:
Starting salary is between 60000–70000 per month.
They get wonderful accommodation in the world's best cities.
Free education in international schools for their children.
Free medical care.
Offical Luxury car.
2. Indian Administrative Service and Indian Police Service (IAS and IPS): IAS and IPS are the most sought government jobs in India. The perks of these jobs are unmatchable.
Entry-level pay Rs. 50,000 along with daily allowance.
Big bungalows when posted as DM
Specialized security.
Offical vehicle.
3. Defense Services: The aspirants are selected through different examinations like NDA, CDS, AFCAT, etc conducted by UPSC. Although pay and perks vary from service to service and location also plays an important role.
Entry-level salary at the rank of lieutenant is Rs 50,000–60,000.
Maintenace allowance.
Transport allowance.
Free education for children.
Pension after retirement.
4. Scientist/Engineers in DRDO(Defence Research and Development Organisation), ISRO(Indian Space Research Organisation): The engineering candidates can easily apply for the job if they have an interest in the developing and researching department. Working in any such organization will earn you an immense amount of respect.
Basic salary at entry-level- Rs 55,000–60,000+DA
House accommodation.
Transport allowance.
Free food.
5. RBI Grade B Officer: RBI is one of the accessible banks in India, and Grade B of RBI is the best post for every interested candidate. The candidate needs to appear for the RBI exams, and then they can surely achieve promotions in the future. One can be promoted up to the level of Deputy Governor. The perks of such jobs are:
The estimated CTC of RBI Grade B officer is 18 lakh per annum.
A 3-BHK flat in posh localities.
Children's education allowance.
Rs 1 lakh allowance for tours, once in two years.
6. Jobs in PSU (Public Service Undertaking): The engineering candidates can appear for the PSU exam, that is GATE. Mainly students that are not in the interest of corporate fields prefer going into the public sector undertaking jobs.
The estimated CTC of PSUs is 10–12 lakh per annum.
Company accommodation or HRA.
They get increments in the salary according to the shifting of a post from one place to another.
There are more such jobs like IFS(Indian Forest Services), SSC(Staff Selection Commission), Lecturers/Assistants in government colleges, ASO in Ministry of External Affairs.