CSC digital seva portal ID , CSC registration process , CSC new registration 2021
If you want to know the process of CSC new registration in 2021 and you want to get your own Digital Service Portal ID, then you are reading the perfect post. After reading this article till the end, I guarantee 100% that you will get complete information about CSC New registration process 2020 and you will also get your own Digital Service Portal ID. Having already been a common service center operator, I can tell you the completely correct and accurate method of CSC New Registration Process.
CSC new registration 2021
CSC is Digital seva portal which is run by CSC E-Governance India Private Limited. Through its official website csc.gov.in, a lot of online work is done all over India. CSC has become an institution through which unemployed youths of India are being provided the opportunity to do their own business along with employment.
Under CSC, you can do your own business by staying in your village and staying with your family, from which you can earn a good income. Let us know what can be done under CSC, and what is the CSC new registration process?
CSC SERVICES LIST
Right now we are telling you about CSC and its service, if you read this post till the end, then you will also know the CSC new registration process. Because we believe in the fact that whatever service you want to use, you should know a little bit about that organization and every service of it. Let's go ahead and know about CSC and CSC Services.
services provided by common service centres (CSC services ), By the way, a lot of facilities are provided by the Common Service Center, some of which are.
G2C(Government To Consumer)
B2C (Business To Consumer)
B2B (Business To Business )
more than 300 facilities are provided through the Common Service Center
LIST OF SERVICES PROVIDED BY COMMON SERVICE CENTRE
1. GOVERNMENT TO CONSUMER (G2C)
A lot of facilities are provided under this branch through the Common Service Center, some of which are prominent. Birth death certificate, property tax registration, bus pass, train ticket, passport, licences, permit, subsidy, etc
These types of services are offered through the Common Service Center under Government to Consumer.
Insurance Services
passport services
premium collection services like SBI, LIC ,ICICI small insurance companies
e district services (e nagrik Seva)
pension schemes (Like PMSMY, Pmvmay,NPS)
NIOS registration
NIELIT COURSES
Aadhar printing services
PAN card services (currently running with Utiitsl)
electrical services (recently MOU signed with NVSP)
election services
state electricity and water bill collection services
Digital village
Post office related services
2. BUSINESS TO CUSTOMER (B2C)
list of services provided by CSC in category of business to customer
online English spoken course
IRCTC ,Rail Ticket Booking, Bus Ticket Booking,Hotel Booking
E-Commerce sales
agriculture services
e learning courses
PMKVY courses
tele entrepreneur course
telelaw services
finance services
Digipay
loan services
banking services
3 . BUSINESS TO BUSINESS (B2B)
Some services are offered under this branch which are as follows.
Marketing Research, Rural BPO (Data collection digitalization of data ) ,Etc
4. EDUCATION SERVICES ALSO GIVEN BY COMMON SERVICE CENTRE .
CSC also provides a lot of education services under which self-development course along with English spoken course and Personality Development Course are also included. There are so many facilities that are provided through the digital seva portal after you get the Common Service Center.
Next we will know about CSC New Registration Process but before that we know what qualifications and documents you should have for taking CSC. Do not panic, the CSC new registration process will also be told to you.
eligibility and requirements for starting a common service centre
Eligibility to participate in CSC scheme
To join the CSC scheme and obtain the ID of Digital seva portal, you must have the following eligibility.
You can apply only under your own Gram Panchayat.
Minimum age is 18
Who are tenth pass.
Applicants should come to read and write the local language of their area.
Applicant should have general knowledge of computer and English language.
INFRASTRUCTURE REQUIRED FOR STARTING A COMMON SERVICE CENTRE
It is important for you to know about CSC new registration, but before that, you must know all these things that you should have at the time of CSC registration. If you do not fulfill all these conditions, then csc registration will also not be meaningful for you.
Because if you do not meet the demand for CSC, then your application will be rejected and you will not be able to get Digital Seva Portal ID even if you do not want to.
The house or room should be at least 100 to 150 square feet.
At least two computers with 5 hours of battery backup or you can also have a small generator.
The computer must have a licensed operating system such as Windows XP, Windows 7, and above.
Two printers (inkjet + Dot matrix)
hard disc of at least 120gb
Digital camera / webcam
Wired / Wireless / V-SAT Connectivity
For Bluetooth / IRIS SCHANNER banking service.
Biometric devices (for banking services, Digipay, Ayushman bharat, pmjay.cloud.in)
CD / DVD Drive
Note: – To meet these requirements, your expenditure will come from at least 1 lakh to 1.5 lakh rupees.
CSC NEW REGISTRATION PROCESS 2021
Your wait ends here but now let's talk about the important point of this article which is about the CSC new registration process. If you follow all the things mentioned above and the requirement, we have told that all of them are present with you, then you can go to CSC New Registration.
There is a small bad news for you that if you go to the official website of CSC New Registration, you get to see a message here, which is something like this, which we have shown below.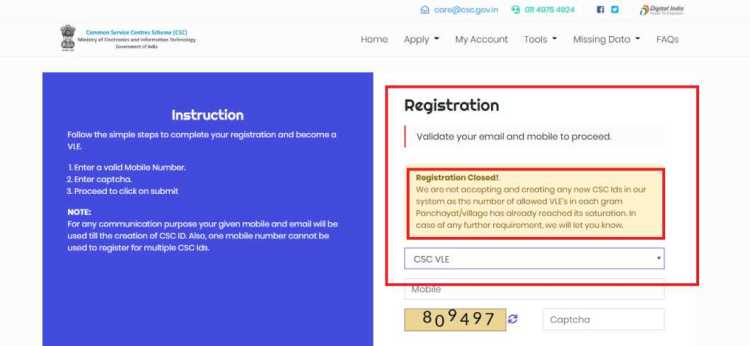 That is to say, this means that CSC is not yet accepting new registration.
The reason for this is stated by the CSC that all the panchayats that they needed for the Common Service Center Operator (CSC VLE), their requirement has been fulfilled in future, if CSC new registration comes in future, it will be informed.
Note: – CSC New registration keeps on and off from time to time, so do not you worry, now CSC registration is closed but after a few days or a few months it will be started again, so let us tell you the process of its registration.
First of all you have to go to the official website of CSC https://register.csc.gov.in/
Below you will see the link of NEW VLE REGISTRATION under APPLY and you have to click there.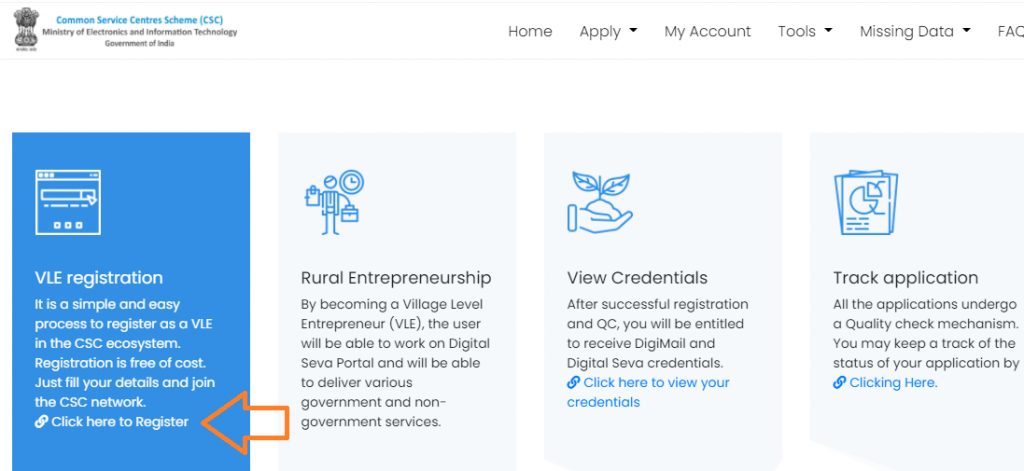 Now select application types and enter mobile number. you need TEC certificate number, this number obtain from this website http://www.cscentrepreneur.in/register.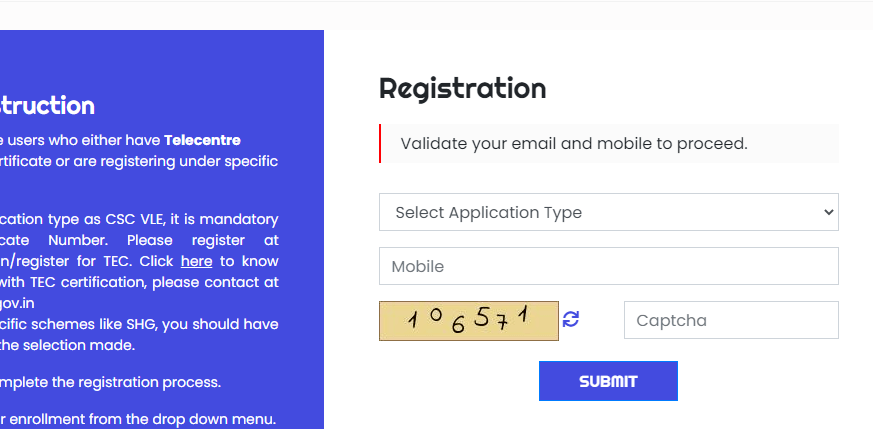 You will have to SUBMIT your Aadhaar card number, name, given captcha code, then OTP will come on the mobile number registered in your Aadhaar number, which you will have to SUBMIT there.
Now the main registration form will come in front of you, which you will have to fill or the form will be completely filled by going to step eight and your application for CSC will be completed.
In the form, you have PRESONAL DETAILS, RESIDENTAL DETAILS, KIOSK DETAILS, BANK DETAILS, DOCUMENT, INFRASTRUCTURE ,,
You will get to see columns like TERMS, REVIEW which you have to fill in turn and check.
Wherever you want to open your center, you also have to notice the latitudes and longitudes.
After all this, you have to review your form and then after submitting, your registration gets confirmed and your application goes under review.
How to check CSC registration status ?
When your CSC new registration is done, then you are given an Application Reference Number, due to which you can check your Csc registration status.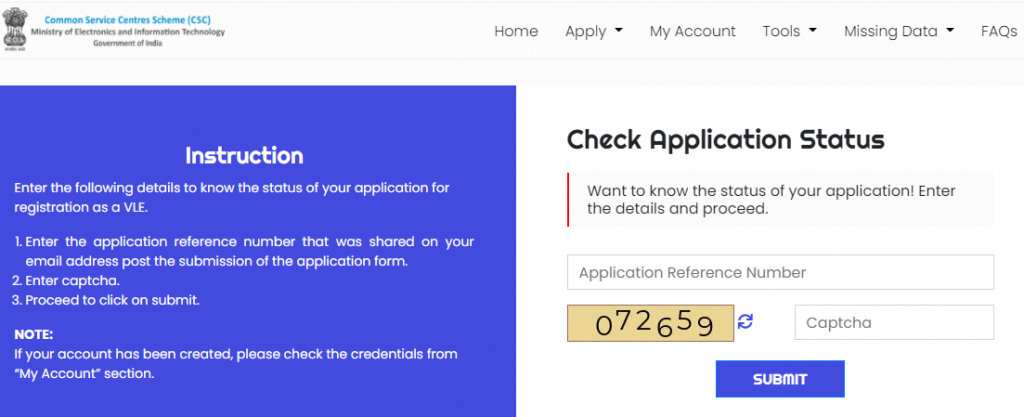 As soon as you go to the website, you have to click on the option of Status check under the Apply option.
Now here you will get to see the option of Check application status.
The application reference number that you received while entering CSC new registration will have to be entered and the captcha code given will have to be entered and submitted.
On submission, the CSC registration status will appear in front of you.
How to login CSC portal ?
After CSC registration, CSC login id and password are sent to your email by CSC. When you get this login id password, you will be able to login to CSC Digital Services Portal.
First go to digitalseva.csc.in website.
On visiting the website, you will see some such interface. At the top, you will see the login button in the right side.
Click Digital service portal login.
As soon as you click on log in, two boxes will open in front of you, in which you will have to enter your CSC id and password. As shown here.
After entering the user id password, you have to click on the sign in button.
As soon as you sign in, your CSC will be logged in and the Dashboard will open in front of you, which will look something like this.
Now here you will get to see the facility provided under CSC.
And you can use any facility you want to take advantage of through the CSC Digital Seva Portal.
Frequently Ask Question (FAQs)
How do CSC LOGIN?
First go to digitalseva.csc.in. Log in by clicking the log in button, because of the Csc user id and password you have received.
WHAT IS CSC WALLET ?
All services are used under CSC and whatever is paid over the use of these services.
This payment is made through CSC wallet under CSC and Wallet is a bag under which physical currency is kept.
WHAT IS THE BENEFIT OF CSC CENTRE ?
CSC is a single window service under which many services are offered.
For example, services in the field of education, services in the field of banking, service of the services are also provided under this, so many facilities and many benefits can be taken from it.
HOW DO I CONTACT CSC CUSTOMER CARE ?
Help Line :- 1800 121 3468
help desk email :- support@csc.gov.in /helpdesk@csc.gov.in
WHO CAN APPLY CSC ?
Any Indian citizen who is more than 18 years of age, who has passed tenth standard and fulfills the requirements of CSC, can apply under the csc scheme. Read more information above the article.
HOW CAN I APPLY FOR CSC REGISTRATION ONLINE ?
To do Csc registration online, first of all you have to go to the website of register.csc.gov.in and do the new VLE registration, the process of which we have told you above in detail.
WHAT ARE SERVICES PROVIDED BY CSC ?
More than 300 facilities like B2C, G2C, B2B etc. are provided through the Common Service Center which includes education facilities, banking facilities, finance facilities etc. above which we gave you the complete list at the beginning of the article.
HOW MUCH DOES CSC COST ?
The ID of CSC is given absolutely free but your expenditure on meeting its requirement and infrastructure will come to one to one and a half lakh rupees.
Read More
CSC district manager Find , CSC district manager contact number , CSC helpline number