Delhi Ration Card Apply online | New ration card in Delhi
Delhi ration Card Apply : Arvind Kejriwal launched the e-ration service, Delhi residence people can apply online. Essential goods at a government-subsidized rate which was distributed through the public distribution system (PDS). In Delhi, the ration card was issued by the Department of food supplies and consumer welfare department. ration card is important document for every Delhi citizen. ration card use every where.
If you want to create New Delhi Ration Card, or if you want to apply online new application for ration card, then you can easily step by following this article.
Delhi Ration Card Apply online
Delhi ration Card Types
Above Poverty Line (APL):- Families having total income above Rs 1,00,000/- p.a.
Below Poverty Line (BPL):- Families having total family income below Rs 24,200/- p.a.
Antyodya Anna Yojana (AAY):- Household with a disabled adult and no assured means of subsistence, landless labourers, marginal farmers, artisans, craft men, widows, terminally ill persons etc.
Annapurna Yojana (AY):- Under this scheme, a destitute person with more than 65 years of age having no source of income and not availing the benefit of national Old Age Pension or State Pension Scheme are entitled to 10 Kg of food grains free of cost every month.
Overview Of Delhi Ration Card
| | |
| --- | --- |
| Launched by | Government of Delhi |
| Name of Department | Department of Food,Supplies and Consumer Affairs,GNCT of Delhi. |
| Beneficiaries | Citizen of Delhi |
| Website | https://nfs.delhi.gov.in/ |
Eligibility Criteria
Annual income of less than Rs.1 lakh will be considered as eligible households for the inclusion in NFS.
Documents Required
The following are the documents to be attached along with the application form.
Aadhar Card
Voter card
Income certificate
Passport size photograph
Online Delhi Ration Card Application Process
Guide to Online Application Process, By following the steps given below apply online
visit to the official website of the Department of Food, Supplies and Consumer Affairs https://nfs.delhi.gov.in/Home.aspx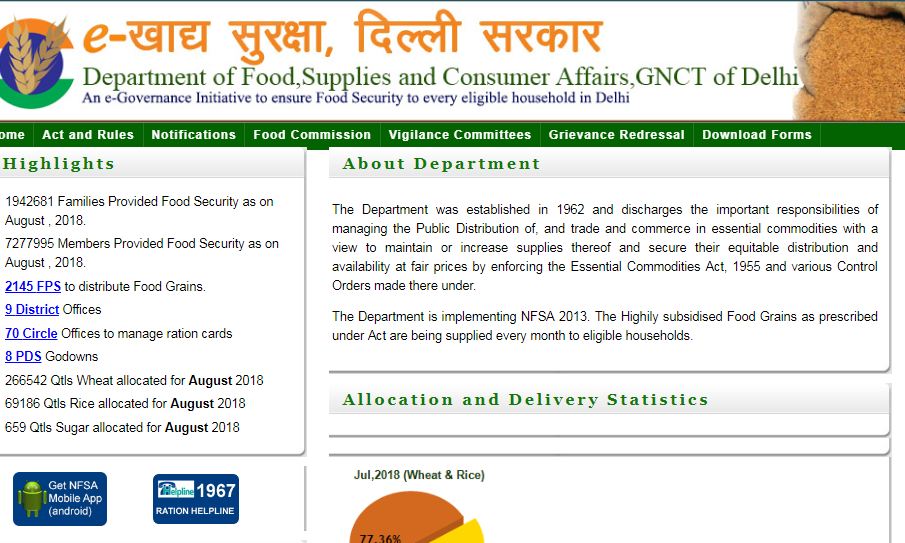 login to the portal to apply for the new ration card.
Now click on the Application form for getting food security under the National Food Security Act (NFSA), 2013.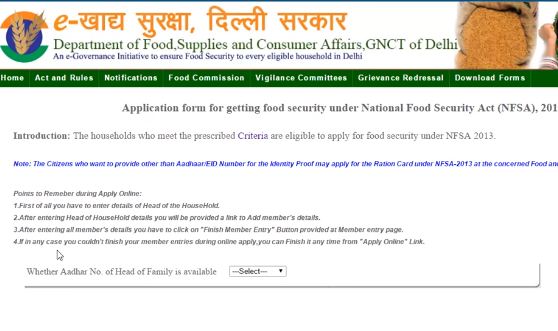 You will be moved to the Application form page
Fill all the mandatory details in the application form and upload all the documents and click on the "Apply Online" button.
frequently ask question ( FAQ )
What is the name of the website of Delhi Food Department to see the list?
website of Delhi Food Department is NFS Delhi
What information must be provided to see the name in the list?
You have to provide the Aadhaar number of any family member or information can also be obtained by pulsing the name, address and mobile number of the applicant.