Find Driving Licence or learner's licence Application Number online
Fine DL Application Number : Sarathi Parivahan websites, a Driving License Application number is generated randomly when you process for a Driving License and Learning License. learning licence application number is Importance When You Can Apply for Driving License. Using that Application Number Driving Licensees often requires application numbers to take number Driving License Appointments Or Learning License Number Find, Pay fees, Upload Documents,  Upload Photo And Sing, view driving license states.
All the questions that arise in the minds of everyone when the missing driving License Application number is lost or how to find the Driving Licence Application Number? So this post comes to us millions to answer these same questions. Find Driving Licence or learner's license Application Number : very easy to find, go to official website Ministry of Road Transport & Highways, Government of India site & select Online services > Driving licence related services >Apply online>Find Application number.
How to Find Driving Licence Application Number ?
First, you click on the link below: https://sarathi.parivahan.gov.in/sarathiservice12/stateSelection.do
Then you select your state like Gujarat, Rajasthan, Maharashtra, Uttar Pradesh, Punjab, Sikkim, Bihar, Chhattisgarh, Haryana, Himachal Pradesh
A new page will open after the Selected State. In your left-hand corner, the Driving License Option will appear.
Click the Apply Online will open many options below.
Clicking on the Find Application Number option will open up a new Windows window.
In the new windows that are open, select your state, then select your RTO office.
Then Type Name of the Applicant: First Name, Middle Name, and Last Name, Date of Birth and Captcha Code 
The last step is to Find the application number only when you have to enter your correct details, You Can Views Your Details Then Get Details Button When You Click OTP Send Your Register Mobile Number.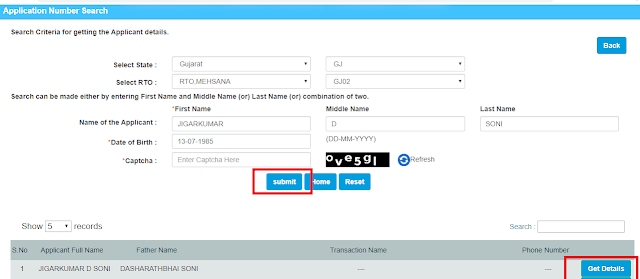 Read More