Learning Licence online application in Jharkhand | Learner Licence Jharkhand
Learning Licence Application Jharkhand : you want to drive a vehicle on road then you must have a driving licence in India. In All state, get Driving licence process online and easy to apply for driving licence, first thing in mind what is process of driving licence online in Jharkhand and how to apply driving licence online in Jharkhand, First apply for learner licence when you will apply to learner licence along with require document and preparing for computer exam. you must need to pass computer exam after you will got learner licence and learner licence validity is 6 month. after 1 month you got learnering licence, you should go to RTO and take driving skill test if you will pass driving skill test then you got driving licence. All these process are explained in this article.
What is Learner licence ?
Learner Licence is temporary driving licence, it means you applied for driving licence, you can drive with this licence but learer licence valide online 6 month and this is not permanently driving licence. after 1 month, you got learner driving licence and you can apply for permanently driving licence.
Learning Licence online Application in Jharkhand
Now we guide to step by step all process of get driving licence in India. All the processes will explain to you and how to apply online and how to pay the fee, what is required the document, all the details provide in this article.
First step is preparing for all require document to apply driving licence online,
Require Document for Learning licence Online Apply Jharkhand
Below is a list of documents required to apply for a Learner license :
Recent Passport Size Photograph of the applicant– 3 Copies
Residential Address Proof ( Aadhar card, Ration Card, Voter ID, Electricity bill)
Valid Age Proof Documents ( Passport, Aadhar card, Birth Certificate, School living certificate)
Minimum Age Group of 18 Years and above to drive vehicles with a gear
Minimum Age Group of 16 Years to drive vehicles without gear
Fees of driving licence application
| | | |
| --- | --- | --- |
| 1 | Learner's License for each class of vehicle (on paper) | Rs 200.00 |
| 2 | Permanent Driving License on Smart Card | Rs 200.00 |
| 3 | International Driving Permit (on paper) | Rs 500.00 |
| 4 | Renewal of Driving License on Smart Card | Rs 250.00 |
| 5 | Driving test for each class of vehicle | Rs 50.00 |
| 6 | Endorsement of new class of vehicle on Smart Card DL | Rs 200.00 |
| 7 | Renewal of DL on Smart Card after expiry of grace period | Rs 200.00 + penalty @ Rs 50 per year or part thereof |
Next, after ready with all required document you need to apply for Learner licence online application and fill online application and pay fees after you will need book computer test slot book.
Procedure of Learning Licence online Application in Jharkhand ?
Apply learning licence online in Jharkhand first you need to visit parivahan website https://parivahan.gov.in/parivahan/. Now open parivahan home page and select menu to driving licence related services and Select the your state https://sarathi.parivahan.gov.in/sarathiservice/stateSelection.do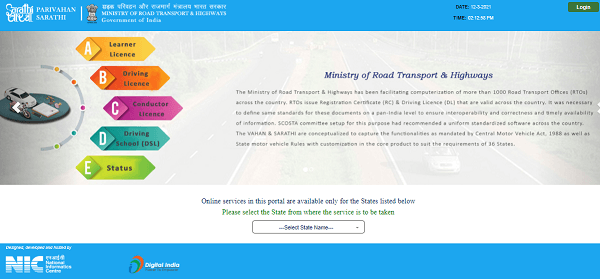 First of all, redirect to parivahan service website and select main menu to Learner Licence >> Application For New Learner Licence.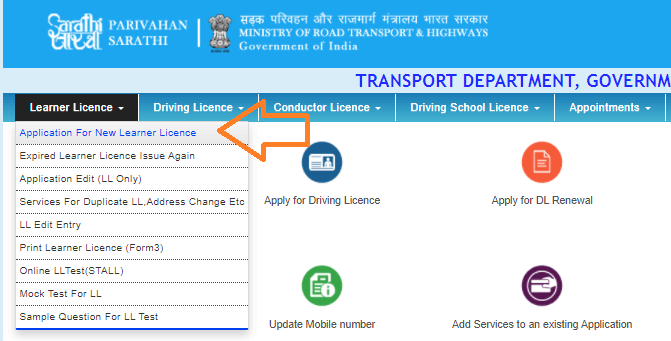 Now show instruction for Application Submission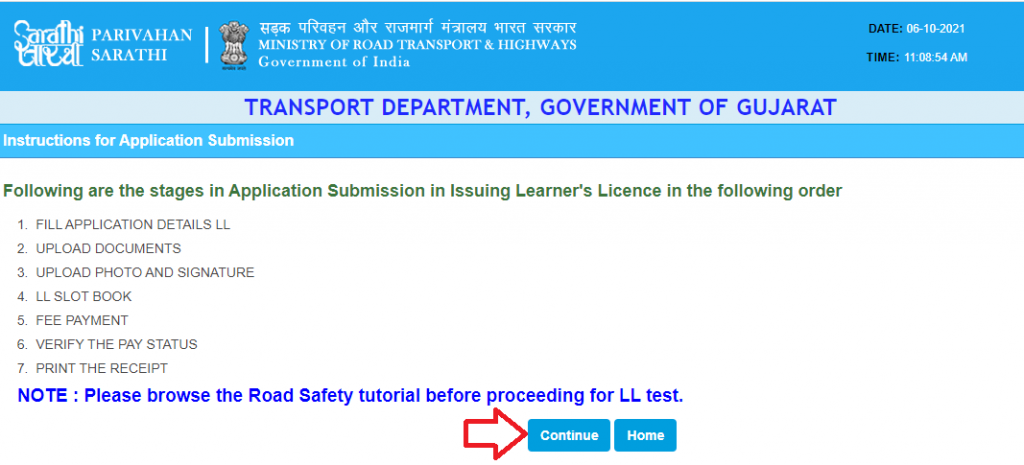 Following are the stages in Application Submission in Issuing Learner's Licence in the following order
FILL APPLICATION DETAILS LL
UPLOAD DOCUMENTS
UPLOAD PHOTO AND SIGNATURE
LL SLOT BOOK
FEE PAYMENT
VERIFY THE PAY STATUS
PRINT THE RECEIPT
Step 1 : Fill Application Details LL
After clicking on the Continue, you will have a New Page Open. first select category to general, select to Applicant does not hold any Driving/Learner licence issued in India, select to Please Select Rto Office to display camps/Sewa kendras.

Note : Fresh Learner Licence are issued through ITS'S/Camps only(Not issued at Rto Office). after select RTO, show all available camps.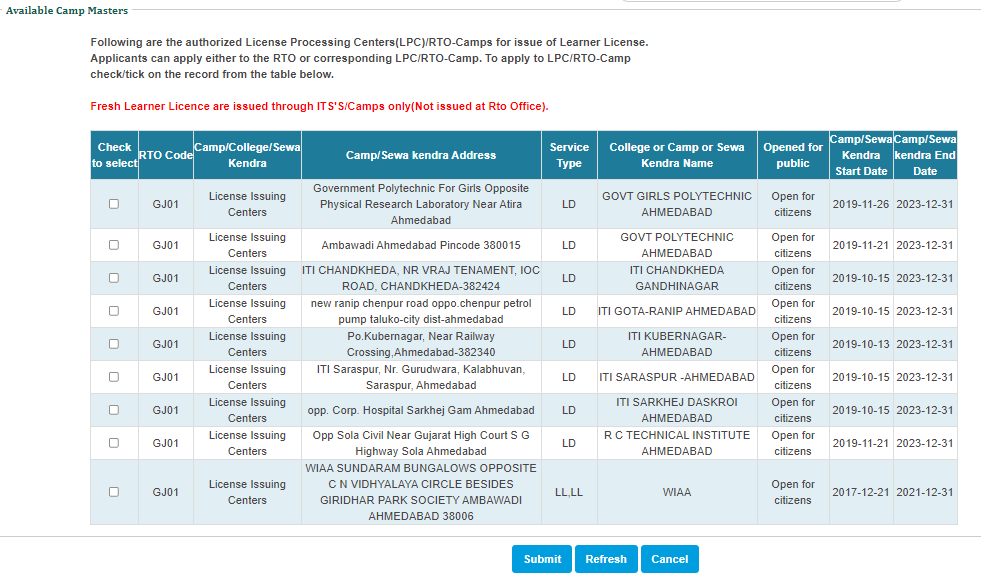 Select your near campus and click on Submit Button. Now enter your mobile number and Enter OPT.

Now open application form and fill all details correct and true. first block to enter personal details.

Now fill your correct address details.

Select category for driving licence like a LMV,MCMSR,LMV–NT,MCWG or M/CYCL.WG,HGMV
In this, If apply for Motor Cycle without gear then add MCWOG, If Apply for Two wheel with Four wheel then add MCWG and LMV. whatever you want then add this class.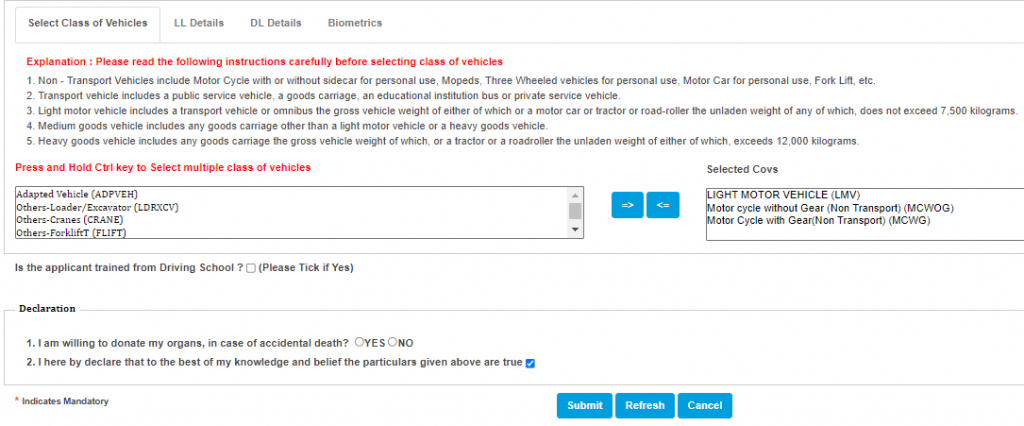 Now submit your application and note down your application number for further use.
Step 2 : UPLOAD DOCUMENTS
Next step is upload document for driving licence application. below show to how to upload document in driving licence application.
Go to Parivahan website and select main Menu to document upload >> Upload Document Scanned Image.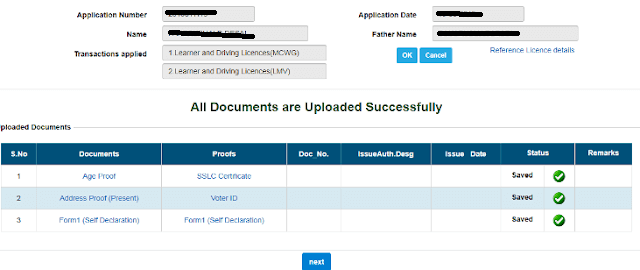 Remain Document Upload
Step 3 : UPLOAD PHOTO AND SIGNATURE
Next step is upload your photo and signature. Go to Parivahan website and select main Menu to document upload >> Upload Photo And Signature.

Step 1:- Upload Photo : By clicking Choose File/Browse Button & Select the location where the Scanned Photo file has been saved.Step
2:- Upload Signature : By clicking Choose File/Browse Button & Select the location where the Scanned Signature file has been saved.Step
3:- Upload And View files : Click the "Upload And View files" button for Uploading Photo, Signature on server And view it on Browser.Step
4:- Save Photo & Signature Image Files : After verification, Click "Save Photo & Signature Image Files" to complete the upload process.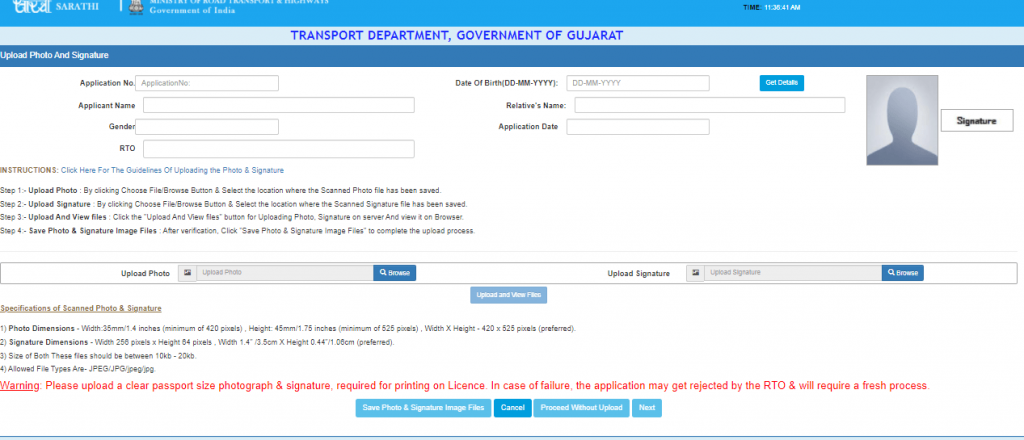 Specifications of Scanned Photo & Signature
1) Photo Dimensions – Width:35mm/1.4 inches (minimum of 420 pixels) , Height: 45mm/1.75 inches (minimum of 525 pixels) , Width X Height – 420 x 525 pixels (preferred).
2) Signature Dimensions – Width 256 pixels x Height 64 pixels , Width 1.4″ /3.5cm X Height 0.44″/1.06cm (preferred).
3) Size of Both These files should be between 10kb – 20kb.4) Allowed File Types Are- JPEG/JPG/jpeg/jpg.
Now click on Save Photo and Signature image Files button, after click on next button. go for ll slot book.
Step 4 : LL SLOT BOOK
Next step is learner licence slot book for computer exam. Go to parivahan website and select appointment option.
you have to give Appointment of Slot Book, Which are "Date and Time" Given By Sarathi Parivahan Website" select to appointment.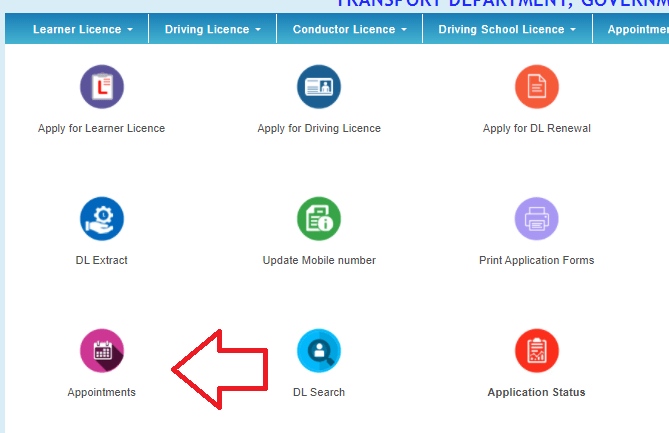 Now select main menu to Slot Booking >> LLTest slot Booking.

Enter details such as Application number, Applicant Date of Birth, captcha code and click on submit button.

Now open slot book date and available date to select date and conform you slot book
Driving License Slot Booking Confirm and Prints this.
Step 5 : FEE PAYMENT
Next step is pay your application fees, first go to Sarathi Parivahan Offical Website Some Fixed Fees Pay for Driving Licence Fees. Pay Fees in Sarthi Parivahan Website is so essy method. In the Parivahan website Now Day Online Fees Option available. click on fee payment.

Now show instruction and read it carefully and click to proceed.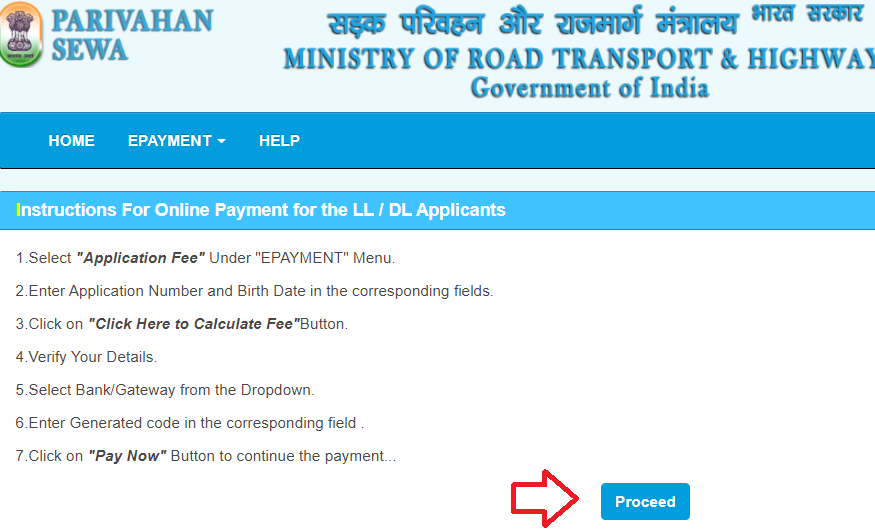 Now enter your application number and Birth date and click to " click here to calculate fees" and show fees details below and make payment.


Driving Licence Fees Pay OnlineDriving Licence fees pay online Sarthi Parivahan

After make payment your slot booking conform and you will take your computer exam this date.
Step 6: VERIFY THE PAY STATUS
You need to check your payment complete or not. if your payment complete then process go ahead other wise you need to pay your fees. below show to how to check your payment status.
First visit sarthi parivahan website and select driving licence related services after select your state. now click on check payment status button.

Please Enter the following details to get Status of the Payment – Application Number, Birth Date and click on verify button.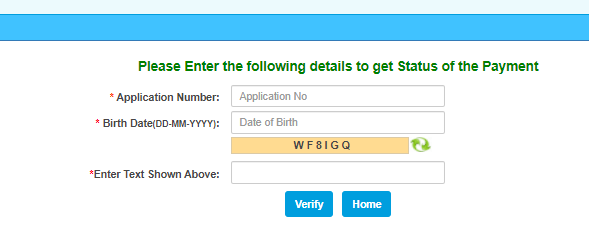 Step 7: PRINT THE RECEIPT
When you fill application, you submit successful then generate acknowledgement save or print this receipt and pay fees receipt print.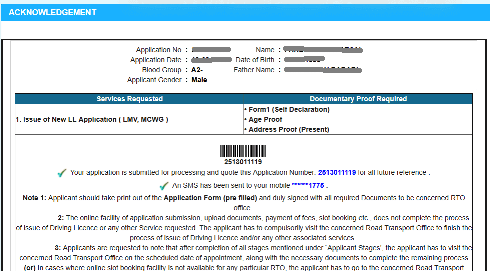 Once you fill the forms, your documents shall be verified along with the originals that you produce.