MP New Permanent Driving License (DL) Apply online
MP Permanent Driving License (DL) | Madhya Pradesh Permanent Driving Licence | mp transport
Madhya Pradesh Permanent Driving Licence : Why do we need a permanent license? We need it as the motor vehicles act 1988 says us all about it. As per the act, no one is eligible to drive any vehicle without having a permanent DL in hand in Madhya Pradesh. But not in Madhya Pradesh only; the same rule applies to all the states of India and it is for everyone. So, you had applied for a learner license online on e-Parivahan MP Transport portal. now time simply to apply for MP new driving license (DL) online. This can be understood with the help of steps. So, in this article, we are going to explain steps to guide you to get your permanent driving license in Madhya Pradesh as per 2021 latest guidelines.
Madhya Pradesh Permanent Driving License (DL) Apply Online
If you belong to the State of Madhya Pradesh (MP) & want to apply for New Permanent Driving License, you are advised to follow the steps given below. Also, make sure that you already have a learner's license because without it you won't be able to apply for permanent dl in MP. After you have obtained your copy of the learner's license, you can apply after 30 days for permanent DL. So, ensure that you have had your learner's license at least 30 days before applying.
Read this : MP RTO – Apply Online new Learner Driving Licence in Madhya Pradesh
Madhya Pradesh New Permanent Driving License (DL), Online Application
The process to apply for your MP permanent DL can be Follow the given steps :
First go to  official portal MP Transport.
Now open website to see many option like a citizen services lerner licence, driving licence, department services, administrative servicess. now select driving licence drop menu and select DL-Fresh option show in below image.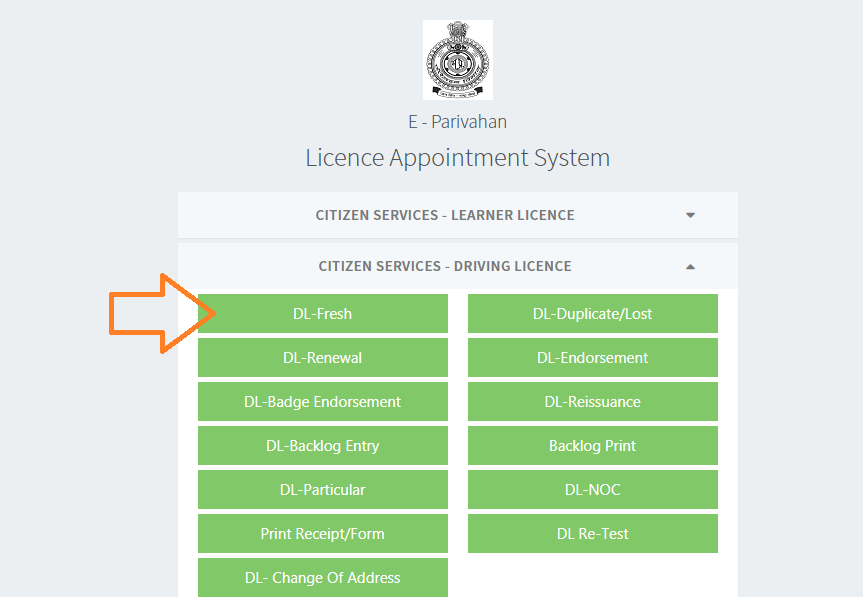 Just open page, enter to your Learner Licence number and your birth date. now click on submit button.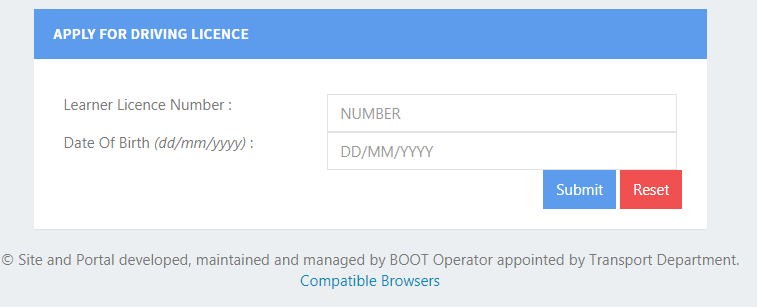 now you are all set to get your driving license. After doing all these formalities online, you will be given an appointment on the basis of the slot you have booked. There you will be asked for a short duration driving test on the basis of which if you get passed, you will be issued a permanent driving license that will reach you directly on your permanent residence address.
Note: You will be able to make all required payments online using Netbanking, Debit/Credit card & other options.