PM Jan Aushadhi Yojana, Online Registration for PMBJP Center
PM Jan Aushadhi Yojana Complete Details of Jan Aushadhi yojana Scheme (PMBJP), Registration, Form, In this article, the Prime Minister will talk about the Bharatiya Jan Aushadhi yojana, which is also known as Jan Aushadhi Yojana.
PM Jan Aushadhi Yojana
| | |
| --- | --- |
| Schema Name | PM Jan Aushadhi Yojana |
| Launched By | PM Modi |
| Agency responsible for implementation of the scheme | BPPI (Bureau of Pharma PSUs of India) |
| Beneficiary | Indian |
Purpose of the Jan Aushadhi Yojana
Making available quality medicines at affordable prices, especially for the poor and the underprivileged. This is being done through the "Pradhan Mantri Bhartiya Jan Aushadhi Kendras" so that the expenses in healthcare can be reduced and economically weaker families can also get all kinds of medicines at cheap prices. In this budget, the central government has approved Rs 69000 crore for the health department. At the same time, it has been specially emphasized that by 2020, Jan Aushadhi kendra will be opened in every district of the country.
Eligibility Criteria to Open Jan Aushadhi Center (Kendra)
NGOs / Institutions / Cooperative Societies which are recognized by the State Governments.
Any non-governmental organization / society / trust / institution / self-health group, which has experience of operating in welfare activities for at least 3 years, has the space and money to open the center.
Or any unemployed pharmacist / medical practitioner who has the space and money to open the center.
other conditions
To open a shop, it is necessary to have a shop in 120 sqft area.
More than 650 medicines will be made available by the government to those who open the center.
Documents Required inorder to Apply for Jan Aushadhi Store
Aadhar card and Pan card will be required.
To apply to the institute / NGO / Hospital / Charitable institution, Aadhar card, Pan card, certificate and registration certificate will be required.
To open a Jan Aushadhi center, you should have at least 120 square feet of space. If you want, you can also take rent but all the documents have to be submitted.
Sales License from Competent Authority
Drug license in the name of "Pradhan Mantri Jan Aushadhi Kendra".
Proof of a pharmacist with computer knowledge (name of pharmacist, registration with state council, etc. needs to be furnished)
To show that it is financially right for you to run the store, you need to show the audit for at least the last three years. If you are the only applicant, then you have to show the bank statement of the last three years or the Sanction letter for the loan from the bank.
Jan Aushadhi Yojana Center Commission/Incentive Details
The operating agency will be provided a 20% margin on the MRP (excluding taxes) of each drug.
For those who will be given free space in government hospitals by the government, financial assistance up to 2.5 lakhs will be given under the scheme:
1 lakh reimbursement of furniture and fixtures.
Rs 1 Lakh: Initially through free medicines
Rs. 0.50 lakhs as reimbursement for computer, internet, printer, etc.
Apply Online Jan Aushadhi Kendra under PM Jan Aushadhi Yojana, Online Registration form
It is mandatory to register on the website before filling the online form. Here is the registration process: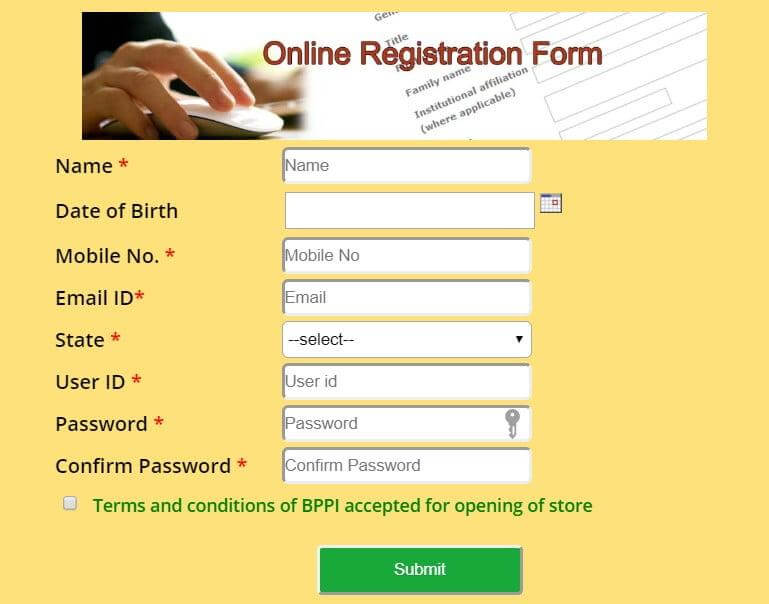 Register with all the information requested and verify the account through email.
Keep your email, user ID and password in a safe place
Come, now know how to register online for opening Jan Aushadhi Center under the scheme:
First of all, read the above information to make sure that you meet all the eligibility conditions, that is, you are eligible for the scheme. Then do this:
First of all visit the official website of Bharatiya Jan Aushadhi Project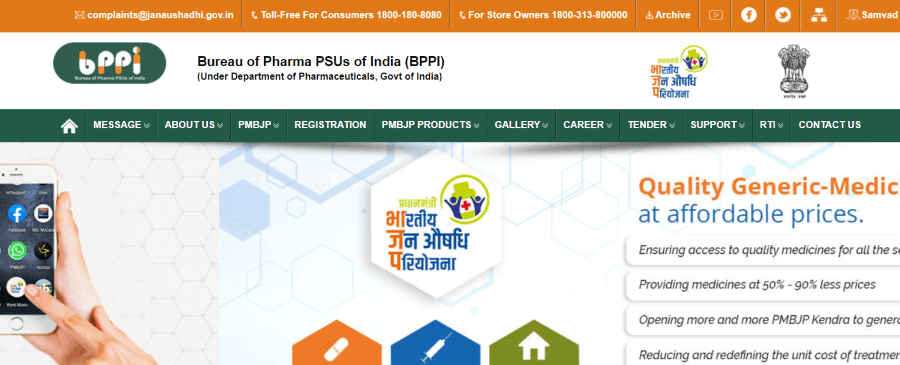 Now you have to click on registration. By doing this the registration page will open: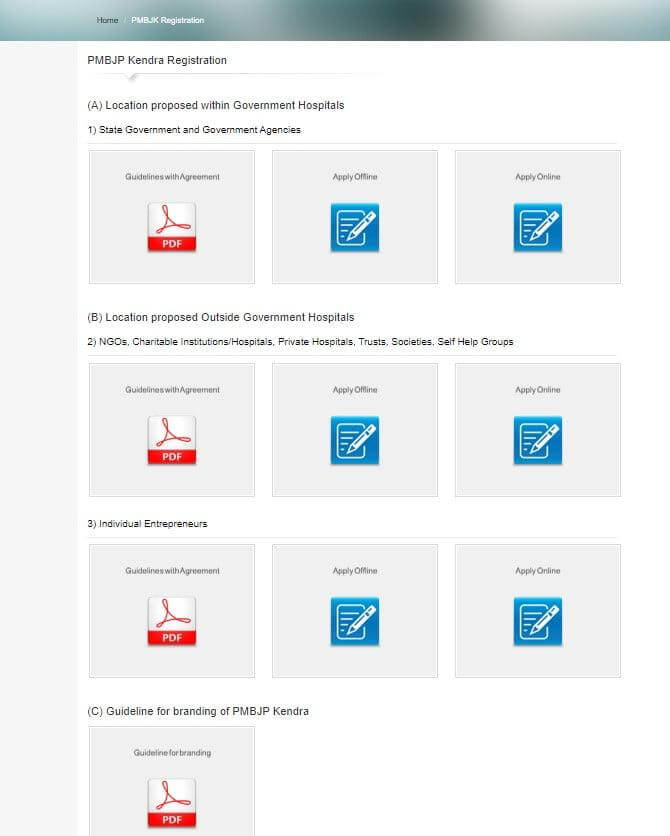 NOTE:
If you are a state government or central government agency, then consider option 1)
If you are NGO / Charitable Institution / Hospital, Private Hospital, Trust, SHG, then consider option 2)
If you are someone who is interested in opening a Jan Aushadhi Center, consider option 3)
Read the guidelines given according to your option, then click on "Apply Online". After that enter your information in the next page and login.
After doing this, the online registration form will open in which you have to fill all the information sought correctly and upload the documents sought.
In this way you will be able to apply online very easily.
Frequently Asked Questions (FAQs)
Who will benefit from the Pradhan Mantri Jan Arogya Yojana?
The most benefit of this scheme will be to the economically weak patients as they will get cheap medicine from this scheme. Also, those who open Jan Aushadhi Center will also get commission and other benefits from the government
Jan Arogya Kendra application to open online or offline?
Applicants have both options. But we suggest that you apply online, this process is quite easy.
Is it mandatory to have your own land to open a center?
No, This is not necessary, you can also hire a shop. In such a situation, you have to show the lease paper.