Pradhan Mantri Mudra Yojana | PMMY
Pradhan Mantri Mudra Yojana | Mudra Yojana | PM Mudra Yojana | PM Mudra Yojana | PMMY
Pradhan Mantri Mudra Yojana : Many people take loans from moneylenders at a higher rate of interest to do their own industry and repaying this interest, they lose half their lives and most people want to do their own business. But due to lack of money, the business cannot run, hence the government will get loan at low interest rates under Mudra Yojana.
Pradhan Mantri Mudra Loan Yojana was launched on 8 April 2015. In this scheme, loans are available for business and industry at low interest rates. In this, nothing will be taken as a guarantee for taking a loan. So far, many people have benefited from this government scheme and many people are taking it.
PM Mudra Yojana online
Due to this, small scale business and small scale business will benefit greatly.
Most of the women are availing the benefits of this scheme.
Women are starting their own business by taking loans under the scheme.
In this, if you want to do your own business.
So you can take a loan ranging from 50 thousand rupees to 10 lakh rupees.You do not have to give any kind of guarantee to take a loan.
No fixed interest rate has been fixed for this.
But at least the interest rate will be around 12%.
You can extend the loan repayment period up to 5 years at most.
Through this, you will be provided a currency card like ATM.
With this card you can spend your loan amount.
Required Document
Identity card |
Certificate
2 passport size photographs.
Certificate of registration to start a business.
If you are taking a loan more than 2 lakh rupees.
So you have to put together a photo copy of Income Tax Return and Balance Sheet for the last 2 years. Category Certificate for Scheduled Castes and Tribes
You have to give full account of your profit and loss during every financial year.
If you are starting your new business or if you want to grow it, then you have to give all the reports.
PM Mudra Yojana Application Form
You can get the application form both online and offline. From there you can get the application form of Pradhan Mantri Mudra Yojana.
Click here to download the online application form.
You can also visit the official website https://www.mudra.org.in/.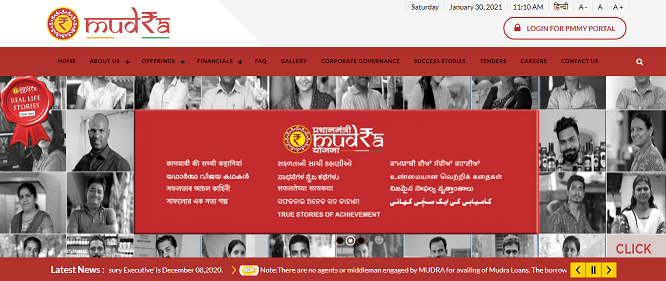 To get the offline application form, you have to visit your nearest bank.
Under Pradhan Mantri Mudra Yojana, three types of loans are provided to you: –
Kishore Loan: – you can get a loan ranging from Rs 50 thousand to Rs 5 lakh.
Tarun Loan: – Through this you can get a loan from Rs 5 lakh to Rs 10 lakh.
Shishu Loan: – In this you can take a loan of up to 50 thousand rupees.
Read More