Apply for ration card in Arunachal Pradesh
Ration card in Arunachal Pradesh | arunachal pradesh ration card apply online | online ration card arunachal
Ration card in Arunachal Pradesh : As we know that ration card is an essential document for every citizen. In India, ration cards are mainly used when purchasing subsidized food items and fuel. It is an important subsistence tool for the poor, also provides proof of identity, and has a direct relationship with the government database. Every citizen has the right to obtain a ration card. If you do not have your ration card, you can apply for it through online mode. The details about applying for ration card in Arunachal Pradesh are given below. We have also mentioned the list of documents required to get a ration card.
Apply For Ration card in Arunachal Pradesh
If you are going to apply for ration card in Arunachal Pradesh, then you are suggested to read the details given below. First of all we will discuss about the documents required to apply for a new ration card.
Required Documents
You will need to submit two passport size photographs of the entire family, proof of residents along with the application form.
Voter ID card
Driving License.
Voter list
Latest telephone bill which should be in the name of the applicant.
Identity card issued by the government or public sector
You can submit a photo copy of one of the above documents as proof of the residents.
Procedure for Correction in Ration Card
We have provided simple steps, details of changing ration card are given below.
1. First go to the official website www.arunfcs.gov.in. Now select side bar to forms show in below image.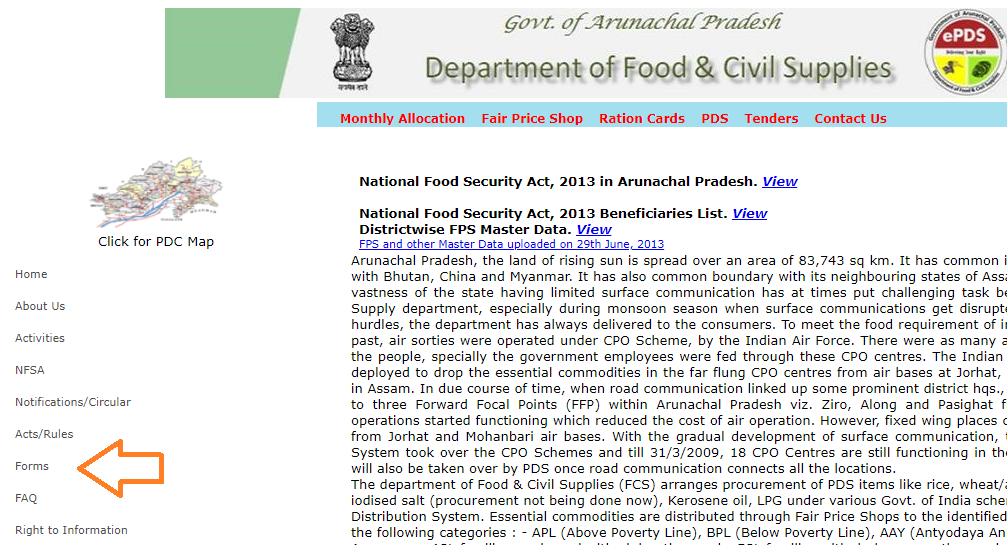 2. select your need form and Download the correction application from here.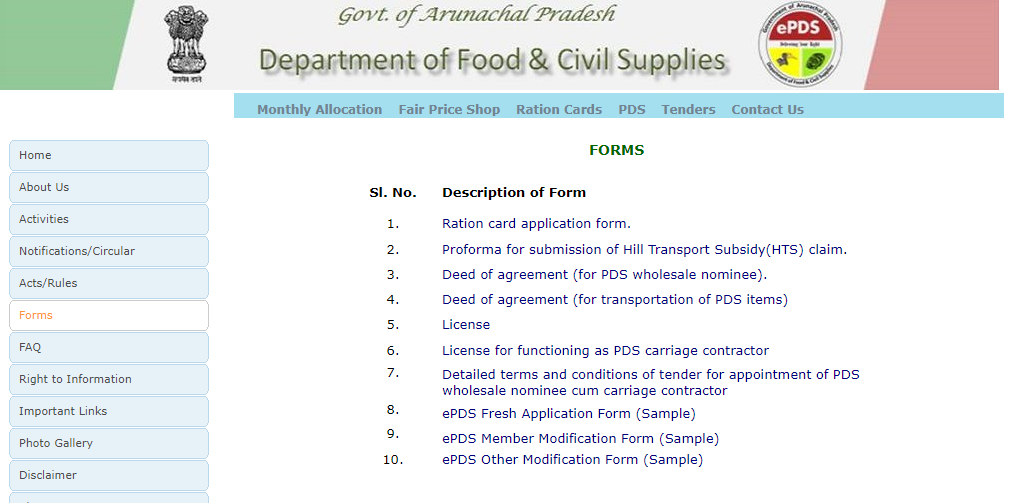 3. Complete all the details in form.
4. Submit this application to the nearby ration card office.
In case of amendment to the ration card, the applicant must have the following documents
For Member Deletion: Death Certificate / Transfer Certificate / Marriage Certificate
For Member Addition: Birth Certificate
For Name change: Affidavit of name change issued by judicial magistrate.
Note: Photo copy of old ration card is also required.
How to Apply for Ration Card in Arunachal Pradesh ?
For the first time on the official website i.e. www.arunfcs.gov.in Download the ration card application form from the site. You can also get the application form from the nearby ration card office.
2. Then fill all the details in the Ration Card application form correctly.
3. Attach the necessary documents and photos as we have already discussed.
4. Submit this application to the nearby ration card office and pay the required fee.
After that you will be questioned by the officials of the application form. Then it will be sent to your address mentioned in the application form.
Read More :