Renewal of Registration Certificate(RC) of Vehicle in Pimpri Chinchwad
Renewal of Registration Certificate (RC) in Pimpri Chinchwad : RC book is very importance document for vehicle, RC book have all details about vehicle. It need to update and have original. Vehicle registration certificate renewal online easy at Government of India's ministry of road transport and highways parivahan website. Every vehicle have RC book and all vehicle details in RC book. if you buy old vehicle then first check vehicle RC book and vehicle details if both details match then buy old vehicle. Apply for renewal of certificate of registration in Form 25 to the Registering Authority in whose jurisdiction the vehicle is, not more than 60 days before the date of its expiry.
What is RC ?
RC is registration certificate of vehicle, RC give details about vehicle model, owner name, vehicle number, engine number, chassis number and more.
Renewal of RC In Pimpri Chinchwad
Renewal of RC very easy throw online. in this post guide to all process step by step how to renewal of RC online using parivaha website.
Importance point
Apply renewal, not more than 60 days before the date of its expiry
Pay due tax on vehicle
pay application fees
Required Document for Renewal of RC in Pimpri Chinchwad
Application in Form 25
Pollution under control certificate
R.C.Book
Fitness certificate
Certificate of registration
Proof for the payment of up-to-date road tax paid
Insurance certificate
Chassis & Engine Pencil Print
Signature Identification of owner
RC renewal fess in Pimpri Chinchwad
Issue or renewal of certificate of registration fees in Pimpri Chinchwad :
Vehicle Types
Fees
(a) Invalid Carriage
Rs. 50
(b) Motor cycle
Rs. 300
(c) Three wheeler/Quadricycle/Light Motor Vehicles:
i) Non transport;
Rs. 600
ii) Transport
Rs. 1,000
(d) Medium goods vehicle
Rs. 1,000
(e) Medium passenger motor vehicle
Rs. 1,000
(f) Heavy goods vehicle
Rs. 1,500
(g) Heavy passenger motor vehicle
Rs. 1,500
(h) Imported motor vehicle
Rs. 5,000
(i) Imported motor cycle
Rs. 2,500
(j) Any other vehicle not mentioned above
Rs. 3,000
Note 1: Additional fee of Two Hundred Rupees shall be levied if the certificate of registration is a smart card type issued or renewed in Form 23A.
Renewal of RC Book online in Pimpri Chinchwad
Renewal of registration certificate must apply before more then 60 day of expire. below show process how to renewal of RC online.
Producer for apply renewal of RC application online in Pimpri Chinchwad
First, have to visit parivahan official website https://parivahan.gov.in/. open this website and select menu to online service, open drop down menu and select vehicle related services option show in below image.

Now select state from drop down menu. after select state redirect vahan parivahan website.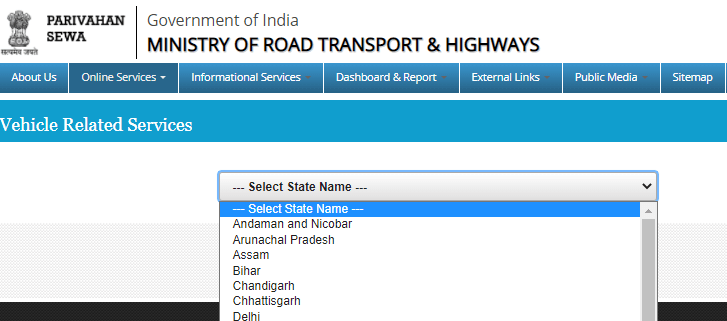 Open new page and left side have box to select state and RTO, click on proceed.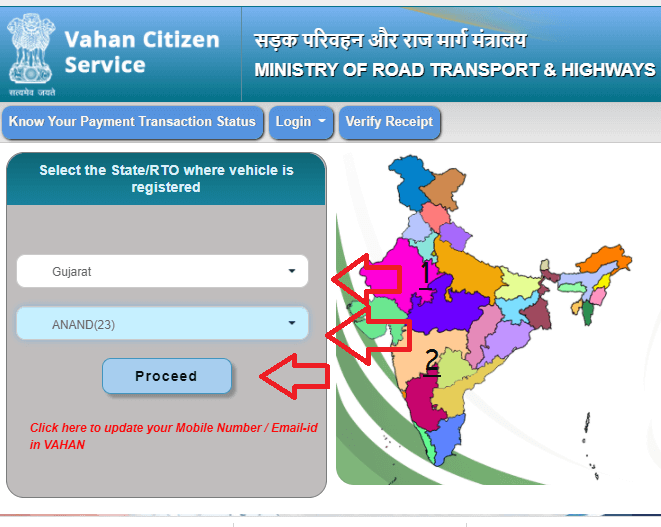 Select menu to RC related service -> Renewal of registration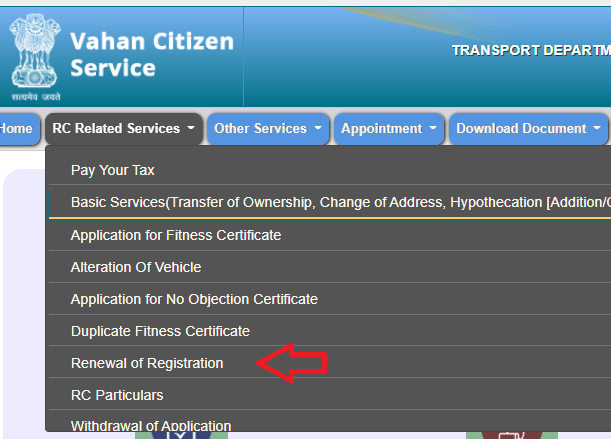 Enter registration number and chassis number, now click on validate registration number/chassis number button.

Now select your register number and next process is fill form and pay fees for renewal application fees.
submit application successful then you will got renewal RC of vehicle.
procedure of pay pending tax of vehicle in Pimpri Chinchwad
if you want to renewal RC then, have to pay the any types pending tax first and then get the renewal of RC so below process show how to pay vehicle tax.
Need to visit vahan parivahan website https://vahan.parivahan.gov.in/vahanservice/, open official website then select state, RTO and click on proceed button.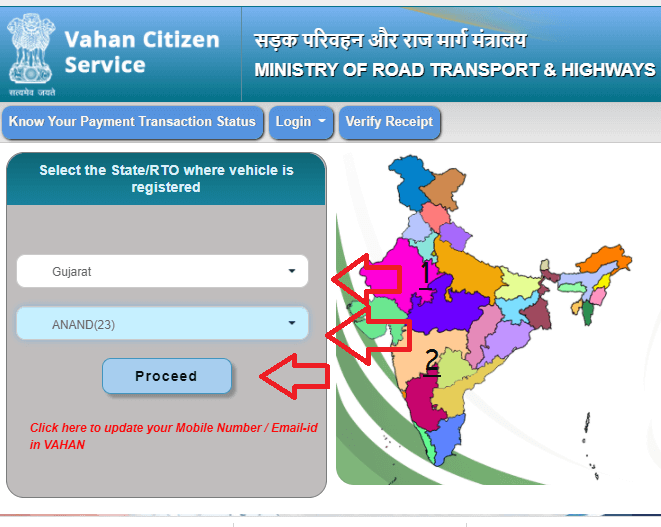 Main menu to select RC related service to pay your tax.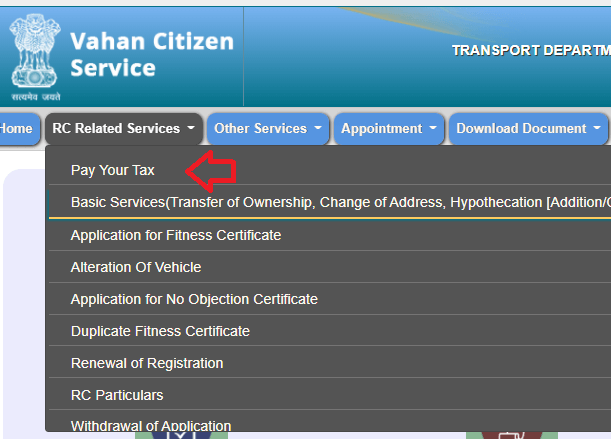 Now enter your register number of vehicle and check how much pending your vehicle tax show.

Pay your pending vehicle tax using online like a net banking or debit card. after successful made payment you can go to renewal of RC.