TS Telangana Driving License (DL), RC Document Delivery Status, Check Online
Step by Step Guide to Check Telangana Status of Driving License (DL), Learners License (LLR) & Registration Certificate (RC) Document Delivery Status in Telangana (TS), Update Procedure for 2022
With modernization and advanced development in technology, it has now become very easy to apply and find anything online with just a single click of your mouse. If we talk about checking the delivery status of our license or for applying for a driving license, we just don't need to directly go to the RTO to get the things done. Now, we can easily check the status and apply for the licenses online anytime and from anywhere in Telangana.
TG Transport Telangana Document Delivery Status | Check TS RC, DL, LLR Delivery Status Online
It is also pertinent to know that not only the delivery status of the documents but we can also check anything on the Telangana transport portal. The Telangana transport ministry deals in various services where you can also know your vehicle details, get information about your tax verification, your MIS reports. Furthermore, you can also get to know the status of your registration number and can also take the benefit of citizen-friendly services and many others.
With the help of this article, we will be able to easily check Telangana RC delivery status and TS DL & LLR document delivery status. The main aim behind checking the status of DL and RC is to ascertain whether the RC and DL has been dispatched or not if they are dispatched, then when? Apart from this, the Telangana government has been doing very well by providing such a simple yet responsive service program for the citizens online. By availing the services online, you can easily check the TS LLR delivery status, DL delivery status and RC delivery status in no time. Now let us understand the process for how to check online :-
TS Telangana driving license and RC document delivery status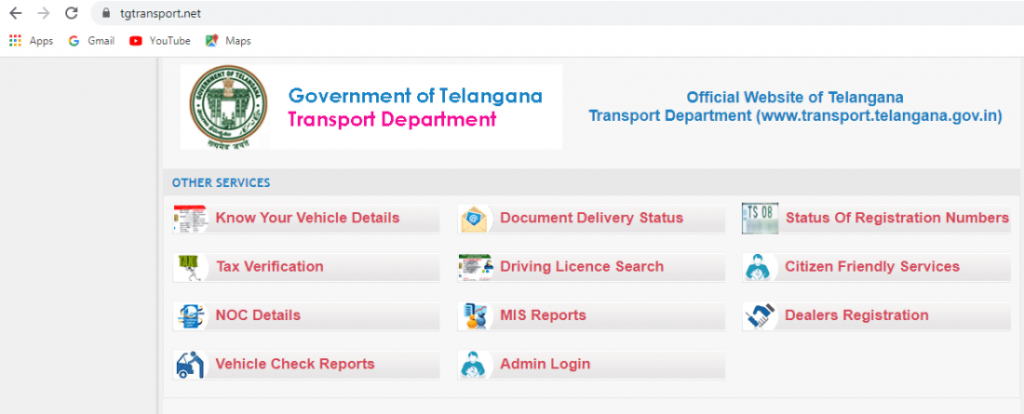 After you have opened the website, the services page will get open in front of you. Here, you can see the official website of the Telangana transport department. Now you can easily avail any service you want to.
Since we have been searching for the documents delivery status we have to click on "document delivery status".

Just after, we have selected the service, we can see the Automated Online Services section opens up. Once it opens up, we have to select a module and select type of input and follow the process.
TS DL/ LLR Delivery Status
If we want to check the status of our license, we have to select the module as licence, then we have to select the type of input. In turn of selecting input type, you get three options where you can either enter your license number or your application number or your LLR number.

Suppose, we select LLR number with license module and click on "get details", we get to know the delivery status of our licence as you can see above. The details that you get to know include your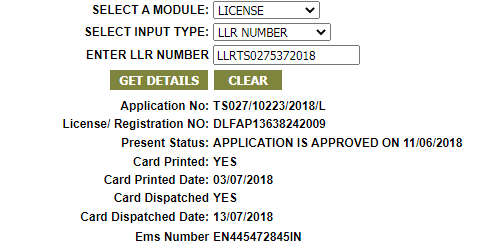 Application number
Your registration number
Present Status with date
Whether the card is dispatched or not
The date of dispatch
EMS number etc.
TS Telangana RC Document Delivery Status 2022
In the same way, as we have checked the licence delivery status, we can check the RC document delivery status 2020 as well.
Here, we have to select registration as module along with entering the application number or registration number as type of input and click on "get details". After clicking on "get details", you will get all the information about the delivery status of your RC as you can see above
Read More
How to Add another category in the Existing Driving License
5 Simple Steps to Apply for Driving Licence Online | Slot Booking | Pay Fees