Vehicle Owner details Online Check
Check Vehicle Owner details: You want to find vehicle owner details online by Registration number or Number plate then we guide full details in this post. Easy to find vehicle details using Parivahan.gov.in website. you can check your RC status and find vehicle details. you can find vehicle owner all details such as a owner name, owner address, vehicle types, vehicle fuel types, manufacture year and etc. So let's tell you the method by Step By Step.
Check Vehicle owner Details By Vehicle Number
If you want to check the details of the Vehicle Information Online with its vehicle number, You can know the details of your vehicle from the chassis number or registration number, The chassis number is printed by the manufacturer and get all details about vehicle such as year of manufacture, company name, model number, engine number, fuel types and etc. if you want to know real details of vehicle then you check your vehicle chassis number. in this post guide to all question like a how to check vehicle details online ?, How to find vehicle details by register number or number plate ?, How to check fuel type of vehicle online ?, Check owner name by number plate?.
Method 1 : Check Vehicle owner Details by Number Plate
Check vehicle details online, you can visit to vahan parivahan website https://vahan.nic.in/nrservices/faces/user/login.xhtml.

Now select menu, click on know your vehicle details. and enter your mobile number.

Enter vehicle number details and captcha code.
Click on search vehicle button. On screen show all details about vehicle like a register number, fuel type, chassis number, engine number, owner name and etc.
So in this way you can check the RC (Registration Certificate) of any vehicle online.
Method 2 : Check Vehicle owner Details by Register Number, Chassis No.
Many people find vehicle details online, we guide to how to find vehicle details online in Bihar, this process show below :
First to visit Vahan Parivahan website https://vahan.parivahan.gov.in/vahanservice/vahan/ui/statevalidation/homepage.xhtml. Now select your state and your RTO after click on Proceed button.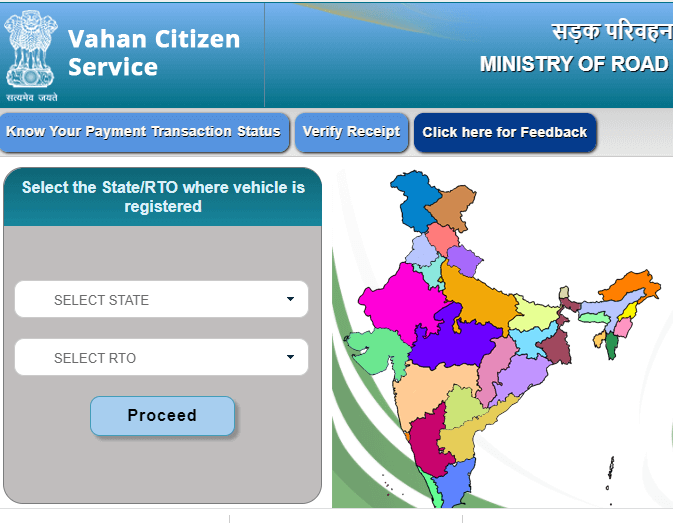 Now select menu to "status" -> "Know Your Vehicle Details".

Enter your vehicle details : Registration Number, Chassis number, engine number.

Click on Verify details and show your vehicle details on screen.
We can find out about any vehicle Owner Information through the RC of a vehicle. As someone who has been registered with the RTO, the owner's name, registration date and other important information can be removed. An online facility is available to remove vehicle registration details.