How to Download Voter/Election ID Card online PDF in India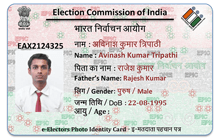 Voter card or election card is an essential document for the citizens to cast their votes to their desired political party or contestant in the elections, the Voter card is used to identify the citizens according to the constituency, state, and country. Unlike the past decades, the state's election commissions have been launched their electoral portals to manage the voter id cards and the electoral process online. Election commission of India has been offer to make all thing online such as a update voting card, make a new id card and download your E-ePic card or Voting card.
Read More : How to check Voter Card Status ?
Download Voter ID Card online PDF
Election commission of India launch a Voter portal for make services online and easy to use everyone. Indian people are using a voter portal to download their voter id soft copy and save it to their phone or digilocker or print it. Now digilocker is very useful tools for every one in India. Also voter portal offer make voter id PVC card, you can order on portal and pay fees for PVC card. You can download your voter id card online using E-epic number. if you don't know your E-epic number then below give a process to find your E-epic number.
How to Download Voter ID Soft Copy PDF online in India ?
Anyone want to download voter id card soft copy pdf then first visit voter ID card portal website : Download E-epic. Open this website and click on E – epic download option.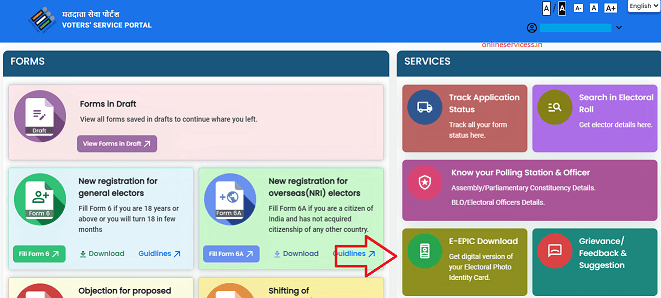 Now login with your details if don't have a account then first sing up your account.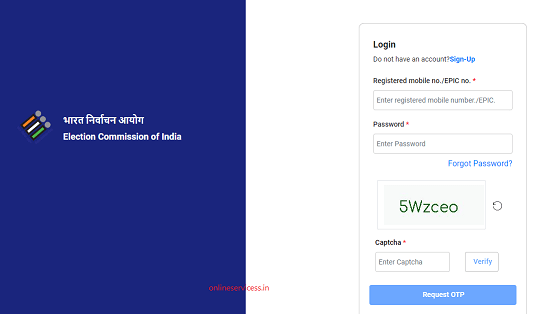 After login show option a download E-epic and enter your E-epic number and select your state.

Click on search button and get your voter id card details on screen.

select your voter id and download soft copy of your voter id card.
How to download voter ID Card using Mobile verification ? [Easy Step]
If you want to download voter id card fast using mobile verification method then follow below method :
Step 1: First visit Voter portal website : voterportal.eci.gov.in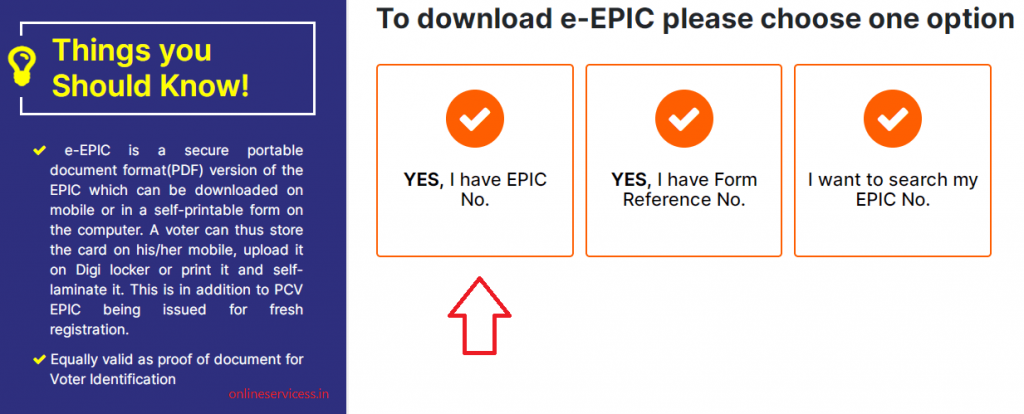 Step 2: Choose option to Yes, I have E-epic Number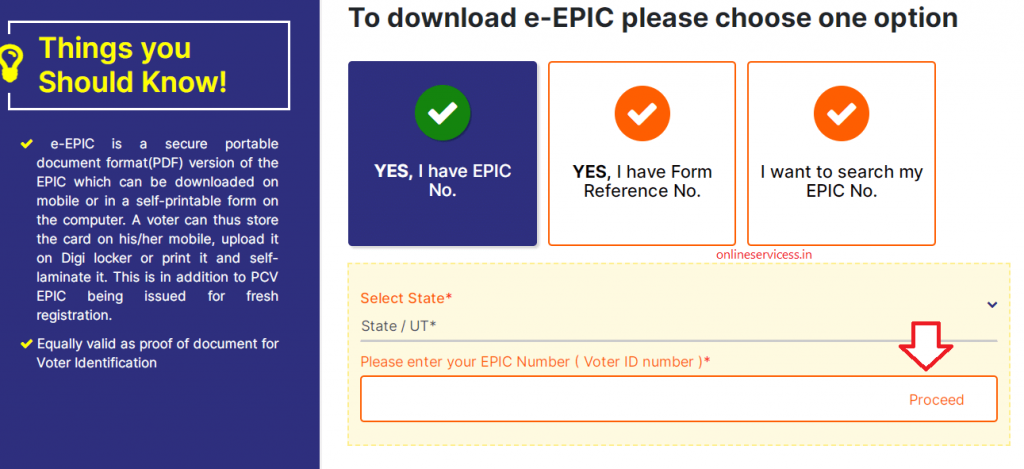 Step 3: Select your state and enter your E-epic number.
Step 4: verify your mobile number with OTP
Step 5: Click on Download E-epic card.
How to find E-epic number in Voter Portal ?
You want to find your e-epic number for voter card download then follow method :
Step 1 : First to visit Voter portal website : voterportal.eci.gov.in.
Step 2 : Choose option to I want to search my E-epic number.
Step 3 : Login your details or sing up
Step 4 : Now search your voter card with your details.
Step 5 : show your voter card with E-epic number.
more information please visit this link : https://eci.gov.in/e-epic/
Reference by : https://www.nvsp.in/, https://voters.eci.gov.in/, https://eci.gov.in/e-epic/
Read More :