Download KALIA Yojana Beneficiary List Odisha
KALIA Yojana is known as Krushak Assistance for Livelihood and Income Augmentation (KALIA) yojana. The scheme has been launched by the chief minister on 21st December 2018. The main aim of the scheme is to help the farmers to get rid of the debt trap and support them financially. In this article, we have also covered a step by step guide through which you will be able to check your name under this scheme by the year 2021.
Download Kalia yojana beneficiary list
Good news for all the beneficiary of Kalia Yojana. Odisha Government inform that they will start distributing the second installment in the month of November. Government said that Kalia Yojana beneficiary list is actual prepared.Kalia Yojana application form kalia Yojana is for small and marginal farmers. Kalia Yojana is beneficial for the farmers and your family.
Overview of Kalia
| | |
| --- | --- |
| Name of the scheme | Krushak Assistance for Livelihood and Income Augmentation (KALIA) |
| Beneficiaries | Farmers, cultivators, croppers, landless agricultural labourers |
| Scheme type | State government scheme |
| Launched date | 21st December, 2018 |
Eligible to get the benefits under KALIA Scheme
Small and Marginal Farmers are eligible to get benefit under support to cultivators for cultivation.
Land less agricultural households are eligible to get livelihood support under the scheme.
Vulnerable agricultural household covering vulnerable cultivators/ landless agricultural labourers are eligible to get financial assistance under the KALIA scheme.
How to check Kalia yojana beneficiary list 2023 ?
If you want to download beneficiary list for Kalia Yojana then first go to official website of kalia odisa. Now will open beneficiary webpage and first select your district

After select your district, you can select your Block

Now select your G.B and click on view button

You can download your block beneficiary list in pdf format. it has two list available first is small and marginal farmer, second is Landless agricultural labourers. click on pdf file to download.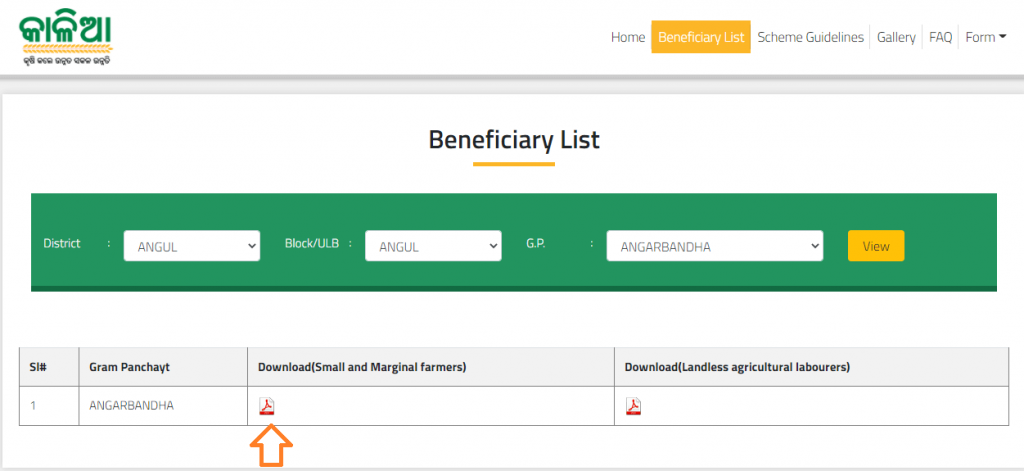 Click on PDF and will pdf download. after download pdf you can find your name in this pdf.
FAQ
1. What is KALIA Scheme?
KALIA scheme is a package for farmer's welfare. KALIA stands for "Krushak Assistance for Livelihood and Income Augmentation". This scheme has been launched by Odisha Government to accelerate Agricultural Prosperity and reduce poverty in the State.
2. Who is eligible to get benefit under KALIA Scheme?
Small and marginal farmers, landless Agricultural household, vulnerable Agricultural household, landless Agricultural labourers and sharecroppers (Actual cultivators) all growth are eligible under different components of scheme. Total of 50 lakh families will be covered under the scheme
3. What are the benefits available to cultivators for cultivation under KALIA scheme?
Financial assistance of Rs.25,000/- per farm family over five seasons will be provided to small and marginal farmers so that farmers can purchase inputs like seeds, fertilizers, pesticides and use assistance towards labour and other investments. This scheme is implemented from current Rabi Season 2018-19 onwards.
Source of information : https://kaliaportal.odisha.gov.in/FAQ.html