Patta Chitta – View Land Record Online Tamil Nadu
Patta Chitta Tamil Nadu : Chitta is a land revenue legal document for any farmer. It is very Importance for farmer for their land information. Patta is a legal document created by the Government of Tamil Nadu. Patta is given the name of the real owner of the property. The Patta Chitta is made by the government and government add all details about farm land in this book. Patta chitta known as the "Land Record ". it is given you All information about your land and Land owner information. Now day easy to see your chitta Land record in Tamil Nadu.
Patta Chitta Tamil Nadu | Land Record Tamil Nadu
Any one want to check their patta details please open official website on patta chitta in Tamil Nadu. The following details and records are included in a Patta:
Patta number and Number of Patta
Names of all owners
Survey number
Sub-Division Number in case of Rural and Urban Areas
Tax details information
Area of land
Name of village, Taluka, and district
Overview of patta chitta
Procedure of view Patta Chitta Online in Tamil Nadu
To view for your Patta Chitta documents via online mode, you can follow the steps given below:-
Step 1 : Visit to Tamil Nadu Land Record Official Website https://eservices.tn.gov.in/ and select to View patta and chitta.

Step 2 : Now Select your District and click on submit button.

Step 3 : After you select district redirect to page and enter your details like a taluka, village, survey number or patta number
Step 4 : Enter all details and Click on submit button
A certificate with the property information will be received from the Land Registrar and a printout of this can be taken. It will include all information on the locality, land nature, survey number and others.
Procedure of Verify Patta in Tamil Nadu
You can verify your own patta using online services portal. we guide to how to verify patta below.
Step 1 : First visit Tamil Nadu patta Portal https://eservices.tn.gov.in/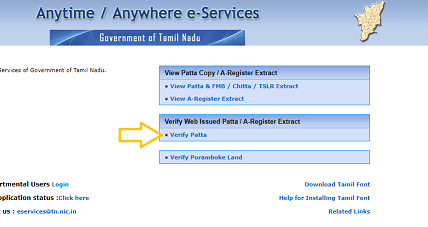 Step 2 : Select Option " Verify Patta " . after select open a new page
Step 3 : Enter your Reference number ( reference number generate when application submit) and click on submit button.

Now see your patta verification status. land records called as Patta and Chitta are used to signify ownership of land or property.