All India Permit Download in Bihar | Pay National Permit Fees, application in Bihar
National Permit is required for those who are traveling across the country and have a commercial vehicle. Private vehicle does not need a national permit. National Permit is mandatory for all commercial vehicles in India. Now day easy to all process at RTO and not more complex process. RTO make offer all services online you can pay all fees and tax online at your computer or mobile. National permit application easy to apply and fast to get national permit to your vehicle in India. in this post we describe deep for national permit vehicle application online in India.
All India Permit Application online in Bihar
Nationa permit is very useful for Truck and bus. This truck or bus travel to all over India and use transport. We give you some very importance thing about National permit like a how to apply Nation Permit, National permit fees online pay, document requirement and more in this post.
Require document for National permit
National Permit vehicle application required document list below.
Registration Certificate of the vehicle.
Fitness Certificate of the vehicle.
Insurance of the vehicle.
Proof of payment of Road tax.
Fee for National Permit.
Payment of green tax wherever applicable
Demand drafts, made in favour of transport authorities, agreed in respect of other states towards payment of taxes
form 48
form 46
Procedure for National Permit application online in Bihar
Generally all commercial transport vehicle need National permit, below process guide to how to apply national permit for vehicle.
First, have to go vahan parivahan transport website. Now open parivahan website and select online services to national permit.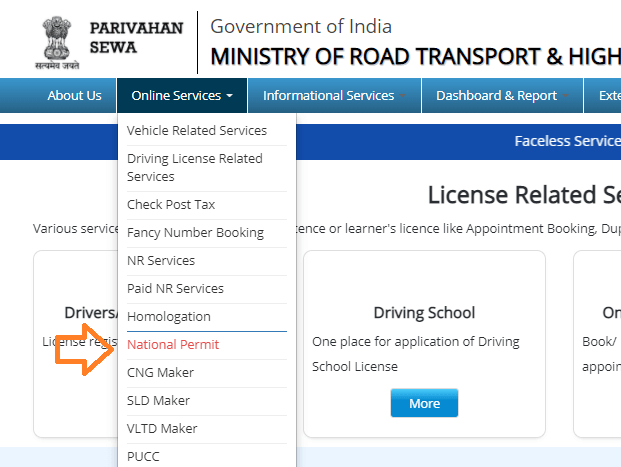 After click on national permit open new page and select online payment of national permit.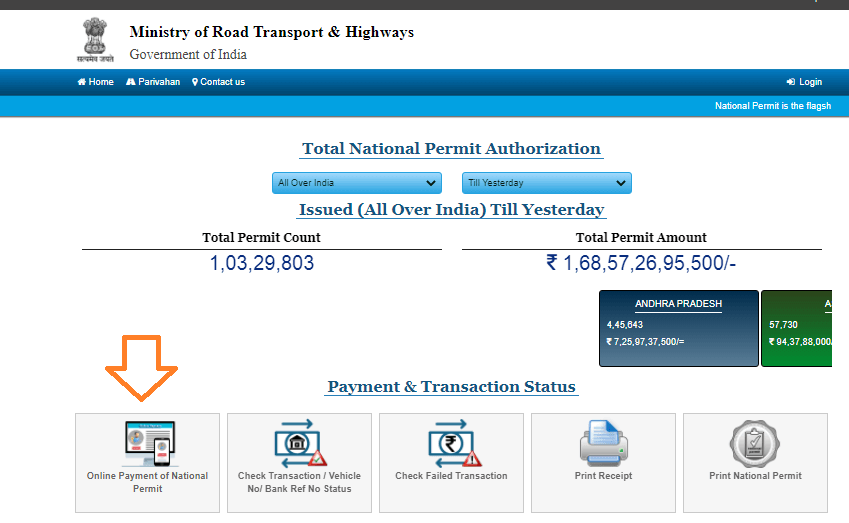 Enter your vehicle registration number and vehicle chassis number and click on get details.

you make payment using net banking or debit card after successful make payment generate payment receipt and print this receipt.
Now go to near RTO office along with all document (show above this post) and payment receipt and form 48, form 46.
Download form 48 here : https://parivahan.gov.in/parivahan/sites/default/files/DownloadForm/form48.pdf
Download form 46 here : https://parivahan.gov.in/parivahan/sites/default/files/DownloadForm/form46.pdf
How to check national permit payment status in Bihar ?
If you make payment online for national permit then you need to check your payment success or not, follow below process.
First go to parivahan website and select menu "online services" to "national permit"
Now open new page and select Check Transaction / Vehicle No/ Bank Ref No Status.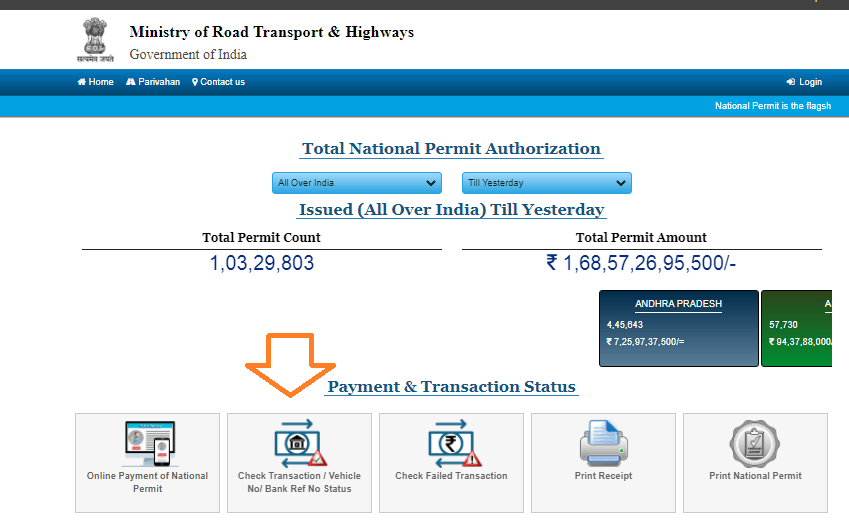 Select any given one option you have know. three option is transaction id, vehicle number, bank reference number. enter your details and click on check status.

Appear on your screen payment status. if success your national payment then screen show message successful.
fees of national permit vehicle
different vehicle for different fees for national permit and different state have different fees. below table show fees of national permit.
| Class of the vehicle | Fees | validity |
| --- | --- | --- |
| Light goods vehicle (LGV) | Rs.2015 | 5 years |
| Heavy goods vehicle (HGV) | Rs.2515 | 5 years |
| For authorisation in case of a Light Goods Vehicle | Rs. 500 | 1 year |
| For truck | Rs. 16500 | 1 year |
How to print national permit certificate in Bihar ?
you was applied national permit and success your application at RTO. you do not need to visit RTO you can download online your vehicle national permit, you have must permit number please follow below process.
First, have Visit to parivahan website and open website and select menu "online services" to "national permit".
Now open new page and select to print national permit option.

Enter details a registration number, chassis number and national permit number and click on show button click.

after click on show button your national permit show on screen and you can download or print your national permit certificate.
If you have any question related national permit vehicle please comment below.