How to Apply Ration Card online in Chandigarh
Chandigarh ration card online – The Food and Civil Supplies Department of Chandigarh has issued a ration card to the citizens of Chandigarh. As we know, the Public Distribution System (PDS) in the country facilitates the supply of food items and distribution of essential commodities to a large number of poor people on a recurring basis through a network of discounted fair price shops. Citizens can get benefits given by PDS, if they have a ration card. If you do not have your ration card, do not worry, through this article we are providing full details to apply for ration card.
Apply Ration Card in Chandigarh
Food and Civil Supplies Department has given such a facility that you can now apply for ration card in Chandigarh. Details are given below.
Types of Ration Cards in Chandigarh
Above Poverty Line APL Ration Card: Households with higher household incomes were released from the poverty line index.
Below Poverty Line BPL Ration Card: The family whose income is less than Rs 432.9 per month is issued to the family. This card has been issued in yellow color and is given a special subsidy rate.
Who can Apply for Ration Card
Any permanent resident of Chandigarh can apply for a ration card, if we talk about the benefits of ration card, on one hand it works as your proof of identity, and on the other side of the EPDS scheme in Chandigarh Under can be used to avail various benefits / subsidies. Here we will discuss about online ration card application in Chandigarh.
Required Documents for Chandigarh Ration Card
If you are applying for a ration card, you should have the documents given below along with the application form. Otherwise your application form will not be accepted.
1. Two photographs of family certified by Regional Municipal Councilor or Village Sarpanch
2. Affidavit stating income level of family certified by lawyer
3. Ration card filled application form
4. Address Proof or Residence Proof, you can present any document as Resident Proof which is mentioned below.
Driving License
Voter ID
telephone bill which should be in the name of the applicant.
Identity card issued by government
Procedure for Apply a Ration Card in Chandigarh ?
If you are applying for ration card through online mode in Chandigarh then you are suggested to follow the steps given below:
First go to Chandigarh ration card website http://chandigarh.gov.in/how_ration.htm. read instruction carefully.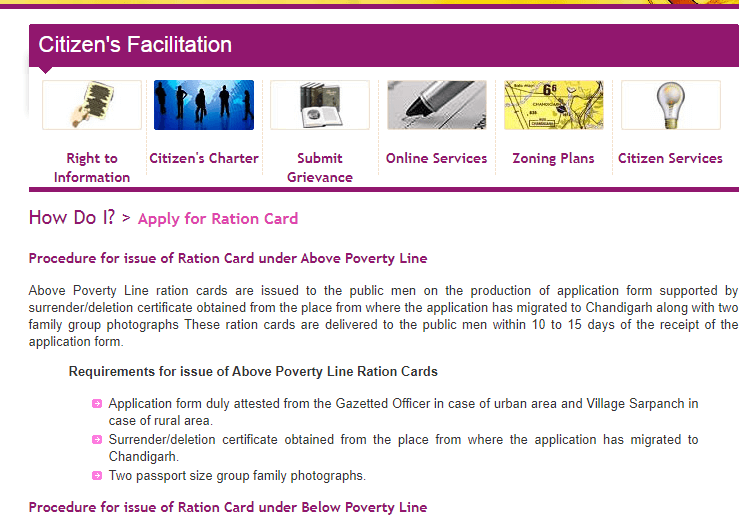 Application form duly attested from the Gazetted Officer in case of urban area and Village Sarpanch in case of rural area.
Surrender/deletion certificate obtained from the place from where the application has migrated to Chandigarh.
Two passport size group family photographs.
Food inspectors will come to your home to verify all details. Once verified, you will be issued a new ration card within 15 days.
Departments Details of Ration Card in Chandigarh
Department Name: Food and Supplies and Consumer Affairs Department, Chandigarh (UT)
Address: Food and Supplies and Consumer Affairs Department, Municipal Corporation Building, Sector 17, Chandigarh (UT)
Phone : 0172-2703956
E – Mail : fcs-chd@nic.in