Driving Licence fees : Four wheel, Two wheel and other Vehicle
driving license Fee : You want drive a vehicle on road then you need a driving licence in India. Get Driving licence process online and easy to apply for driving licence, first thing in mind what is process of driving licence online and how to apply driving licence online, First apply for learner licence when you will apply to learner licence along with require document and preparing for computer exam. pay your application fees online. you must need to pass computer exam after you will got learner licence and learner licence validity is 6 month. after 1 month you should go to RTO and take driving skill test if you will pass driving skill test then you got driving licence. pay your driving licence application fees online using sarthi parivahan website.
Driving License Fee
Learner licence application fees is very to services. National highway of India government introduce fees structure for driving licence and other driving licence related services fees structure. Parivahan website collect nominal fees for driving licence such as leanern licence application fees, Computer exam fees, Driving licence application fees, Driving skill test fees, Renewal of driving licence fees, Renwal of RC, Correction in drivng licence fees, Add new classs in existing driving licence fees and more.
Fee structure for various types of learner and driving licenses
Please Read this official information click here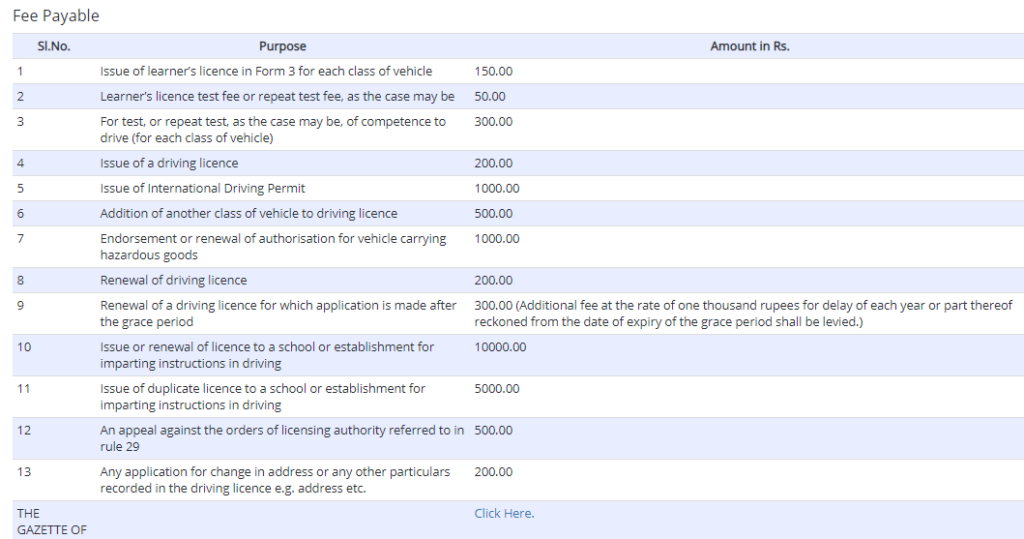 Fee for the issuance of learner's license in form no. 3 for any class of vehicle – 150/-.
Fee for the learner's license test or repeat test fee, if any such case arises- 50/-.
Fee for test, for a repeat test for each class of vehicle- 300/-.
For the issuance of a permanent driving license- 200/-.
For the issuance of international driving permit- 1000/-.
Free for adding another class of vehicle to the existing driving license- 500/-.
Fee for the endorsement or the renewal of authorization for the vehicle that carries hazardous goods- 100/-.
Fee for the renewal of your driving license- 200/-.
Fee for the renewal of driving license for which the application is made after the grace period- 300/-
The last but not the least, the fee for the issuance or renewal of a license to a school or any establishment which provides instructions in driving- 10000/-.
Driving Licence Fees
| | | |
| --- | --- | --- |
| 1 | Learner's License for each class of vehicle (on paper) | Rs 200.00 |
| 2 | Permanent Driving License on Smart Card | Rs 200.00 |
| 3 | International Driving Permit (on paper) | Rs 500.00 |
| 4 | Renewal of Driving License on Smart Card | Rs 250.00 |
| 5 | Driving test for each class of vehicle | Rs 50.00 |
| 6 | Endorsement of new class of vehicle on Smart Card DL | Rs 200.00 |
| 7 | Renewal of DL on Smart Card after expiry of grace period | Rs 200.00 + penalty @ Rs 50 per year or part thereof |