E challan West Bengal | Grips Challan
E challan WB | West Bengal E challan | GRIPS challan | GRIP challan status | e challan status WB
E challan West Bengal Online payment of Traffic Fines through GRIPS (Government Receipt Portal System) online. Now day all government services online and transparent to use common man in West Bengal. The department has implemented the integrated "E-Challan" project to fully automate. Now not only traffic police will catch you for rash driving but also cameras on the streets are watching you if you break any traffic rule you have to pay challan. You will get the challan directly at your home if you caught for breaking any traffic rule whether is it signals jump, weaves through traffic, or over speed. You can pay your west bengla traffic challan two way to pay in this post to guide.
E challan West Bengal | Grips Challan
Grips challan pay online using grips website and wbtraffic police website. two method to pay your pending e challan in west Bengla. The West Bengla e challan is pay when the traffic police are caught and not following the rules and regulation. At the same time, if you do not have cash the traffic police rules then pay wb traffic police or wbifms, it can be very simple. the facility of filling the e challan has been provided online.
E challan pay using WB traffic police website
If you have challan and you want to pay your e challan please follow below step :
First to visit WB traffic police Website, you can go to wbtrafficpolice.com. now open home page of official website of traffic police West Bengal. Now show "pay online Now" Button. click it on button.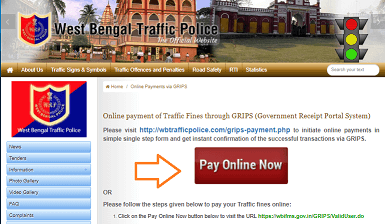 Now open form and Please fill up the form below to process your Traffic fine payments via GRIPS. following details add to
Depositor's Name (*)
Mobile Number (10 Digits only) (*)
Address (*)
Email ID
Vehicle Number (*)
Office Name (*)
Police Station (*)
Section (*)
Compound Slip Number (*)
Compounding Officer Name (*)
Issue Date (*)
Payment Mode (*)
Amount (*)
You need to correct amount value of Amount field to add and click on pay now button.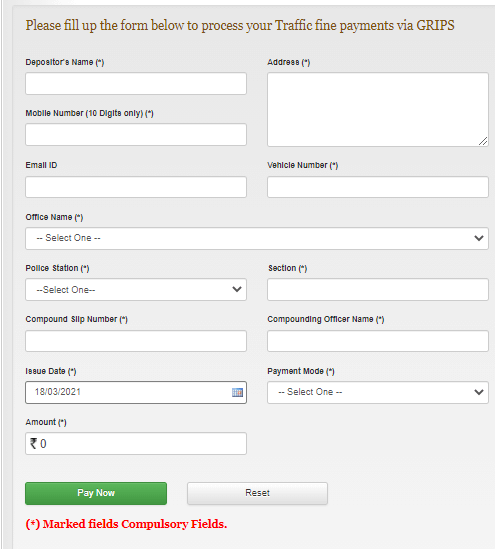 You redirect to payment page after you complete payment generate reference number, this number save for further use.
Grips challan pay online in West Bengal
you want to pay your e challan in Grips website of west Bengal we guide to step by step in below :
First, will have visit to GRIPS website wbifms.gov.in. after open page, select make payment option and click it.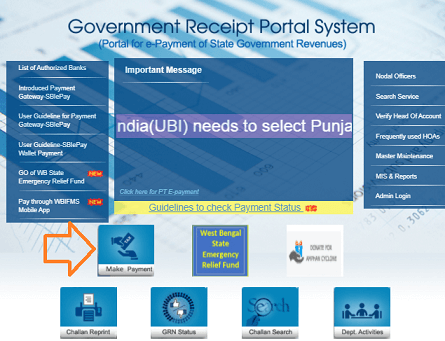 Now open payment form and fill it to correct information
Depositors Name:*
Phone No:
Mobile No(10 Digit):*
Address Line 1:*
Address Line 2:
Email:
User Type:*
Depositor
Vehicle No:
Office Name:*
ADG EB WB
Last option is select Payment Mode, any one select to available in your hand after click on process button.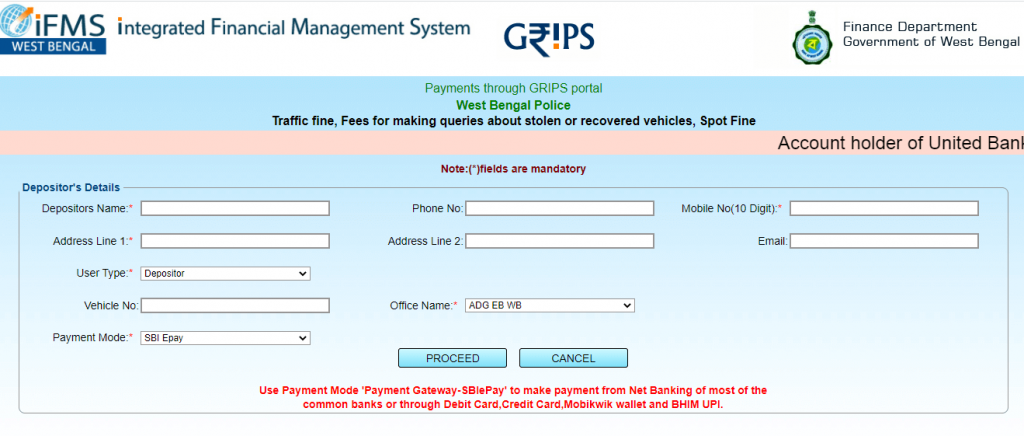 Now redirect to payment page and pay your payment after success pay your payment to generate reference number (GRN). save this GNR number for check your e challan payment status.
How to check GRN status in West Bengal ?
First, will have to visit GRIPS website wbifms.gov.in.
select GNR status option and click it.
Now enter your GNR number
Click to submit button
Status appear on your screen
how to re generate GRN slip in West Bengal ?
Go to wb traffice police website http://www.wbtrafficpolice.com/
Select side menu to GRIPS payment receipt
Now enter your GRN number
Click on search receipt button
Now you cans see or download your payment receipt.
Read More :