Download Birth Certificate online Ahmedabad
Any Ahmedabad Citizen can apply online for birth certificate through this portal https://ahmedabadcity.gov.in/, Department is registering Births, Deaths and marriages which take place in areas within the jurisdiction of AMC and issue the certificates to the applicant. who want to Download or get copy of birth certificate online they follow below process. Now day AMC all services made easy to work online, no need to visit any zone office for birth certificate. First copy is issued free of cost to applicant at concerned ward office. Citizen can get more certified laminated computerized copies from any City Civic Center after paying 50 Rs. per copy. You must need register your child birth within 21 day to 30 day.
Download birth certificate online Ahmedabad
Now day all government services easy to use and without visit to any office because all service work online, you know basic internet using then easy to use all government services. Ahmedabad municipal corporation make birth certificate online using municipal website.
Read More : How to Download Birth or Death Certificate online in Gujarat ?
How to Download Birth certificate online in Ahmedabad ?
You want download Birth certificate in Ahmedabad then First need to visit Ahmedabad Municipal Corporation official website https://ahmedabadcity.gov.in/. After open website select menu to " online services " to " online service without login " if you have already account then select to Online Services With Login option. other wise will register your self in AMC Website. we show process without Login process.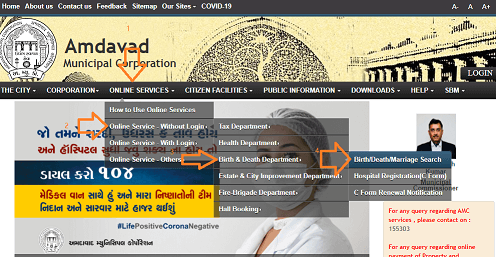 Click on menu to online services – without login -> Birth death department -> Birth/death/marriage.
Now open form like below image and enter your details like
Registration Type : Birth/Death/Marriage
Language : Gujarati /English
Registration Number :
Date of Birth (dd/mm/yyyy) :
Zone :
Ward :
Gender : Male/Female/Transgender
Name :
Father Name :
Mother Name :
From Birth Date (dd/mm/yyyy) :
To Birth Date (dd/mm/yyyy) :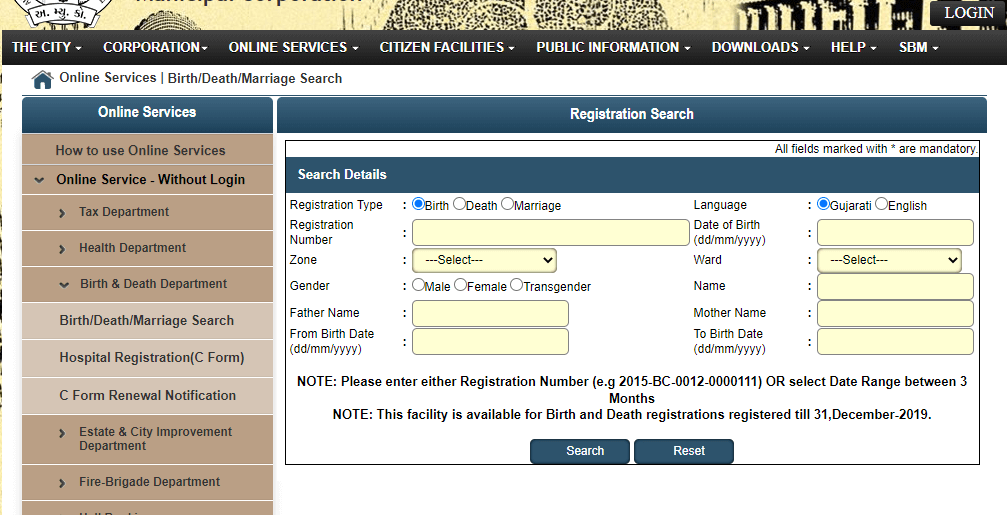 After enter all details Click on search button and show your name below list.
select your name and add to list button click and below button NEXT to click.
Now enter your address details. fill all details after next option is make payment your birth certificate. Birth certificate charge is Rs.50 per copy and Postal charge Rs.48, now click on process to payment.
Now two option available first is net banking, second is UPI/debit card, Choose your convenience method to make payment. After payment successful to pay, generate payment receipt. Now you successful to apply birth certificate
Note: you must have register user to apply for birth certificate so first step is register your self in AMC website.
Must Read this PDF to easy step Guide : For User guideline for Birth/Death Certificate delivery by post click here.
How to check Birth Certificate Application Status in Ahmedabad?
Check birth certificate application status in Ahmedabad then First visit to Ahmedabad Municipal Corporation official website https://ahmedabadcity.gov.in/. first thing to login your self. After login Select services to Citizen worklist for Birth/death Certificate.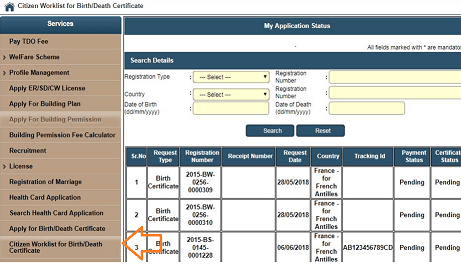 Now show a form and fill all details and click to search button. Your application status show in your computer screen.
Source of information : https://ahmedabadcity.gov.in/
Contact Details Of Ahmedabad AMC
For any query regarding availing of online services , please contact on :
1) +91-79-27556182
2) +91-79-27556183
3) +91-79-27556184
4) +91-79-27556187
5) info@ahmedabadcity.gov.in
Read More :