Download Marriage Certificate pdf online in Surat
Marriage Certificate Download : Gujarat government services and nagar palika services have offer online and easy to use. Now day central government try to make all thing digital and transparent services for common people in India. Surat Municipal Corporation (SMC) also try to possible all services offer online. Currently, the municipality has launched many services online such as marriage certificate, birth certificate, death certificate, property tax pay online and etc. In this post we will explain what is process the registration for Marriage Certificate and how to download Marriage Certificate.
Marriage Certificate Download in Surat
Marriage certificate is very importance document in Gujarat. Marriage Certificates are used in many places such as name change in every document, add name in ration card, passport, wife name change and etc.
Require document for Marriage Certificate in Surat
Below is a list of documents required for the Marriage Certificate in Gujarat :
Application form.
1-1 Passport size photos of Groom and Bride separately.
3 Marriage Photos of Groom and Bride.
ID proof of Groom and Bride.
Wedding card of Marriage.
Any one ID proof of Parents of Groom and Bride.
Oath Letter of Groom and Bride (incase of more than twenty days of Registration).
Priest/Institute Certificate in case of Marriage done in Temple or Arya Samaj.
Marriage hall Receipt/Punchnama from parshad.
Documents required to verify Groom and Bride Date. – Birth Certificate/Driving License/Aadhar Card/Marksheet Photocopy.
2 Witness ID proof with Address.
How to Download Marriage Certificate in Surat ?
You can check or download your marriage certificate online in Surat then first you can visit enagar official portal of Gujarat government : https://enagar.gujarat.gov.in/DIGIGOV/ . Open this website and select menu to certificate verification.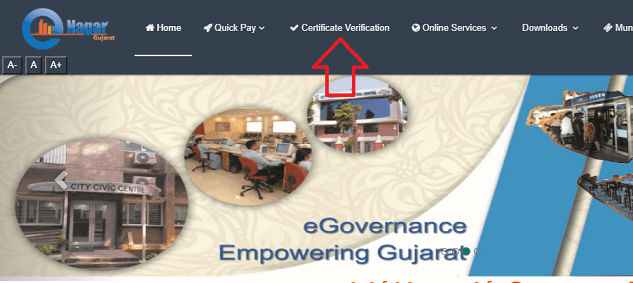 Now select your municipal corporation (UBL Name), application name such as marriage certificate, Register Date, Register Number, Date of marriage and enter captcha code.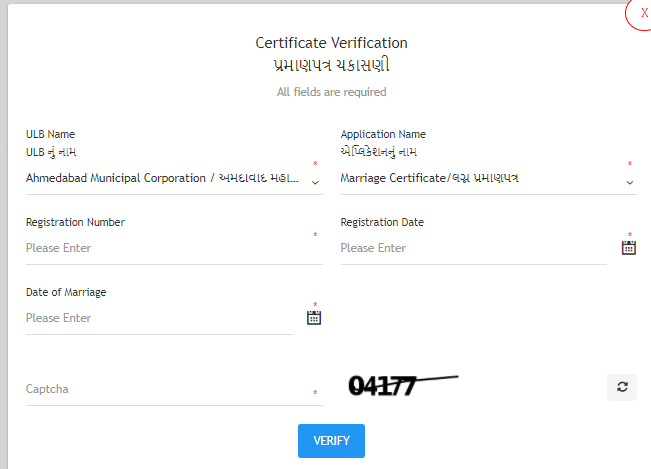 Click on verify button and get your marriage certificate details on your screen.
Marriage certificate very useful for change name in government document and other document. Every one need marriage certificate in Gujarat, Marriage certificate is Very importance document in life.
How to Marriage Certificate Form Download in Surat
If you want to download marriage registration form in surat municipal corporation then you can go to official website of Surat Municipal Corporation (SMC) https://www.suratmunicipal.gov.in.

Fill Form and submit with all document at Surat municipal corporation zone office.
Download Marriage certificate form : Click Here
Help Line number for enagar.gujarat.gov.in
Registered Office :
Karmyogi Bhavan, Block-1, Ground Floor, Sector No: 10/A, Gandhinagar, Gujarat-382010.
Email : ulbhelpdesk-enagar@gujarat.gov.in
Read More: