Nadakacheri – caste, income certificates in Karnataka
Nadakacheri : The services of the Government of Karnataka like the caste, income certificates and social security schemes were earlier delivered to the Citizens at the Taluka Level. The Citizen had to give written applications along with supporting documents for the services required at the Taluk Office, which would then be manually processed and sent to the field officials for verification, the report was processed and the final manual certificate was issued by the Tahsildar at the taluk office. This process was cumbersome and expensive (citizen had to travel to the taluka office twice and may be in between also to know the status) and was time consuming.
Now, services of Government of karnatak is online, to avail the services offered by Government at the State, District and the Taluka Head Quarters at the Hobli level.
Nadakacheri
The new Atalji Jansnehi Kendra(Nada Kacheri) Project has been launched in 777 Hobli centres across the state on 25.12.2012.
Overview of Nadakacheri
List of services
Nadakacheri provide 40 online services :
Caste and Income Certficate
Caste Certificate (Cat-A)
Caste Certificate (SC/ST)
Bonafide Certificate
Attestation of Family Tree
Anthya Samskara Yojane
Agriculturist Certificate
Agricultural Labour Certficate
Agricultural Family member cer
Acid Victim Pension
Crop Certificate
Domicile Certificate
Farmer Widow Pension
HK Region Residence and Eligibility
Income Certificate
Income Certificate for compass for Employment
Income Certificate for Employment
Indira Gandhi National Old Age Pension
Land holding Certificate
Land less Certificate
Living Certificate
Manaswini
Minority Certificate
Mythiri
National Family Benefit Scheme
No Govt. Job Certificate
No Re-Marriage Certificate
Non creamy layer Certificate
Non Tenancy Certificate
OBC Certificate (Central)
Physically Handicapped Pension
Population Certificate
Residence Certificate
Sandhya Suraksha Yojane
Small / Marginal farmer Certif
Solvency Certificate
Surviving Family Members Certi
Unemployment Certificate
Widow Certificate
Widow Pension
Apply Income Certificate Application Online in Karnataka
We guide to how to apply icome certificate application online at nadakacheri, follow below simple step :
Firs to go to Nadakacheri official website https://nadakacheri.karnataka.gov.in/AJSK/
If you want any application to submit before you must have login to portal, after login redirect to home page
Now select to "New Request"
And select income certificate option
after Fill all details in form
Next to upload required document
Select mode of delivery and save application and "Acknowledgement Number"
Next is payment option show
Now you can payment online after your payment success then your application success to submit
Please Read Guide line and step by step process https://nadakacheri.karnataka.gov.in/AJSK/Assets/Documents/NKManuals.pdf
Documents For Income Certificate
Following documents are required if you are applying for the income certificate through the official website:-
Aadhar Card
Application letter
mobile number
Residence proof
A report released by Patwari / Sarpanch
Apply Birth Or Death Certificate Application Online
Go to http://ejanma.kar.nic.in and apply birth certificate or death certificate
Now all step guide please see this pdf
https://nadakacheri.karnataka.gov.in/AJSK/Assets/Documents/ejanma.pdf
Apply Cast Certificate Application Online
Please read this pdf https://nadakacheri.karnataka.gov.in/AJSK/Assets/Documents/e-KSHANA%20Manual.pdf
Requirement document for cast certificate
Aadhaar Card
Application letter
Mobile number
Residence proof
Income proof
The Report released by Patwari / Sarpanch
Ration Card
Check your Cast Certificate Application Status in Karnataka
You apply online application and you want to see your application status, we guide to to how to check your application, following step :
First visit Nadakacheri website
Select Online application menu to Application status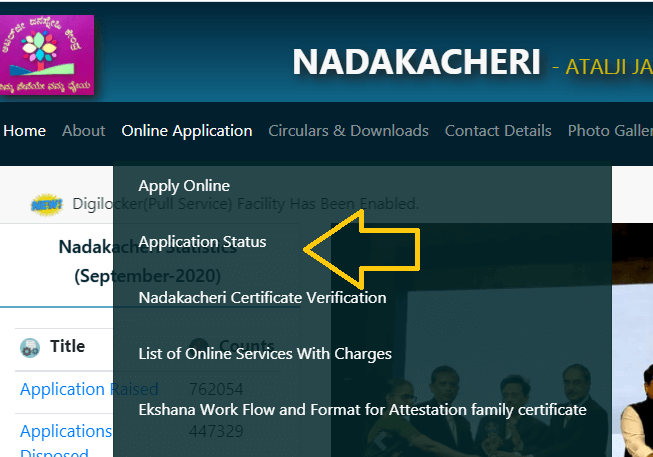 Now select application types and enter your application number