Tamilnadu Ration card online apply : Status, Print Ration card
Tamilnadu ration card online – Civil supplies and consumer protection are responsible for issuing ration cards in the state of Tamil Nadu. The Public Distribution System in Tamil Nadu aims to ensure food security to all citizens, especially the poor, by providing essential commodities at reasonable prices every month, through fair price shops. In this article we are sharing all the information about ration card in the state of Tamil Nadu. You will be able to know every information about ration card in Tamil Nadu.
Tamilnadu Ration card Apply Online
The consumer has to submit the ration card application form. First of all, get the application form from the office of Civil Supplies and Consumer Protection Department and fill all the correct information required in the application form. Attach all relevant documents with the application form and make the required application fee. Hand over the office person / operator at the center and get an acceptance slip. other services like add new member in ration card, change address in ration card, remove member, View your Ration Card Details, View your Family Members Details, View your Address, View your Family Members Aadhaar Numbers. All process show in this articles.
Who are Eligible to Get New ration Card ?
1. The applicant and his family must be Indian citizens
2. The applicant and his / her family should live and cook separately
3. In Tamil Nadu, the applicant and his / her family should usually be resident
4. Applicant or his family members should not have any family card in any state in India
5. Applicant or any member of his family in Tamil Nadu should not be a member in any other family card
6. Applicants and family members must be close relatives
List of Necessary Documents for Ration Card
The applicant will have to produce the following documents along with the application form.
In support of resident evidence: & nbsp; The applicant can produce any one of the documents, which is mentioned as the address given below.
Election Photo Identity Card (EPIC)
Electricity bill (last month)
Telephone Bill (Last Month)
Front page of bank pass book
Passport
Currently valid tenancy agreement (in case of rented house)
Surrender certificate: This is required when you are applying for a change of address on a ration card. The surrender certificate along with the relevant family card issued by the card issuing authority if any card has been issued at the previous address.
For name deletion: not to include the naming certificate from the parent or guardian family card or the name certificate issued by the card issuing authority at the previous address.
Types of Ration Card in Tamil Nadu
All Commodity cards (Green colors) : Green cards are issued to those cardholders who opt for rice and all other essential items.
Sugar cards ( White):Cardholders opting for sugar instead of rice are issued. Cardholders can purchase all other essential items except rice. No commodity card
No commodity cards (White): Such ration cards are issued to cardholders who do not want any item under the public distribution system.
How to Apply for smart Ration Card in Tamilnadu
Now, We guide to How to apply ration card online in Tamilnadu state, show process in below.
First Go to official website PSD Tamilnadu https://www.tnpds.gov.in/
Now a new page will open, now a form will appear and select new smart card application

Now fill in all the details of the form and add the names of all the family members. First name add after click on add new member button click, now add second name this this process again and add all family member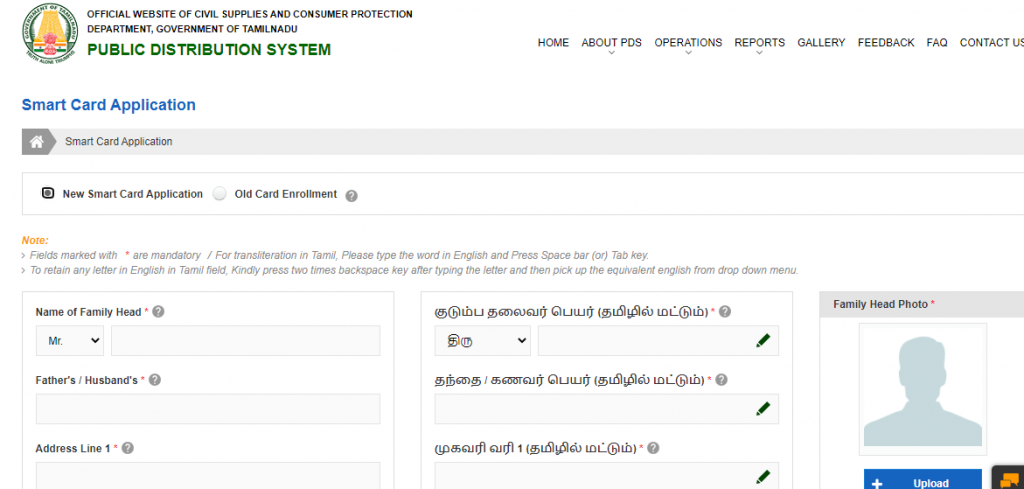 Then you select your card type, Ration card types and has shown the need at the top of the post. you can select your type ration card and click to submit button.
After you submit your application, You will receive a reference number after submitting a successful application, this reference number remember. you will require to further process using this reference number.
Check Ration Card Application status
You have applied for a new ration card and if you want to see your application status, follow the process below.
First go to the official website of Taminnadu Ration card PDS
Now you can select smart card application status from under menu smart card application services, this show in below image

Open will new page and enter your application reference number, reference number is when you apply ration card application and generate reference number.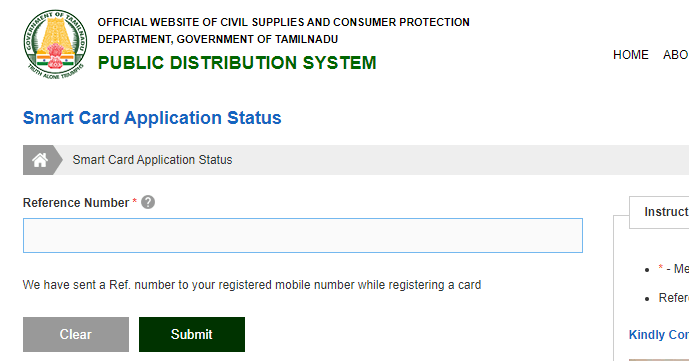 Now click on submit button, status will appear on your screen
How to reprint smart ration card in Tamilnadu
If your old ration card is lost or torn, you can reprint the ration card a second time, please follow below process.
Now go to Taminnadu Ration card PDS, page open like show in below image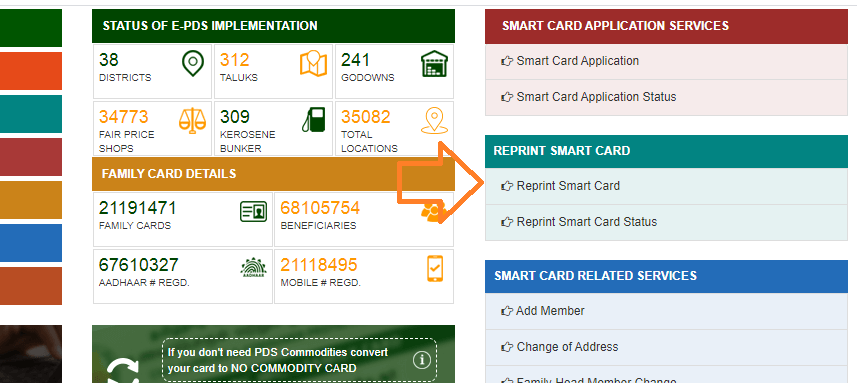 Now select menu " reprint smart card" to Reprint smart card"
After click on reprint smart card to open login page

Enter your mobile number and captcha code, Many services are used after you login
The following are some of the benefits for Registered users:
View your Ration Card Details
View your Family Members Details
View your Address
View your Family Members Aadhaar Numbers
View your Grievances, Raise new Grievance
View your Feedbacks, Provide new Feedback
Apply for Changes in your Ration Cards Online
View your Entitlement and Transaction Details
Other services on ration card after you login