Udyog Aadhar : Download and Apply online
Udyog Aadhar registration is a process for micro, small and medium businesses through which small and medium scale industries can get many benefits. Interested beneficiaries of the country who want to do their own business. It is very easy to become an Udyog Aadhar card, The whole process is easy to do online. This post will show you how to register Udyog Aadhar for your bussiness.
Udyog Aadhar Registration
Udhyog Aadhar is very useful document for your business. India's government want to easy to do business every one in India. so publish Udhyog Aadhar portal and self to register using this website.
Benefits of Udyog Aadhar Registration
The benefits of the government scheme will include loans without guarantee, low interest rates on loans and easy loans.
Excise discount
Under direct tax laws, exemption will be given
Fee Reduction Patents and Trademarks
Requirement Document for Udyog Aadhar
Aadhar Card
Pan Card
mobile number
Passport size image
How to registration Udyog Aadhar online ?
If you need to udyog Aadhar and want to registration online then follow below step :
Step 1 : First, you need to visit MSME Official Website of Udyog Aadhar
step 2 : Now available three option : 1.For New Entrepreneurs who are not Registered yet as MSME or those with EM-II, 2.For those already having registration as UAMF or 3. those already having registration as UAM through Assisted filling. in this post we take new entrepreneurs who are not registered yet as MSME.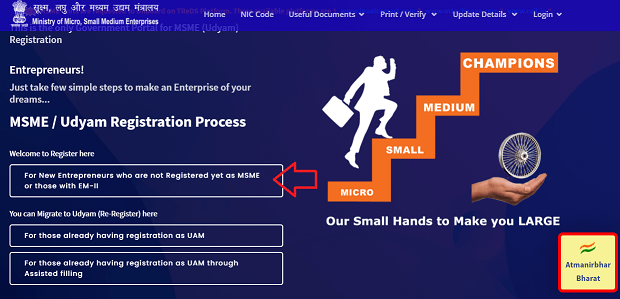 step 3 : Now enter Aadhar Number and name of Entrepreneurs, After reading the information, tick the checkbox and click on the option "Validate & Generate OTP"
OTP will be sent to your registered mobile number, enter OTP and click on Validate option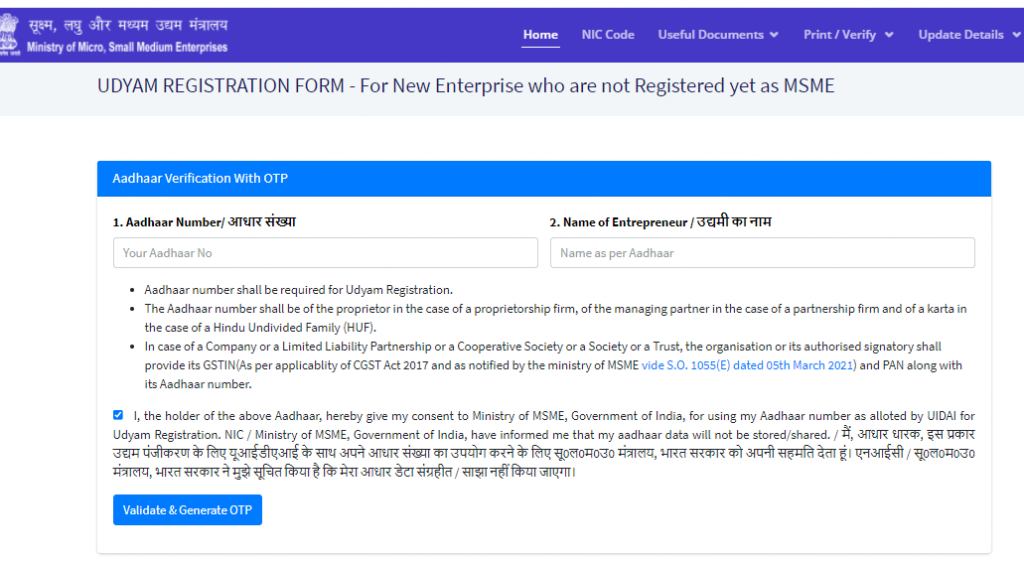 step 4 : Now you need to enter the remaining information asked on the screen such as your category, gender and other related details.
step 5 : Submit the application form after reviewing all the information and check correct information or not.
step 6 :Take a print out of your online registration application for further use. only soft copy provide not a hard copy given so please save this soft copy of udyog Aadhar.
How to Download Udyog Aadhar online ?
If you want download your Udyog Aadhar then you visit Udyog aadhar website and select menu to "print/verify" -> "print udyam certificate"

Now enter Udyam Registration Number, Enter Mobile (Filled in application) and Choose OTP Option after click on Validate and generate OTP button.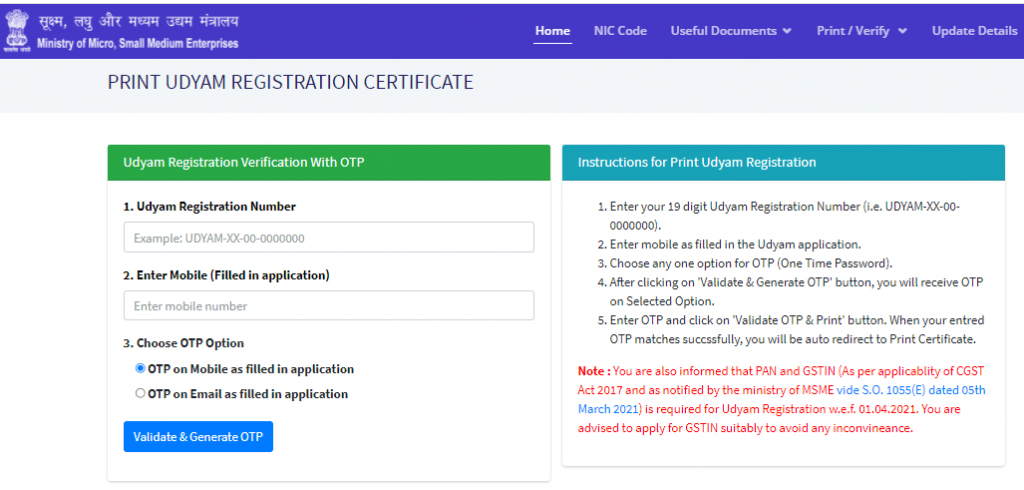 Enter OTP you received in mobile and print your udyam certificate.
Help Line for Udyog Aadhar
Address :
Ministry of Micro, Small and Medium Enterprises
Udyog Bhawan, Rafi Marg, New Delhi – 110011
Email Us : champions@gov.in
Reference by : Udyog Aadhar website
Read More :