How to change mobile number in Aadhaar card
Change mobile number in aadhaar card : Aadhaar Card is a kind of scheme that provides Indian citizens with a unique combination of a 12-digit code called Aadhaar. This is issued by the UIDAI (Unique Identification Authority of India) on behalf of the Government of the Indian nation. The most important purpose was to help establish a unique identity for each and every individual of the country.
Read More : How to Change Address in Aadhar card Online at Home ?
Keeping your Aadhaar updated is not only beneficial but is quite necessary to avail of a lot of online services. In order to avail online facilities related to Aadhaar, you need to first register your mobile number with UIDAI (Unique Identification Authority of India) that will be used to send the OTP for authentication.
Change Mobile Number in Aadhaar Card Online
if you don't have existing link mobile number to aadhar card then only offline method work. If you have already link mobile number to aadhar card then you can change your mobile number using OTP online.
How to Change Mobile Number in Aadhaar card Online ?
If you want to change mobile number in Aadhaar Card then first go to the UIDAI Portal https://resident.uidai.gov.in/verify-email-mobile
Now UIDAI Portal Change To Mobile number update method
Only Offline Method to change Mobile Number, this method show below.
Change your Mobile Number in Aadhaar card Offline Method
If you have lost your old number and want to update or add the new mobile number, you cannot follow the procedure stated above. You need to update the mobile number offline,
Download the form from UIDAI. https://uidai.gov.in/images/UpdateRequestFormV2.pdf
Fill the form with simple details
Send the filled up form to any of the two addresses mentioned in the form.
Don't forget to attach a photocopy of self-attested proof of identity.
You can also submit the form to nearest AADHAAR card centers.
Find your nearest AADHAAR card center https://appointments.uidai.gov.in/easearch.aspx
After submitting, your application will be verified by the officials and after some days you will receive an SMS confirming the updation of mobile number. If you have not provided the mobile number during the enrollment and now want to update the mobile number you have to do it offline only. You cannot update the mobile number online in this case.
How to check AADHAAR update status
If you want to check your Aadhaar card status then follow below process :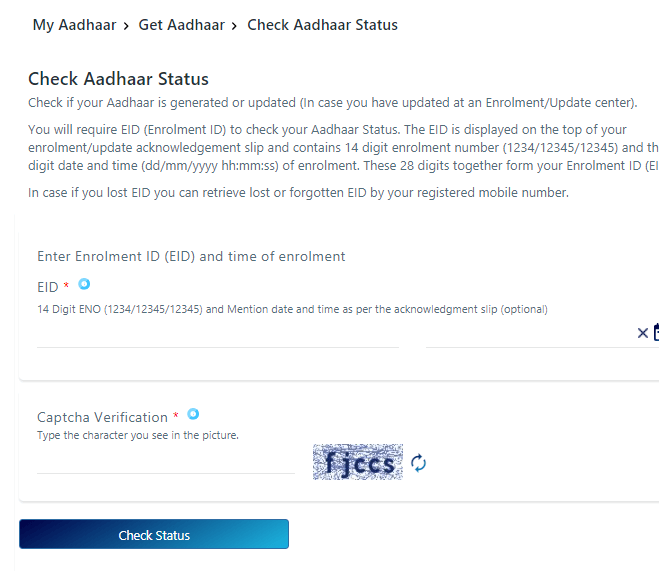 Now enter aadhaar nuber and captcha code
Get all Details about aadhaar card update status
You can also visit the nearest AADHAAR Enrolment Centre and ask the officials for correction in the mobile number. The official will change the mobile number in the AADHAAR database.
The public service centers have been licensed to facilitate the process of making Aadhaar. Anyone who wants to get Aadhaar can go to these public service centers and apply. In making an Aadhaar card, the person's eye lens and fingerprints are recorded. Simultaneously the person has to submit address proof. Aadhaar card will be sent by post to the given address.
Read More