Karnataka Ration Card List 2023 – ahara.kar.nic.in
Karnataka Ration Card List : As we know that ration card is a very important document in India, especially for the poor people to buy goods like grains, wheat, sugar and kerosene at subsidized rates based on their economic condition. The Ministry of Food and Supplies in the state of Karnataka takes full responsibility for the rationing to the state's citizens by means of issuing a Karnataka Ration card list.
The Karnataka State Government, Civil Supplies Department and Consumer Affairs Department have introduced various facilities regarding ration card issues such as online application for ration card, status of checking ration card, improvement in ration card, etc. In this article we will discuss detailed information about Karnataka Ration Card.
Karnataka Ration Card List 2023
This service is to facilitate an opportunity to citizens of Karnataka to get enroll for Ration Card Service through ahara.kar.nic.in.
Overview of Karnataka Ration card
| | |
| --- | --- |
| Department Name | Food and Civil Supplies Consumer Affairs |
| Official website | ahara.kar.nic.in |
| Help Number | 1967 or 1800-425-9339 |
| State | Karnataka |
karanatak ration card
How to Check Karnataka Ration Card List
If the consumer has applied for the ration card, they can check the status of the ration card application with the help of the steps given below.
Go to the official website ahara.kar.nic.in And click on "e-service" from menu

2. Open new page, show side menu "e-ration card" to select "show village list"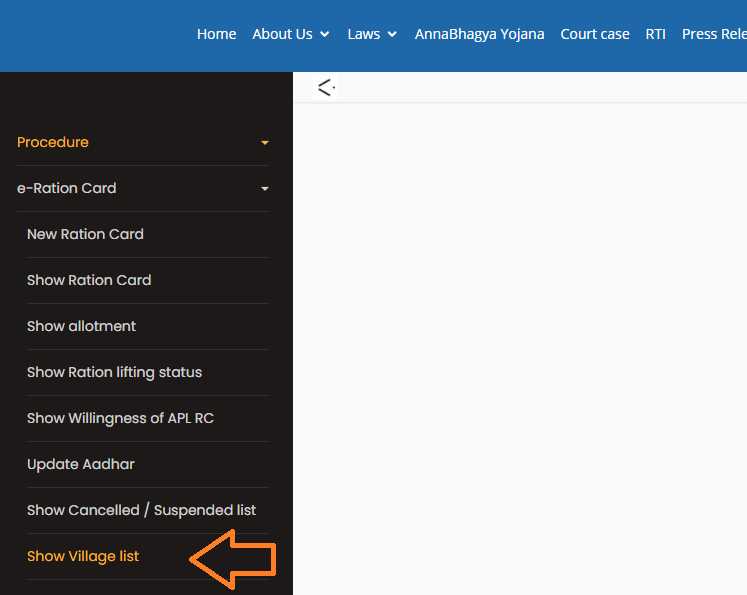 3. Now select all field : District, Taluka, Gram Panchayat and Village after click on go button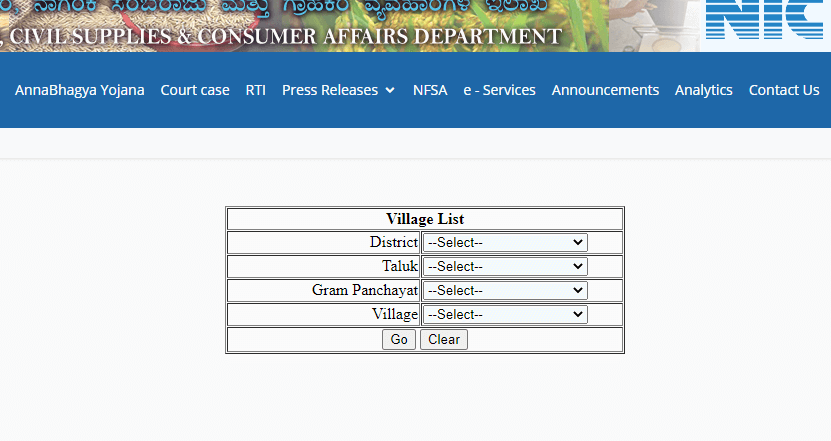 4. Now show your village ration card list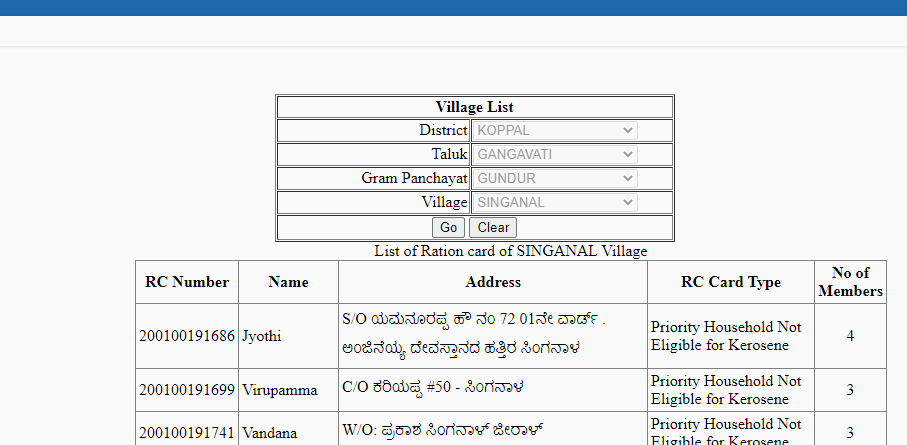 The details of your ration card will be displayed on your screen.
How to Apply for Karnataka Ration Card
Residents of Karnataka can apply for the Ration Card with a simple procedure which is as below.
1. Firstly go to the official website and show process to apply new online application for ration card. Read carefully instruction.

2. Fill in the application form and attach the necessary documents, proof of residence and passport size photographs verified by the Gazette Officer.
3. Submit the application form to the nearest ration card office. If all the filled details are correct, then the ration card will be sent to your address. And check your Ration Card Application status show above method in this post.