MP RTO – Apply Online Driving Licence
MP RTO Driving Licence online: Applicants for applications related to DRIVING LICENCE, Learner License, Renew and duplicate licenses will no longer have to go to RTO. Applications can be made for these at public service centers. M. P. Transport said that the services of the Transport Department (MP TRANSPORT DEPARTMENT) have also been brought to the notified services under the Public Service Guarantee Act. It will be updated soon on the website. After this, their work will be done only at Public Service Centers (PUBLIC SERVICE CENTER) if desired by the applicant.
How To Apply For Driving Licence MP RTO Step By Step Understanding
first Go to mp rto website
https://dpes.mptransport.org/APPOinTMENTSYSTEM/(S(alvfpuv0k5vtieqkmqhdds55))/Appointmenthomepage.aspx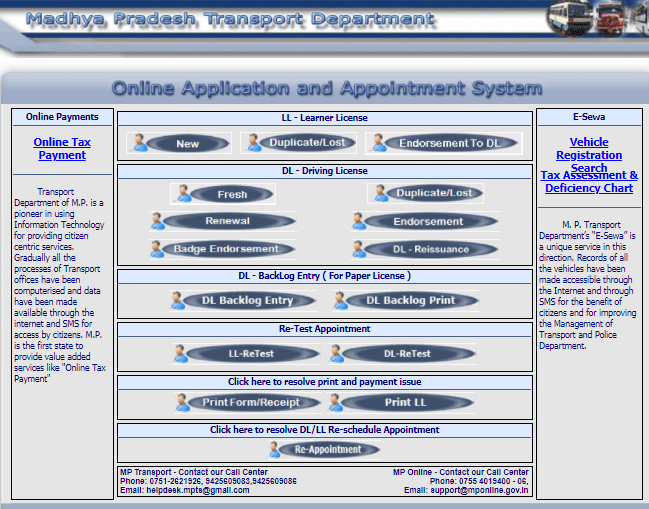 Step 1: Please Select a District to book your slot for Learner License: You're's MP RTO select fresh in LL – Lerning License
Step 2: Are you Physically Challenged, then please select the category:
Step 3: Applicant's Information
Applicant Name: Enter Your Full Name
Relationship Type: Relationship Type Enter C/O, S/O, and D/O
Father's Name: Enter Full Name of Father's
Address: Enter Your Permanent Address
City:Enter Your City
District: Enter Your MP State District
Pin Code: Enter Your Village or City Pincode Number
Email ID: Enter Your Personal Email Id
Mobile No: Enter Your Mobile Number
Aadhaar No. : Applicant Aadhar Number If Available
Qualification: Last Qualification Details of Applicant
Date of Birth: Applicant DOB
Gender: Male / Female
Blood Group: Blood Group of Applicant
Fees Amt: Auto Counting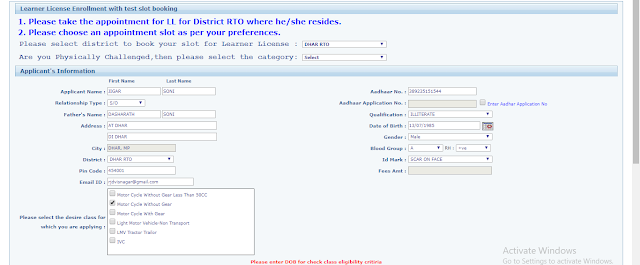 Step 4: Please Select the Desire class for which you are applying :
Motor Cycle Without Gear Less Than 50CC
Motor Cycle Without Gear
Motor Cycle With Gear
Light Motor Vehicle-Non Transport
LMV Tractor Trailor
IVC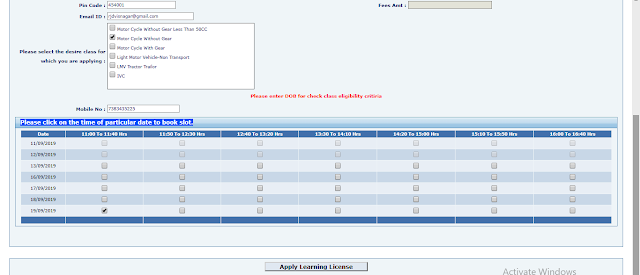 Step 5: Please click on the time of a particular date to book a slot.

Step 6: Payment Details for State Bank Of India and


Step 7: Print Learner License
MP RTO Driving Licence Documents Required
– Residence proof
– Attached with a gazetted officer, or notarized copy of Ration card with a copy of the letter
– Electricity bill, telephone bill, passbook of a nationalized bank with an affidavit
– LIC Policy
– Passport
– Voter I Card
– Age proof – Certificate of the Fifth (Attested) – Passport – Birth certificate
This work will be done at MP RTO Transport Department
Registration for the application of learning license
Application for duplicate learning license
Issuing driving license
Driving license renewal
Issue of duplicate surety licenses
Driving Licence MP Fees Structure 2019-2020
LICENSE FEE STRUCTURE
Class of Vehicle
Fee (Rs.)
Learner's License Only MP State
All Vehicles
40 (Single Class)
Renewal of License Only MP State
All Vehicles
250
Duplicate License Only MP State
All Vehicles
250
Class Endorsement Only MP State
All Vehicles
300
International Driving Permit Only MP State
All Vehicles
500
Authorization for PSV Only MP State
Public Service Vehicle
100
Duplicate Authorization Only MP State
Public Service Vehicle
100
Conductor License & Badge Only MP State
Stage Carriers
125
Renewal of Conductor License Only MP State
Stage Carriers
125
Duplicate Badge Conductor License Only MP State
Stage Carriers
100
Duplicate of Conductor License Only MP State
Stage Carriers
100
You had to apply to the RTO for a driving license. Due to the huge crowd, there used to be a lot of problems and due to this, the brokers became active. Recently, Union Minister Nitin Gadkari also admitted that in the process of making a driving license, wrong licenses are issued due to bribery. Explain that in road accidents, most licenses are made in lieu of bribes.
Read More