Old Vehicle HSRP Number Plate Registration in Uttar Pradesh
You have old vehicle then you need to change your vehicle old number plate and install a HSRP number plate in Uttar Pradesh. HSRP number plate for vehicle is compulsory. The Central Government is of the opinion that it is necessary and expedient in the public interest to notify that the process used by a manufacturer in regard to a high security registration plate(HSRP) for a motor vehicle shall conform to certain standards with reference to the Central Motor Vehicles Rule, 1989. The high security registration plates shall have a certificate from the Central Road Research Institute, New Delhi or any one of the testing agencies authorised by the Central Government under rule 126 of the Central Motor Vehicles Rules, 1989. in this post we guide to how to book appointment for HSRP number plate for old vehicle in Uttar Pradesh ?.
Read More : How to Book HSRP number plate for new vehicle in Uttar Pradesh ?
Hsrp Number Plate Appointment online for Old Vehicle in Uttar Pradesh – Step By Step
Want to book appointment for HSRP number plate for old vehicle or new vehicle in Uttar Pradesh then first go to hsrp Uttar Pradesh website www.orderyourhsrp.com. Then click on to  "Order Your HSRP Now".

There are show form and select vehicle order types to old vehicle HSRP kit and select Uttar Pradesh state, vehicle manufacture name, fitment location.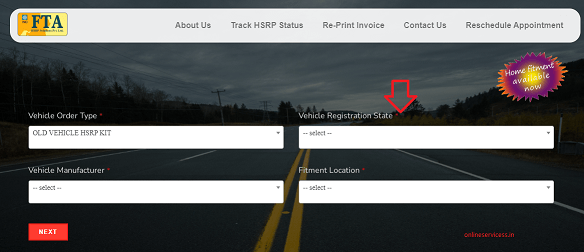 Then After You have to select your respective city and dealer, Click on NEXT button.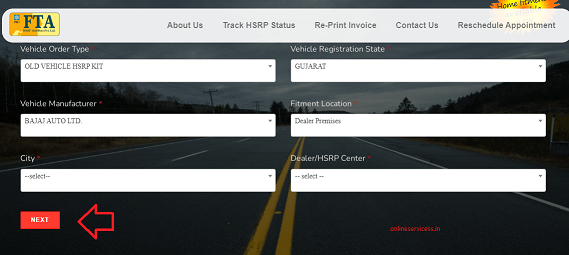 Now enter vehicle registration number, engine number, chassis number and click on verify and submit button.

Then you have to select the day and time appointment you want and pay fees.
Uttar Pradesh government has issued a circular for compulsory installation of a new number plate for old vehicles. People who have old vehicles can get a new registration for a new number plate using hsrp website and appointment for a new number plate using the hsrp website.
HSRP Number plate fees in Uttar Pradesh
Check out the table below for the pricing of new HSRP number plate inclusive of all taxes in Uttar Pradesh :
| | | |
| --- | --- | --- |
| Types of Vehicle | Types of Application | Price |
| Two Wheeler | Complete HSRP set | 160 |
| Three Wheeler | Complete HSRP set | 200 |
| Car | Complete HSRP set | 460 |
| Bus, Truck | Complete HSRP set | 480 |
Reference by FTA HSRP Solution website : https://www.hsrpgujarat.com/pdf/Price-notification.pdf
Read More :