One Nation One Ration Card Scheme – Online status check
one nation one ration card online | One Nation One Ration Card | check status one nation one ration card
One Nation One Ration Card : The state government distributes ration cards to its citizens. Ration card is prepared for a resident consumer of only one state, that citizen cannot go to another state and use his ration card, but now it has been determined by Food Minister Ram Vilas Paswan of the Central Government that all the consumers are a ration With the card itself, you will be able to take advantage of ration throughout the country and get their share of grain from the shops. This scheme is being known as one country one ration card.
In the recent meeting, several issues were discussed by Paswan such as efficient implementation of the National Food Security Act, storage of food grains, complete computerization, and transparency in distribution and more then Depot Online System (DOS) of FCI, CWC and SWC depots This issue has also been kept in sync with.
One Nation One Ration Card
Under one country one ration card scheme, the facility of ration card will be given to the residents of every region in every state in the country. The person can get his one day food from any PDS shop under this scheme from his ration card wherever he is. This is a great relief for every citizen.
One Nation One Ration Card Scheme Benefits
Under this scheme, migrant laborers will get benefits which are poor and go from one state to another in search of employment and keep looking for opportunities.
All the beneficiaries will be completely free to take their ration from PDS ration center of any state under this one country, one ration card scheme.
The scheme can be availed by visiting any ration center. There will be no compulsion to get ration from any one center. This will not put the entire burden on the seller of the same ration.
The good thing is that the integrated management of PDS system in many states of the country has been started by the government very fast under which Andhra Pradesh, Maharashtra, Rajasthan, Karnataka, Gujarat, Haryana, Jharkhand, Kerala, Telangana as well as Tripura As the state is included.
The Central Government wants to establish this one country, one ration card scheme in different states of the whole country as soon as possible so that maximum number of people can avail the scheme.
The Food and Public Distribution Department is working on a large scale by promoting this scheme so that by next month, beneficiaries of Telangana and Andhra Pradesh can also avail of one country, one ration card scheme from PDS shops and perceived benefits.
The stories of corruption will be reduced under one country, one ration card scheme and every consumer with the help of their ration card will be able to buy food from any PDS shops with transparency and ease.
Check status of one nation one ration card
First visit IMPDS official website and show all state.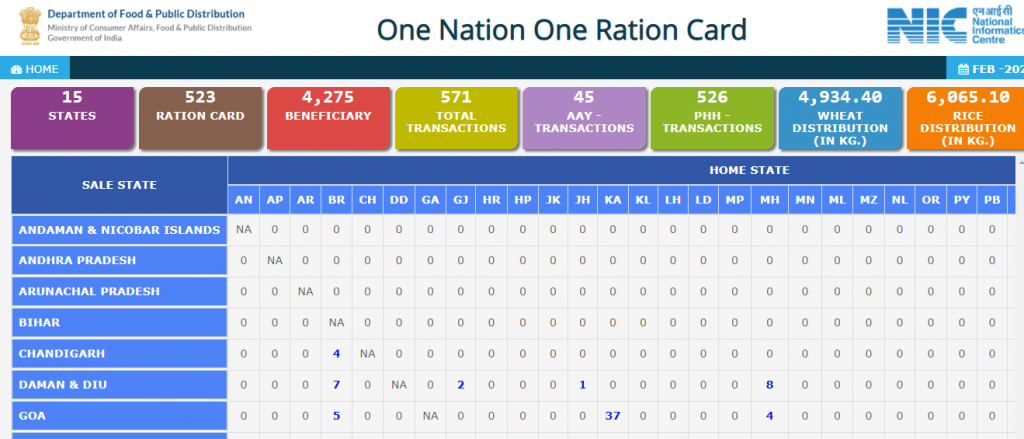 Now select Your state name to select number.

Appear on screen your state list and check your name.
One nation one ration card apply online
Please read this information carefully https://nfsa.gov.in/portal/apply_ration_card
State Wise Ration card Official website
The Food and Public Distribution Department is doing all the work purposefully under one country, one ration card scheme.