How to Register in Parivahan Sewa | Step by Step Guide for New User
Register in Parivahan Sewa : Sarthi Parrivahan website is very importance in life. All service make online using this website. Register in Parivahan website you will do many things online. After register in Parivahan, There are many benefits to using the service such as a Vahicle related service and driving licence related services. The services that this portal deals in are related to the vehicle, driving license, fancy number booking, know your RC details, homologation, national permit, and some of the other international services as well.
New User Registration in Parivahan sewa
If you want to registration in Parivhan seva then vahan.parivahan.gov.in online registration and login process has been made it easy for all the new users now. In this article, in order to ease the difficulty of the new users, we have now come up with the step by step guide for new user to register and login easily. Let us understand this process in detail:- Register in Parivahan Sewa

Once you click on the official link, you will see the above portal gets opened in front of you. Here, you need to scroll down the page to proceed further. After scrolling down, you have to click on "vehicle registration related services".

After clicking on "vehicle registration related services" you will see the vehicle related services. Choose other states, if you live in other states than Delhi and Sikkim state. Suppose you live in Delhi click on "Delhi and Sikkim state" to proceed further for the registration process.


As soon as you click on register, the "user registration" page gets opened. Now you need to enter your personal details including your full name, your email ID- which will be considered as your user ID later, your mobile number and select your state, enter the captcha code and click on register now.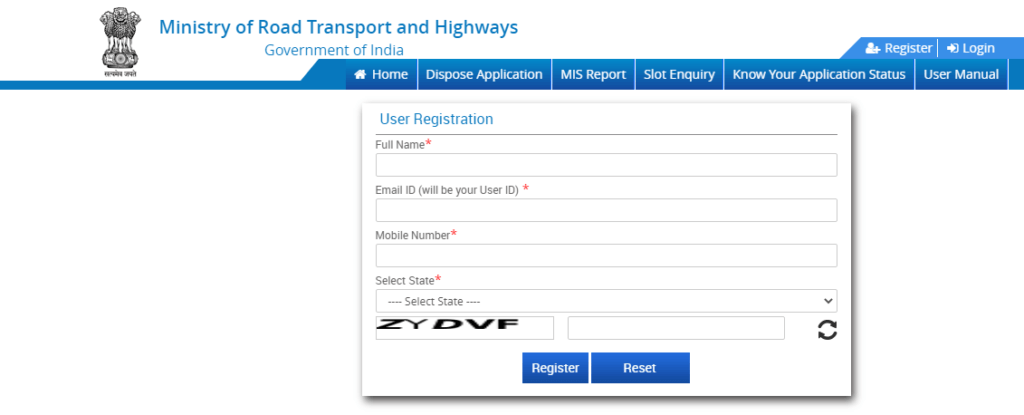 After you have filled all the details properly, the next that you will see is a message saying- Success! New user successfully created, kindly check your email! This clearly says that your user ID and your password has been successfully sent to your email. Login to your email now to grab the details.

So, now you have opened your email ID and successfully received your password. It is to be noted that the user ID will be your email ID.
vahan.parivahan.gov.in Login | How to Login into your Account
After you have noted down your user id and your password, you need to do "user login". Enter your email id as your user ID along with your password, enter the captcha code given and click on submit. You have successfully logged in to the portal and it is done.
So, this is the step by step guide for new user to avail the online transport-related services. With the help of the above steps, it is clearly understood that in order to login to the portal, we need to first register ourselves. By following the above steps very carefully, you can easily learn to register and login to the website.
Read More