How To Pay UP Border Road Tax Payment for vehicle Online
UP Border Road Tax : Hello friends, in this post of today, we will know how to pay up road tax online Like Bike, Car And Other Vehicle. There is a Lot Of Comment's "How To up road tax online for another state vehicle". What is the process of online road tax for up? How much is the vahan tax /cost for up tax Checkpost? How to do Online up vahan road tax online payment? Today we will give you the answers to all these questions very easily in this post.
Everyone Knows that Now day All Check Post Road Tax Pay Online in Parivahan gov on the website. Today we can Step By Step Understanding How to Payment for Up Road Checkpost.it's is a very easy process to up road tax online for another state vehicle.
Step By Step UP Border Road Tax Payment Online Check post
You will pay to border road tax payment online in Uttar Pradesh then first go to checkpost parivahan website : checkpost.parivahan.gov.in
Select the 'Tax Payment' from the 'Payment' menu on the home screen too Parivahan Website.

Select the state where you want to go from the 'Select State' drop-down menu like UP, Gujarat, Rajasthan, Hyrayan, Delhi and Other.
Select the service name from the 'Service Name' drop-down menu. Service Name VEHICLE TAX COLLECTION NCR(National Capital Region) AND Second Option VEHICLE TAX COLLECTION (OTHER STATE)

Click the 'Go' button to open the Vehicle details form.
Enter 'Vehicle No.' and click the 'Get Details' button to Autofill the details and Read All Details Carefully.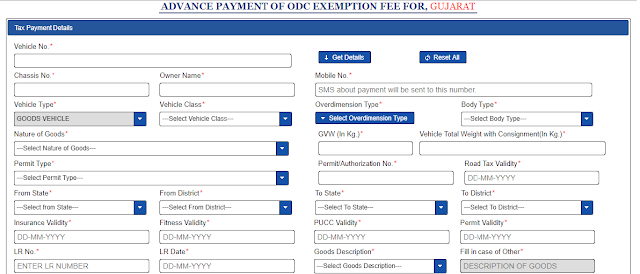 Fill the rest of the fields which are not filled automatically You Can Fill Carefully Rest fields.
In case fields are not filled automatically then enter the details manually on your computer or Mobile phone.
Click the 'Calculate Tax' button to calculate the tax according to state notification.

Click the 'Pay Tax' button to pay the calculated tax.
It opens the payment gateway of VAHAN.
Choose the payment gateway and click on the 'Continue' button.
And then follow the screen to Pay Tax.
After paying the tax bank will redirect to the Checkpost application.
In case your transaction is Success Payment it will show the successful receipt.
In case your transaction is Fail it will show the failure message. Now you can again initiate the Payment.
Print Receipt Download.
More Information about UP Boarder Road Tax Payment Online
Sarathi Parivahan Checkpost entry is intended to be a typical stage from where different checkpost administrations are given to Indian natives, as and when they are created by the office. These administrations are being begun for the online checkpoint tax installment of any vehicles for the bike or four-wheeler vahan. The proprietors of these vehicles can sign on https://vahan.parivahan.gov.in/checkpost to the entry from any web get to parivahan.gov.in Road tax and store to Checkpost Online installment their due Road taxes through net banking and Debit Card office.
Read More :