Uttar Pradesh Income certificate – Apply and Download
Income certificate is prove your annual income by government. It is very useful document for student, farmer, employ, Economically backward and other. Any one getting Income certificate from Mamlatdar/Talati/Jan Seva Kendra office. Now day very useful for getting ayushman bharat card, if you want to apply for ayushman bharat card then you will need to income certificate, if you are student and you want to apply for scholarship or EWS certificate when you should need it. The Citizen had to fill online applications along with supporting documents. In this post we guide to how to apply income certificate online in Uttar Pradesh ?. What is document need for income certificate in Uttar Pradesh.
Apply Income Certificate in Uttar Pradesh
Now, services of Government of Uttar Pradesh is online, to avail the services offered by Government at the State, District and the Taluka Head Quarters at the Hobli level. Applicant should ready with service specific information like: Occupational Details, Family details, other than basic applicant details before moving with submitting application online.
Required Document for income certificate UP
Residence Proof
Salary slip (in case of employed person)
How to Apply Income Certificate online in Uttar Pradesh ?
Time needed: 7 minutes
Easy step to apply income certificate application online in Uttar Pradesh follow below process :
Applicant visit e-district portal and login

Any one want to apply income certificate in Uttar Pradesh then applicant shall open the E-district portal website : https://edistrict.up.gov.in/edistrictup/. and click on citizen login.



Select ESATHI INTEGRATED SERVICES" radio button.

After logging into the web portal, the Applicant shall select "ESATHI INTEGRATED SERVICES" radio button.

Select INCOME CERTIFICTE option

Applicant select income certificate option under revenue department.

Applicant shall create profile

Enter date of birth, address, district and more.

Pay application charge

Application charge for online is a 15 rupees and pay online.

Submit Form

Applicant shall fill details, attach documents in application form
for "Income Certificate" & submit it

Download Income certificate

Applicant shall download the certificate from online portal or DigiLocker. If approve your application then generate your income certificate form
Download Income Certificate online in Uttar Pradesh via DigiLocker
If you has been applied for income certificate and generated your certificate in Uttar Pradesh then you can download digital certificate from online portal and Digilocker. Below step show How to download income certificate in Uttar Pradesh via DigiLocker ?.
Read More : How to apply birth certificate in Uttar Pradesh ?
How to Download Income Certificate PDF online in Uttar Pradesh ?
If you want to download income certificate pdf in Uttar Pradesh then First go to Digilocker website www.digilocker.gov.in or download Digilocker app in your mobile.

Step 2 : Now click on right top corner to SIGN IN button (if you do not have account then click on SIGN UP button)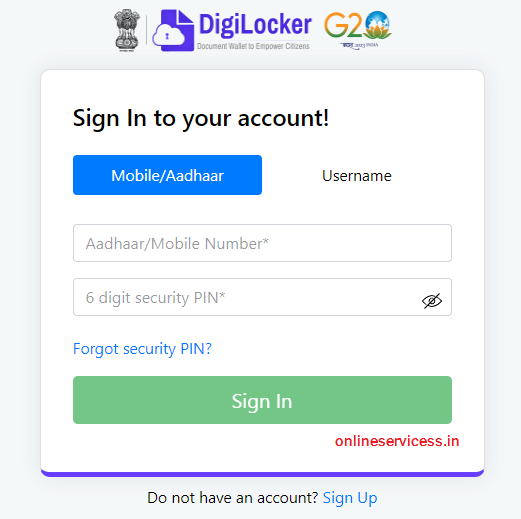 Step 3 : After login, Select side bar menu to Search Document.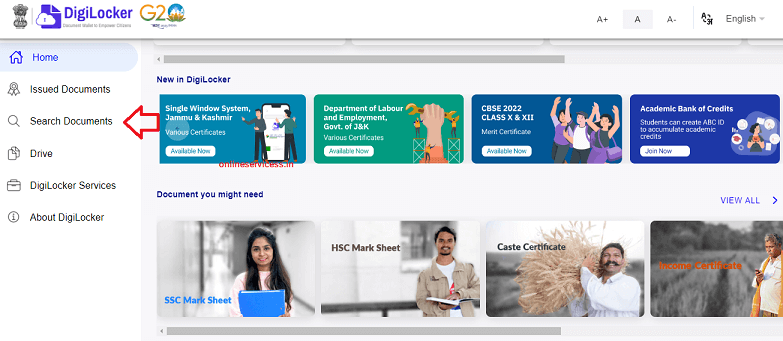 Step 4 : Now search "Income Certificate Uttar Pradesh" or Edistrict Uttar Pradesh and select Income Certificate – Uttar Pradesh.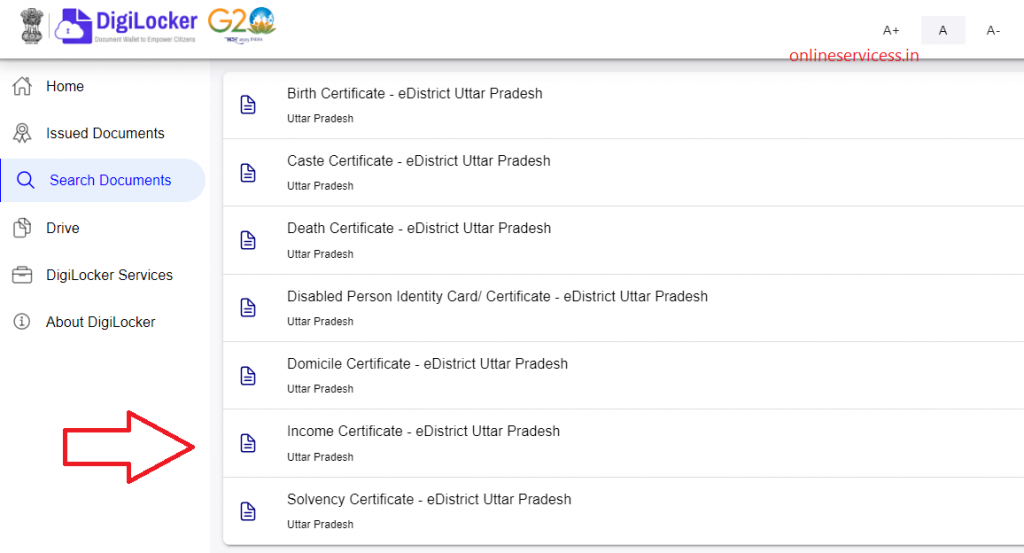 Step 5 : Enter your income certificate number and click on Get Document button.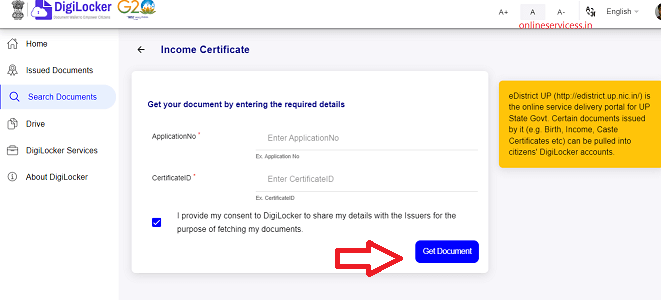 if your details is valid and fetch your document then your income certificate download in digilocker. this document valid every where.
Reference by : https://edistrict.up.gov.in/edistrictup/. and https://edistrict.up.gov.in/eDistrictup/Services/new_online_service_pdf/Income_Certificate.pdf
Read More :