Driver Sarathi PSV Badge Apply Online, Online Registration Form @sarathi parivahan portal
How to Apply Online for Driver PSV Badge, Online Registration Form
PSV ( Public Service Vehicle) is a badge which is issued to all the drivers who deal in public transport. The badge has also been made mandatory for all the drivers. The transport that it includes are DTCbuses, cluster buses, auto rickshaws, Gramin Sewa & chartered buses as well. In this article, we are going to show you the step by step proccess for Driver Sarathi PSV Badge Apply Online. Let us understand it briefly:-
Driver PSV Badge Apply Online @ Sarathi parivahan Portal
If you are interested to apply for Drive PSV Badge Online, follow the steps given below.
The process to apply for Driver Sarathi PSV badge online starts by clicking on the official website.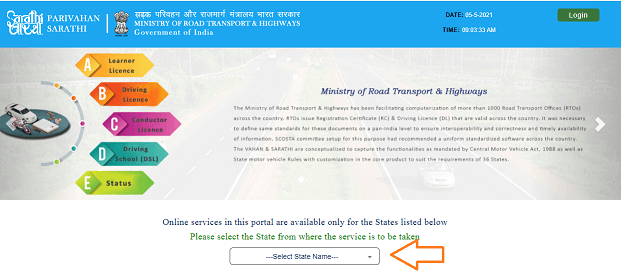 Once you click on the above link, you will be immediately prompted to the ministry of road transport and highways, the Government of India's website. Select your states.
The next step is to click on "Driving Licence" under the "Services on DL(renewal/Duplicate/AEDL/IDP/other" main heading.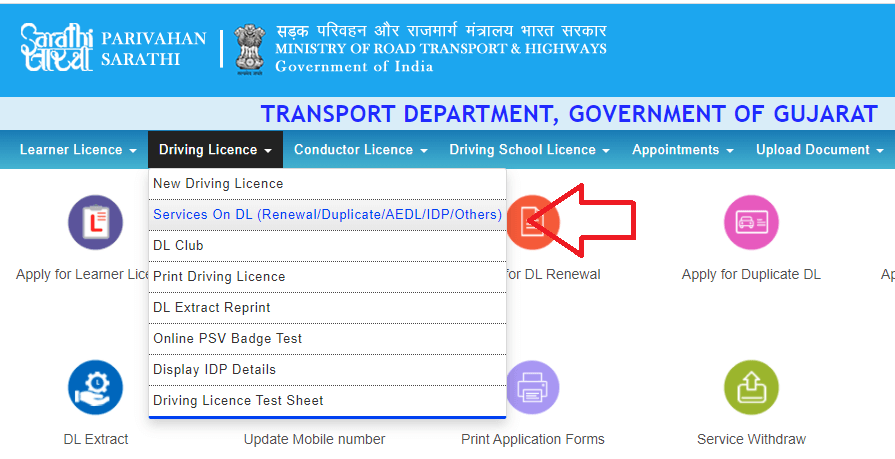 What next you have to do is after clicking on apply online click on services on driving licence.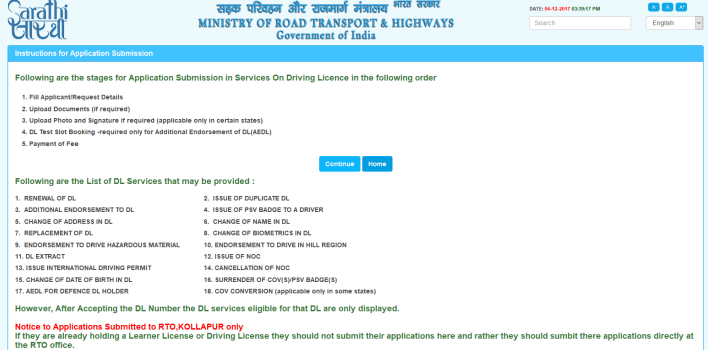 Just after you have clicked on "services on driving licence", you will see a list of the services that will be provided to you under driving licence. In the list the number forth point itself says "issue of PSV badge to a driver". Now click on continue.

After clicking on continue, you need to fill your driving licence number, your date of birth and submit the request to your state along with the pin code and after selecting the pin code the RTO office will be selected by itself.
After filling in all application details properly imagery prompted to the the above page. Now you have to confirm that all the details are correct. Select yes. Again submit a request to your state and your pin code and then proceed. Just after you have clicked on proceed you would be asked if you would like to proceed with the changes click ok.
After you are strict ok you will be immediately promptly to an authentication with e KYC page. Enter mobile number and generate OTP and after entering the OTP click on AuthenticateWithSarathi.

After authenticating with Sarathi, you will be immediately prompted to the above page where you need to select the required DL service that you want to apply for. Select "issue of PSV badge to a driver" and click on proceed.

After you have proceeded by selecting "issue of PSV badge to a driver", you will see the above page immediately gets opened in front of you which includes the DL details. Here, you can see the driving licence number and the selected RTO name. Now what you have to do is to select the COV for issue of PSV badge. Select and tick the box. Once you have ticked the LMV- class of vehicle, you have to to click on confirm now.

After confirming, the next step is to declare that whatever information you have given is true to the best of your knowledge. In the above image it can also be seen that your data has also been successfully accepted. Along with declaration, you can also see that you have an option to donate your organs in case any mishappening takes place in the future but you can tick the box if you are willing to donate your organs in the event of your untimely demise by accident. Enter the captcha code as you can see and click on submit now.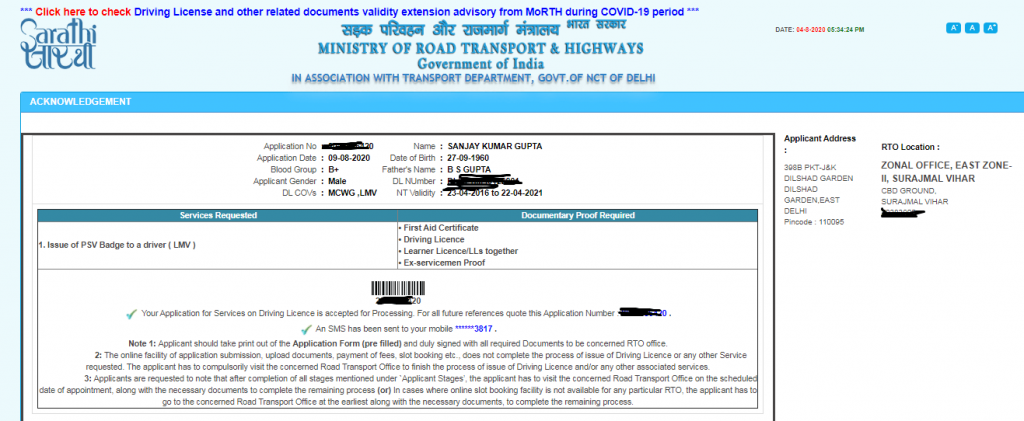 After you have successfully submitted, you can now see your acknowledgement receipt which indicates all the important details like your name, date of birth, father's name, DL number, validity, blood group, application number and application date etc. Along with all the particulars as you can see, the service that you have requested along with the documents which you are required to present before the RTO. Now you have an application number for all your future references.
The next that you have to do is to take the printout of the application forms which have been pre-filled and get it duly signed with all the required documents to the concerned RTO office. You are requested to visit the RTO office at the given time or date to fulfill the left over process. Get all the forms printed and click on next.

What next you have to do this at this step is to complete the remaining steps like making your fee payment and your LL and DL services slot booking and click on proceed and you are done.
So these are the steps which you have to follow properly in order to get your PSV badge issued.
Read More