Download Smart Ration Card Application Form in Maharashtra
Maharashtra Ration card is considered to be an important legal document in India that used for identity and address verification. Inline with a digital India, the State Governments are introducing technology into the ration distribution and have introduced smart ration cards.
The main objectives of smart ration card project are to improve the delivery of providing food grains and other essential items to weak sections of the society at reasonable (subsidized) prices and to exterminate inefficiency in the targeting of beneficiaries. In Maharashtra, the new smart ration card 2020 application form can be downloaded from the official website mahafood.gov.in. In this article, we look at the procedure for obtaining Maharashtra Smart Ration Card in detail along with ration card application.
Types of Ration Card in Maharashtra
Tricolour Smart Ration Cards
The State Government has introduced tri colour smart ration card as per the following criteria:
Yellow Ration Cards
Yellow colour ration cards are issued only to families who fall under Below Poverty Line (BPL) category.
Saffron Ration Cards
Families having yearly income of more than Rs.15,000 and less than 1 lakh can apply for the saffron smart ration card.
White Ration Cards
Families having annuanal income of Rs. 1 Lakh or above can apply for white smart ration cards
Eligibility for Smart Ration Card
The following are the eligbility criteria for obtaining smart ration card:
Families having yearly income up to Rs. 15,000/- having been included in IRDP List of 1997-98.
The members in the family should not be a doctor, lawyer or an architect or a chartered accountant.
The members in the family should not be a professional tax payer, a GST tax payer or an income tax payer or eligible to pay such tax. (Know more about income tax filing)
The family should not posses residential telephone and/or four-wheeler vehicle.
The members in the family should not hold total two hectare rain fed or one hectare semi-irrigated or 1/2 hectare irrigated land.
The Government has taken decision to issue BPL Ration Card, on temporary basis to all the Vidi workers, all members of Pardhi and Kolhati
Documents Required for Smart Ration Card
Voter ID
Aadhar card
PAN card
Original copy of Passport
Eletricity Bill
Residence proof
Driving License
How to Download Ration Card Application form in Maharashtra ?
The below-mentioned steps are the complete procedure to download new smart ration card application form Maharashtra.
Step 1: The user has to visit the official web portal of mahafood.gov.in in this portal of Government of Maharashtra.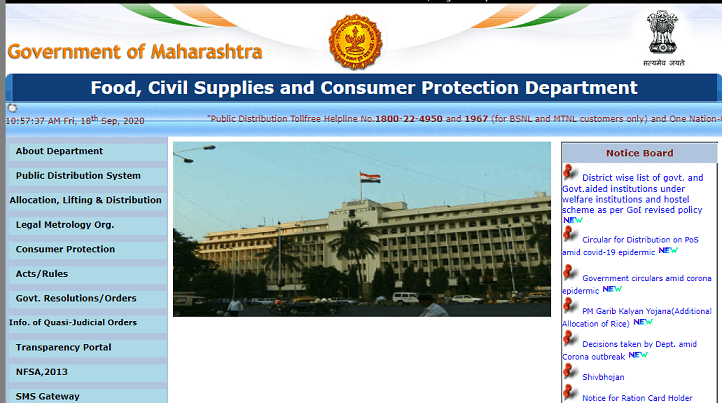 Step 2: Then applicants have to click on Download link available in the home page.
Step 3: The Maharashtra new ration card application form will appear on screen and download it.
Fill form with your details and submit along with supported document at government office.