I already have 2 wheelers license in india. Now I want to obtain a 4 wheeler license as well. How can I add a class to existing license?
I already have 2 wheelers license in India. Now I want to obtain a 4 wheeler license as well, we guide to all step how to add another class in your license.
The procedure is quite simple and I personally would not suggest you to go through any agent if you're confident about your driving
Read this Articles : How to Add another category in the Existing Driving License
Add new class to existing license step by step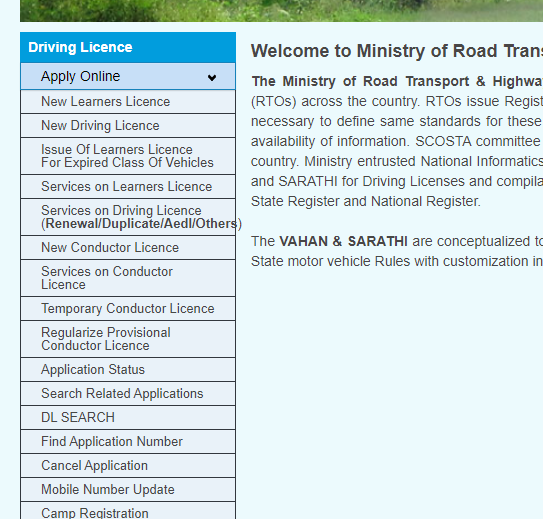 Choose Sarathi services.
Apply for learner's license.
Select the option for existing DL. Enter your driving license number and then fill-up the form.
After filling up the form you need to upload the required documents. (When a document contains two or more pages e.g. aadhar, club it in a pdf, else jpg works fine)
Now you can either pay the fees online or do it offline by visiting the RTO. I would suggest to pay it offline because any way you do, you've to get a hard copy of the challan. Paying it offline you get it for free, not just saving Rs 5. There's another reason too.
So after uploading the documents, you need to take print out of the acknowledgement form and the other form and along with those attach xerox of all the documents you uploaded.
Visit the RTO.
Go to an officer in charge for scrutiny of documents.
After he scrutinizes your application, pay the fees there.
Go get your biometrics done.
You don't need to sit for LL test this time, you just have to submit the form in the MVI room and wait.
After a few days a sms will come to your mobile number (which you've provided in the application) that your learners license has been processed and you can go and collect it.
Visit the RTO. Take the LL and wait for 30 days.
On completion of 30 days once again they'll text you that you're now eligible to fill the DL form.
Go to parivahan then select sarathi then select your state.
Click on Services on Driving License. Enter your DL number and DOB.
Choose additional endorsement on driving license (AEDL). It'll automaticallyshow you the existing LL. Tick on it and proceed.
Upload your LL and existing DL.
Pay the fees online this time and book slot.
Visit the RTO on the selected date before time.
Go to an officer for scrutiny of documents.
Give the test.
After qualifying, submit the form in MVI room. They'll text you when your DL is ready and you can then go and collect it.
if any question about I already have 2 wheelers license in india. Now I want to obtain a 4 wheeler license as well. please comment
Related Post