Odisha Marriage certificate : Registration and Check Status
Odisha Marriage Certificate : Odisha government services and nagar palika services have offer online and easy to use. Now day central government try to make all thing digital and transparent services for common people in India. Odisha government also try to possible all services offer online. Currently, the municipality has launched many services online such as marriage certificate, birth certificate, death certificate, property tax pay online and etc. In this post we will explain what is process the registration for Marriage Certificate and how to download Marriage Certificate, How to check Status of marriage registration ?.
Marriage Certificate Registration in Odisha
Marriage certificate is very importance document in Odisha. Marriage Certificates are used in many places such as name change in every document, add name in ration card, passport, wife name change and etc.
Require document for Marriage Certificate in Odisha
Below is a list of documents required for the Marriage Certificate in Odisha :
1. ID/Age proof of Bride
2. ID/Age proof of Groom
3. ID proof of Father/Mother of Bride
4. ID proof of Father/Mother of Groom
5. ID Proof of Legal Guardian of Bride
6. ID Proof of Legal Guardian of Groom
7. Witness ID Proof from Bride side
8. Witness ID Proof from Groom side
9. Invitation card from Bride
10. Invitation card from Groom
11. Joint Photograph of Bride and Groom
12. Joint Affidavit of Bride And Groom
13. Receipt of Current Holding Tax/Residential Proof
14. Divyang Bride Proof(If Applicable)
15. Divyang Groom Proof(If Applicable)
Procedure of Marriage Registration in Odisha
If you want to register your marriage online in Odisha then you need to go to Odisha emunicipality website : www.igrodisha.gov.in/Marraige.aspx. Open this website and Click on Apply for New Marriage Registration.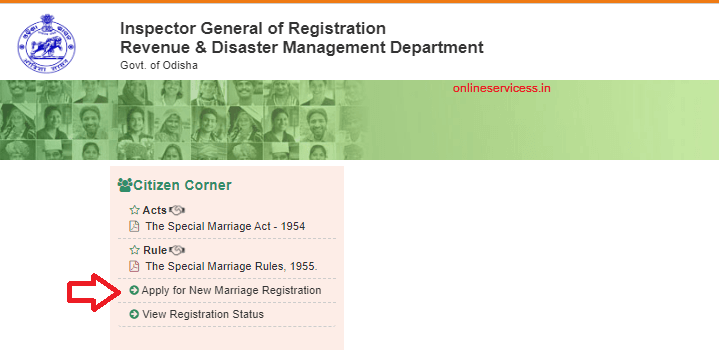 Now login your account or create new account.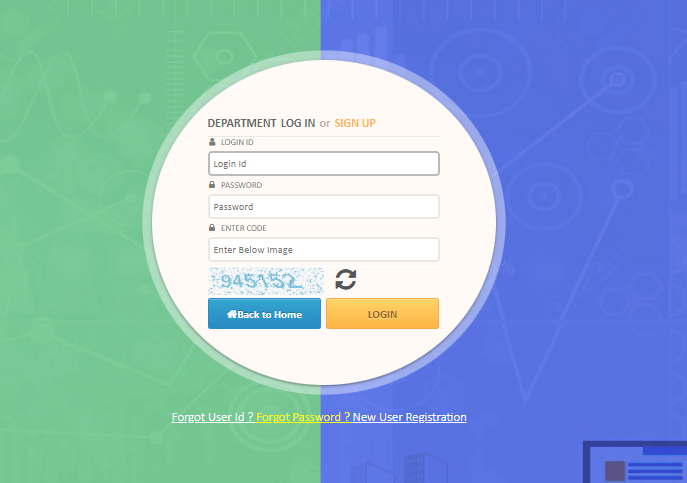 Show on screen, Require document for marriage registration and scroll down page and click on Apply for marriage registration.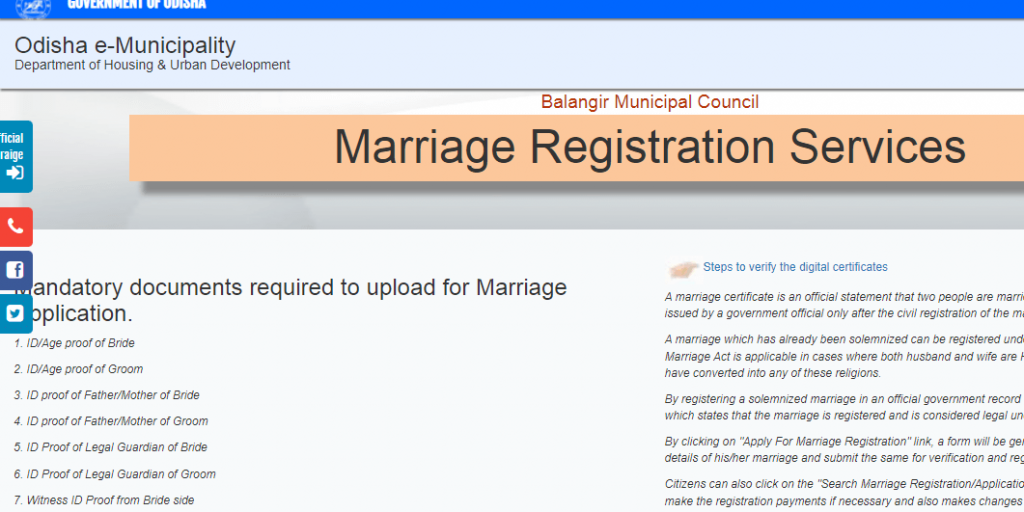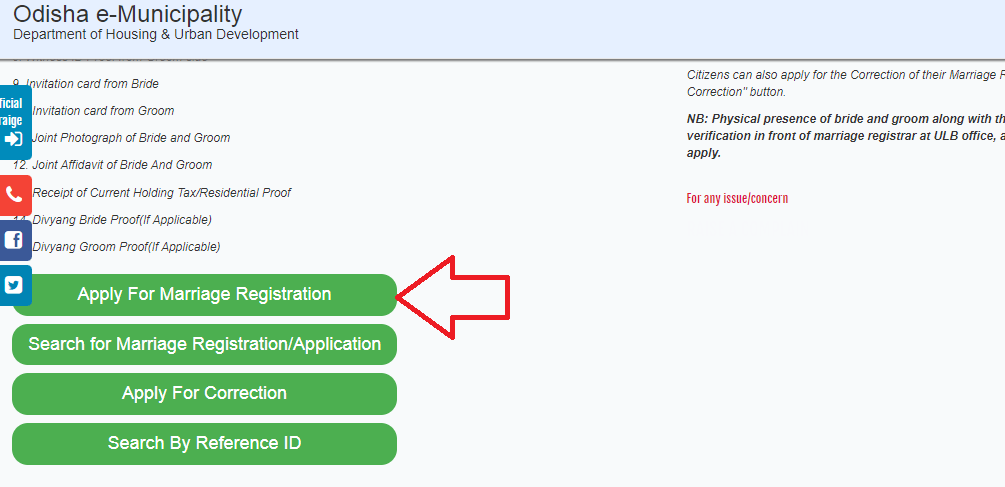 Open Marriage Registration form and fill all details in form.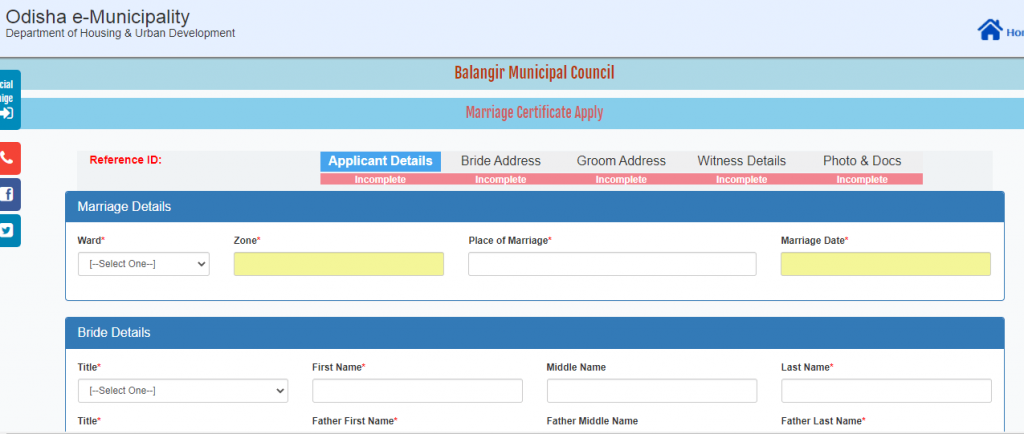 Click on Save and Next button and upload document, after successfully submit form, generate reference number. reference number is very use full for check your application status.
How to check Marriage Certificate Status online in Odisha ?
You want to check your marriage certificate status online in Odisha then first go to IGR Odisha website https://www.igrodisha.gov.in/ApplicationStatus.aspx. and select marriage registration status option.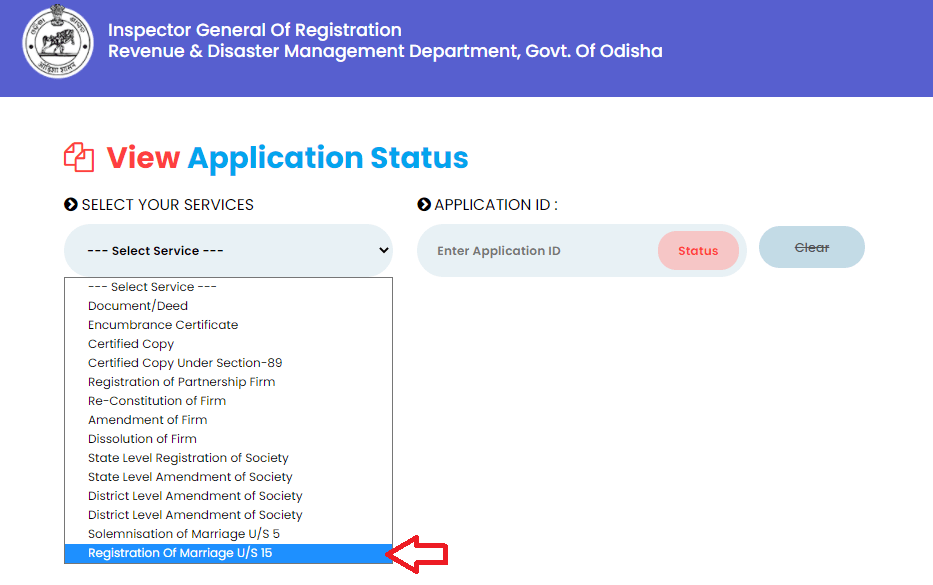 Enter your Application Id and click on Status button.

Now show your application status on your computer screen.
Help line Number for Marriage Certificate
For any issues (related to eMunicipality website and services ) , You can reach us on this mobile number
+91 8260187747
The phone support is available on all days from 8:00 a.m to 6:00 p.m (excluding Sunday , state government holidays and declared holidays)
e-Mail: emunhelpdesk@gmail.com
Read More: