How to Apply Ration Card Online in India
Ration card is among one of the most important documents for every person in India, this document is provided on an order or authority of the state government. Now, you can apply for ration card online very easily in simple and also you can check ration card status online.
As proof of applying for ration card details provide an important proof of identity and residence of citizens, also make a domicile certificate, birth certificate, voter id card etc. You can also view ration card details by name used
Apply Ration Card online in India
Ration cards provide identification as well as entitle the holder to a ration of food, fuel, or other items issued by the Government of India. They are mainly used when purchasing subsidized food items (wheat, rice, sugar) and kerosene.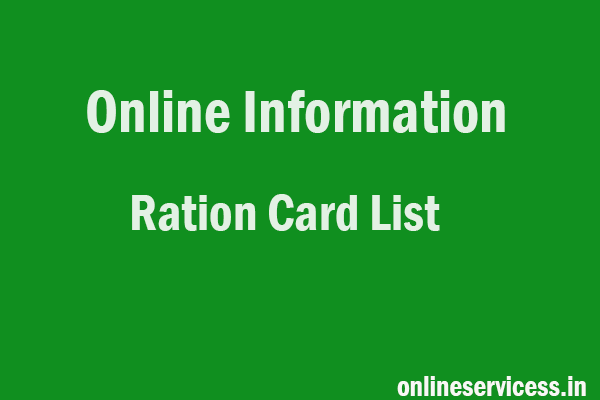 Cards apply in the state you belong to. We can help you with the compilation of forms and documents. This will help you solve the process quickly and easily. So go ahead, let us help you!
Ration Card Type:
Blue/Yellow/Green/Red Ration Card – For the people that are living below poverty line. These Ration Cards are available on various items like Food, Fuel and other are to get subsidy.
White Ration Card – These ration cards are for the people living above the poverty line they help as an identity are.
Documents required for ration card:
Dedication Certificate / Deletion Certificate / No Card Certificate if there is any previous family card
Proof of Identity and Residence
A self addressed and postal cover OR Postcard stamped.
Three passport size photographs
Details of first applications and rejection (if applicable)
Details of any LPG connection< /li>
Mobile Number / Email ID
Proof Address (any one):
Voter ID
House Ownership Document / Rental Agreement
Driving License
Aadhar Card
Electricity, Water , and any recent utility bills including gas bills
passport
First page of bank passbook
Who can apply for Ration Card:
Any person who wants to have a ration, but permanently residing in India,
he or any other person on his behalf, has already applied and not is not in possession of such a card.
He or any member of his family is not in possession of another ration card.
The most important part of the process is that it can be handled without paper and at the convenience of the applicant, whether it is related to their time or place, which makes the whole method faster and way more attractive than the previous budget. Not only this, the process of applying for a ration card has been made paperless, but so is the ration card itself. From a paper booklet, ration cards are now small pieces of plastic.
Many states started making digital cards, thereby following the example and dealing with the process of making ration cards without paper.
Benefits of Digital Ration Card
They are difficult to copy from your paper booklet
They last because they are made of plastic and don't get ripped or spoiled due to water or age.
They can be used by fair price shops, because the technology is provided and easily traced, which reduces spurious entries or erroneous quantities of mentions of food and grains provided, especially when it is controlled Will be used to go
Process to apply for a ration card (ration card online) across various Indian states.
The process of applying for a ration card, whether digital or otherwise, changes based on the Indian state that an applicant is applying from. Every state has its own systems, but the basic premise and Structures are fairly consistent.
This process has changed for the better with individual states uploading the application form on their official ration card websites. This saved time and allowed people to start gathering all the information they needed in their spare time. They will then be in the office to pay their fees, along with the applications and forms. This was on the cusp of digitization for some states, while others pushed for an even better system.
Other states went a step further and allowed applicants to upload all their information on the official ration card website. These details include documents, personal information, support letters, etc. They then receive an update with the date when their ration card will be distributed. Applicants then received it at their doorstep, through the Indian postal system.
Click on the name of your state to know how to see the ration card list of all the states of India
The links of all the states have been updated below, if you want to see the ration card list of your state, then click on the name of your state and get complete information.