RC Status | Check Registration Certificate Status Online by Application/Vehicle number
RC Status | RC Status Online check | RC Book Online | RC Application status
RC Status : Though by the Motor Vehicle Act, it is imperative to get an RC from the RTO after which only, you can drive on the roads. With this new rule, a vehicle cannot be delivered to the owner without registration. So, the process of RC has to start 7 days before the delivery of the vehicle.
What is the registration certificate (RC) for the vehicle?
It is a document that is as important as your driving license. As the driving license is necessary to provide authentication to drive specific vehicles given by the government of India through RTO, the Registration Certificate which offers the authentication that you own the car you are driving.
RC Status Check Online
How to register certificate for the vehicle ?
The primary thing to be done is to log to the website https://parivahan.gov.in. This is the official website of the Government of India Ministry for roads transports and highways which has all information and processes related to RTO work, be it driving license renewal or RC or any other action associated with RTO.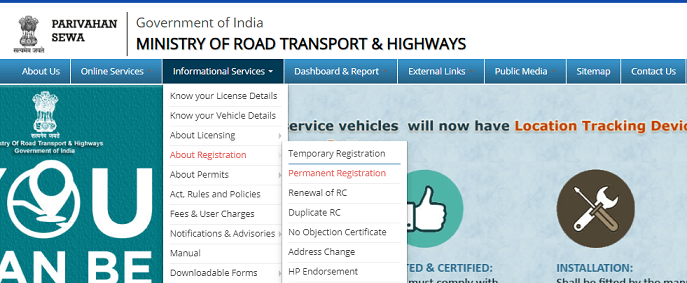 In the above image, different tabs are available on the website about the related information and documents that are required in the first step. Those who need a renewal of RC or transfer of RC or any similar work can check the details. Click on Informational Services, and then select About Registration from the drop-down menu, and then click on the options available whichever is required.
Registration Certificate RC Status Online Check
There are three significant scenarios when you need to check your RC status.
During the registration of a new vehicle.
When; you transfer your vehicle RC or sell it to another person.
When 15 years are completed after the purchase of your vehicle and your RC has to be renewed again
In the first situation (registration of new vehicle), usually while purchasing a new vehicle, a person has to provide some documents to the showroom executive, which he has to process as your registration certificate of the new vehicle. They have the trade certificate and online login ID through which they process your request, and you don't have to go to RTO. In this case, you will get a notification on your registered mobile number about your new vehicle no., which helps you track the status of RC online.
In the second and third scenarios, a person has to visit the RTO office with related documents and vehicles for inspection and pay similar taxes and fees for the transfer or renewal of RC. But before that, visit the website https://parivahan.gov.in to get information related to documents required for renewal or transfer.
If it is a renewal of RC, the person has to fill Form 25 and furnish the below-specified documents.
Application form 25,
Pollution under control certificate (PUC)
Old RC
Copy of PAN card
Insurance certificate of vehicle
Fitness certificate
Passport size photo and
Signature identification of the Owner
The available officer will inspect the vehicle and take the pencil print on the document of chassis number and engine number. Then you have to submit this on the counter, pay any fees and get a receipt. This receipt will help you to know how to check RC Status by Application number.
Check RC Status Online by Application Number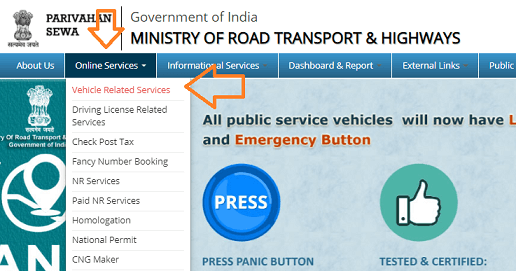 After logging on to the website, again click on online Services which displays a drop-down box. Select the vehicle-related services tab.
The above page is displayed on the screen. Click on select states name and select your state which will take you to the below web page.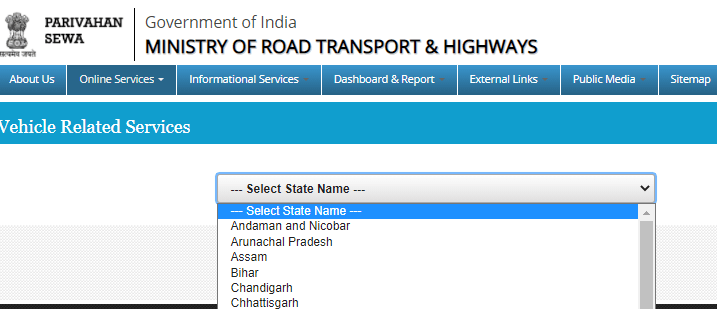 https://vahan.parivahan.gov.in/vahanservice/vahan/ui/statevalidation/homepage.xhtml, Now select your state and open new page. select state, RTO then click on proceed button.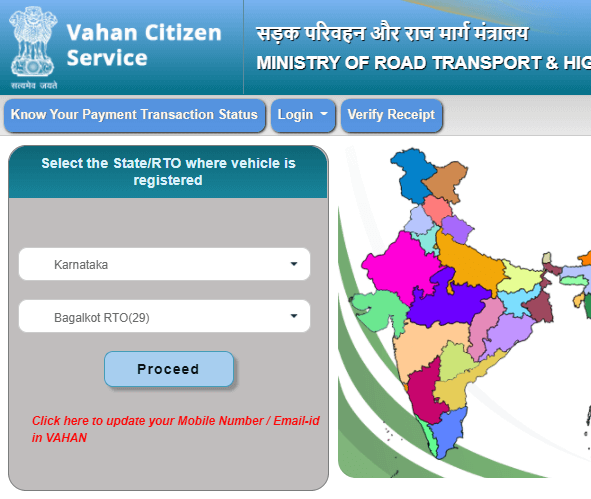 On this page, you have click on the Status tab. This provides different options from which you need to select Know your application status option.

Now enter your application number and submit button click.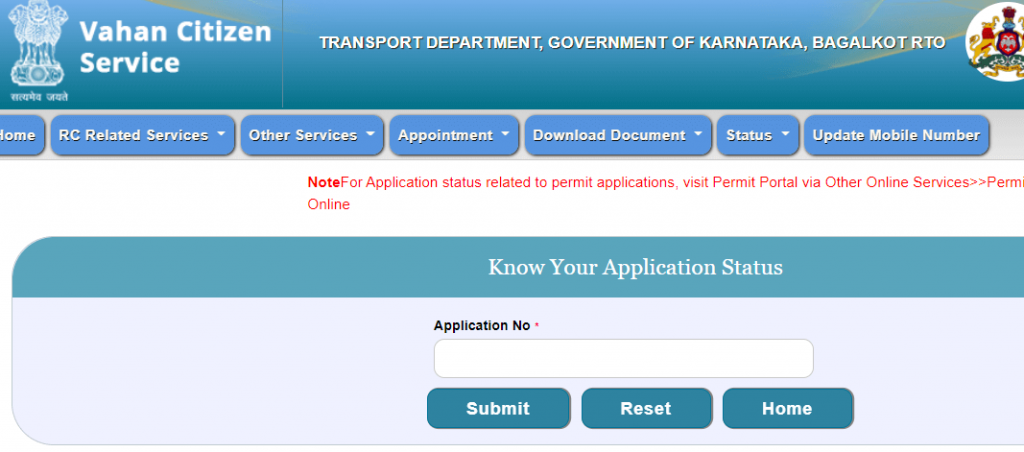 The above page will be displayed. Here you have to furnish the application number which you receive after paying the fees at the RTO office. The next step is to click on View Report which displays all the details as in the below image.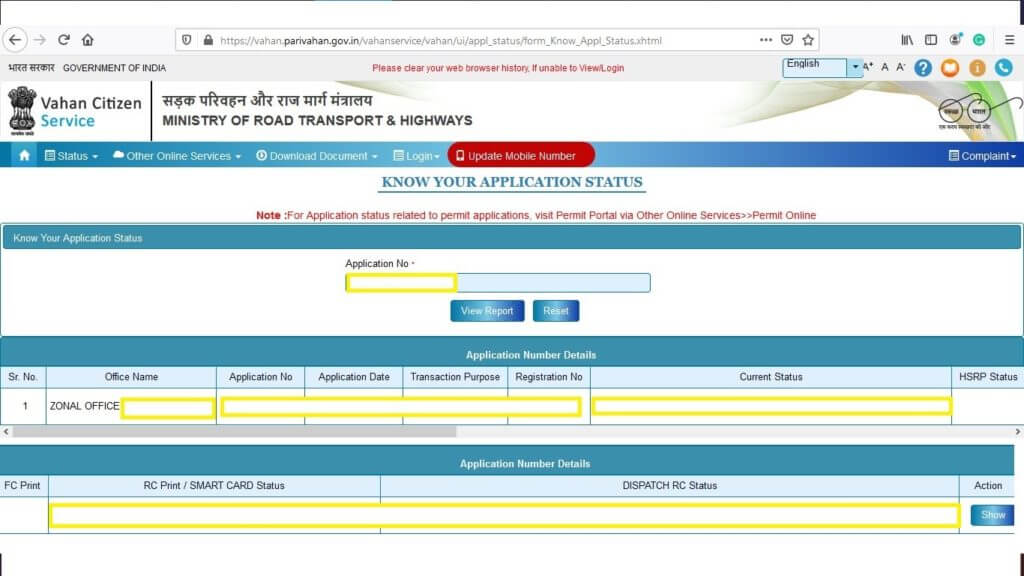 How to Check RC Status by Vehicle number @ parivahan.gov.in portal
To start the process, click on Online Services from where you will get a drop-down box. Click on Know your Vehicle details which takes you to another web page that is shown in the below screen.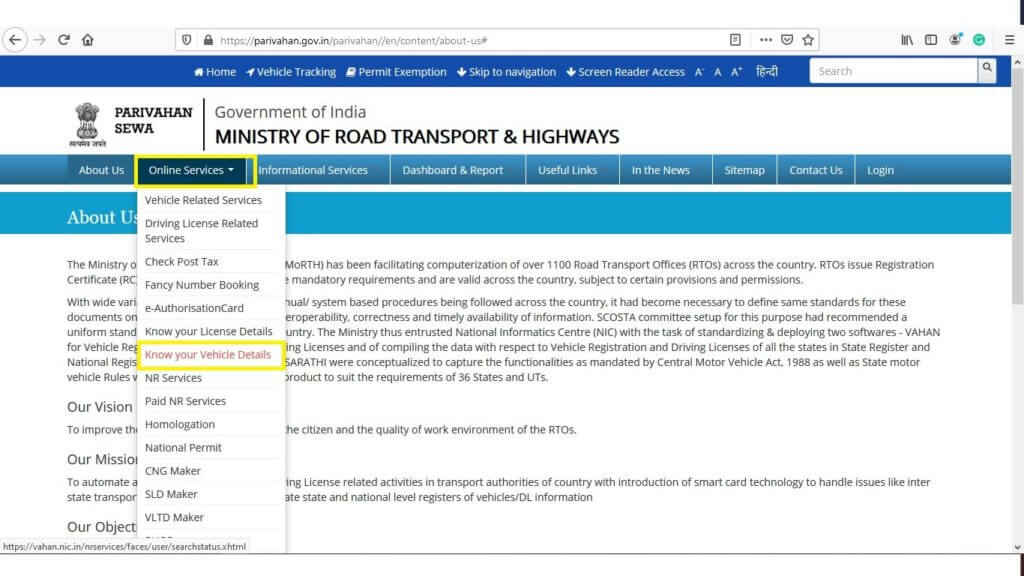 Note: This requires your vehicle number which you get on the registered mobile number after all the registration process is complete.
https://vahan.nic.in/nrservices/faces/user/searchstatus.xhtml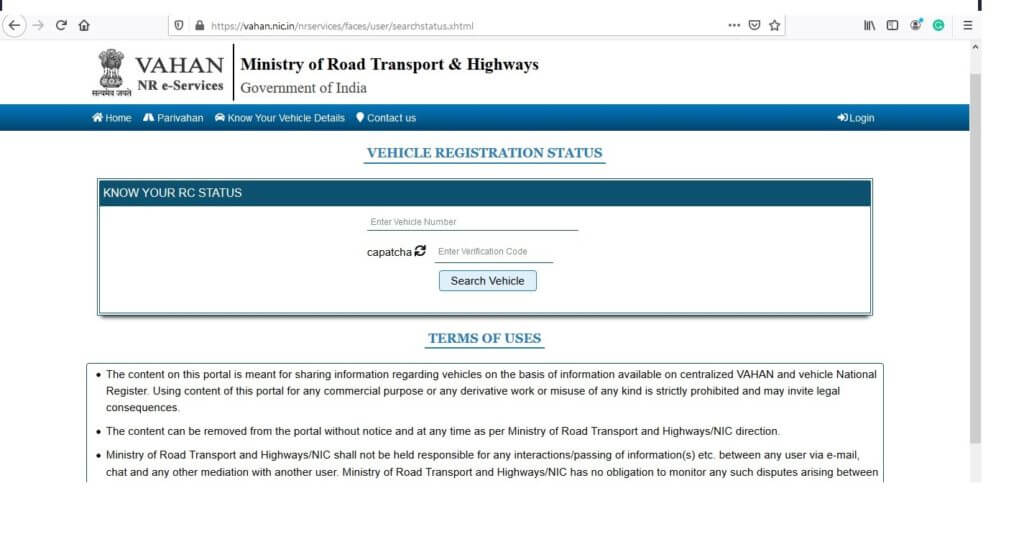 You have to feed the vehicle number in the above block and type security Captcha as mandated and then click on the button Search Vehicle.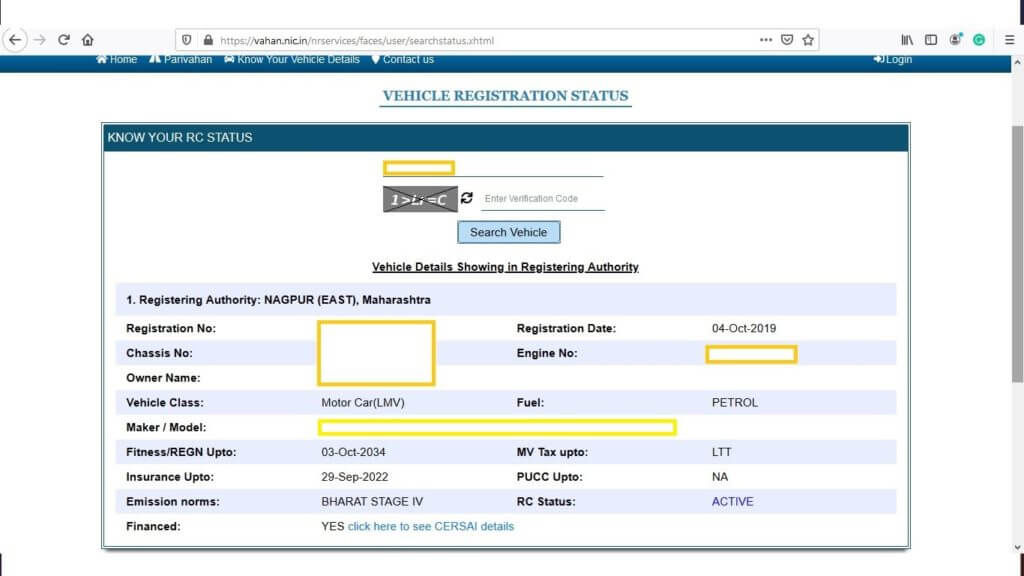 All the details related to RC will be displayed like Registering Authority, Registration No, Registration Date, Chassis no. Engine NO., Owner name, Fuel type, Insurance up to, RC status, Model and make of car etc.
If you belong to Delhi or Sikkim State, option no.1 is for you, or if you belong to any other state, option no.2 is for you. After selecting your corresponding state service option, you will be guided to a different page which is https://vahan.parivahan.gov.in/vahanservice/vahan/ui/statevalidation/homepage.xhtml
Thus, the task of checking RC status online is now effortless and available on fingertips with just a few clicks.
FAQ
Is it possible to check the registration certificate (RC) application status online?
Yes, the transport department has started an online facility for the same.
What are the various scenarios when there is a need to check the RC Status?
During the registration of a new vehicle, When you transfer your vehicle RC or sell it to another person, When 15 years are completed after the purchase of your vehicle and your RC has to be renewed again.
What information should be provided to check the current status of Registration certificate status?
Either you can provide the application number that is present in the receipt which is given to you after application submission or you can enter the vehicle number (in case of 2nd and 3rd scenario as mentioned in above question)
Which official portal provides RC related information?
You will get all the required information @ the parivahan portal
see video for check rc status :
Read More