RTO Computer Test Online Exam
RTO Computer Exam Test Online | Computer exam for learning license | driving license Computer exam
RTO Computer test is compulsory for all who want to apply for driving licence in India. Before taking computer exam, know that Why a computer exam is necessary because Anyone who want a Lerner license has to pass a computer exam. Lerner's license is obtained after passing the computer exam so must pass computer exam. The computer exam asks all the questions related to road safety and road signal. before taking RTO computer exam, you need to read all signal or RTO road low. This post will provide information on how to give an RTO Computer exam online in sarthi parivahan website.
RTO Computer Exam
15 questions are asked in RTO computer exam if pass this test and you will got a learner licence. without pass exam you do not get learner licence. Ask question in exam is traffic police rules related and traffic signal rules. Learner Licence Before taking the online exam, you have to make an online appointment for the computer test on the Sarathi Parivahan Gov In website. In the apartment, you have to decide the date, time, and date.
Instructions for RTO Computer Mock Test
Screen Test Aid for issue of Learner License (STALL) is a computerized test procedure for evaluating the ability of an applicant in Traffic Signs Rules as part of the Central Motor Vehicle Act, 1988.
Option to write the exam in the local regional language is provided. The candidate can select any language of his/her choice from the list of available languages displayed below login details to start the exam.
Question along with 2/3/4 options are displayed on the exam screen. Candidate has to click on any one of the buttons provided against each option for exercising his/her answer and then press Confirms button.
The selected answer is validated and the correct answer is shown in Green color. If the answer selected by the candidate is wrong, then his/her selected answer is shown in Red color.
The score of the candidate, the attempting question and the seconds remaining for the question are displayed on the bottom part of the Exam Screen. Candidate can cancel the test by clicking End Test button.
After attempting last question candidate will get the exam review page in that page candidate can review his performance by navigating using previous and next buttons.
At the bottom of the exam review page candidate can see the correct answer and selected answer. Correct answer will be displayed in blue color and wrong answer will be displayed in red color. Candidate can go to login page by clicking link below performance page
Procedure of RTO Computer Exam Test Online
But I want to give you step by step complete information about how to pass online exams and computer tests in the Gujarati Language in sarthi parivahan website.
First,Go to sarthi parivahan official website https://sarathi.parivahan.gov.in/, select main menu to "Online services >> Driving licence related services"
Then after Select Your State Like Gujarat, Goa, Delhi and So on State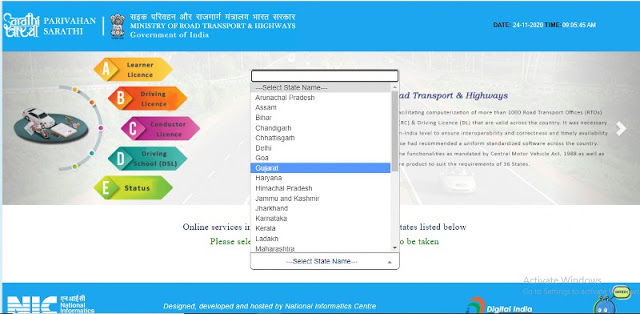 In the Learner Licence Menu >> Select Mock Test For LL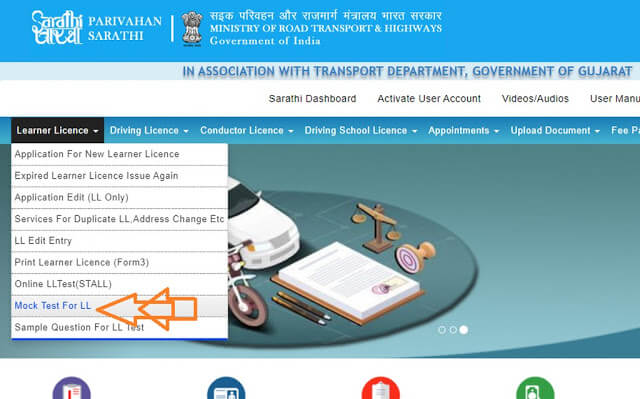 Enter Your Your Personal Details Like Applicant Name, Dob and Select Your Langues for Preference your computer mock test exam like Gujarati, Hindi and etc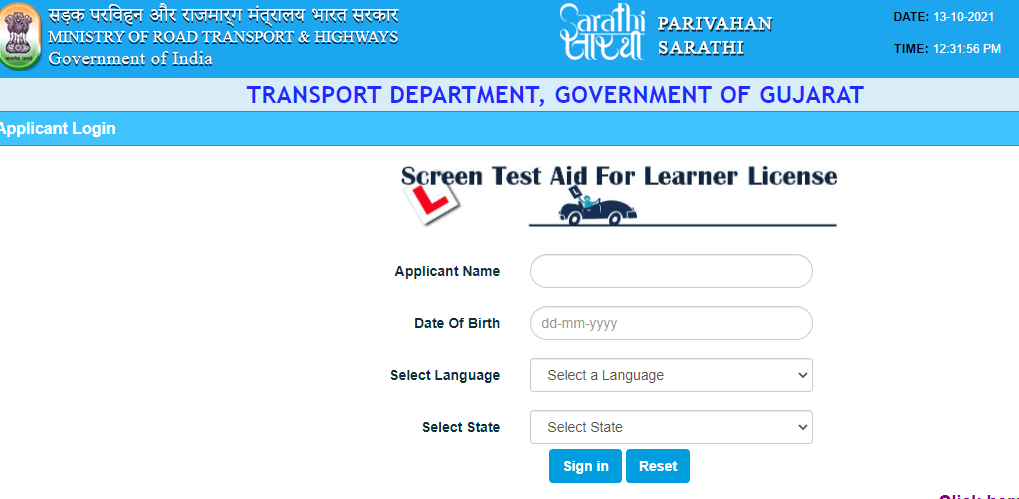 Source of information : https://sarathi.parivahan.gov.in/sarathiservice/instructions.jsp
Read More :