How to Apply Learner's License online in Telangana
Gone are the days when applicants had to rush directly to the government offices to apply and get their licenses in hand. As per the Motor Vehicles Act 1988, it is always mandatory to hold a permanent driving license to drive any vehicle. The same lies in the case of Telangana, where it is also considered illegal to drive any vehicle without having a driving license.
Apply Telangana Leaners License (LLR)
In order to obtain a driving License in Telangana, we need to first apply for a learner's license. The basic procedure to obtain a driving license starts with applying and getting a Learner's license at first which is valid for a period of 6 months. In this article, we are going to learn how to apply for Learner's License online in Telangana. Let's understand the process step by step.
How to apply Learner Licence application online in Telangana ?
You want to apply for learner licence online in Telangana then the first step is to open the official portal of Government of Telangana transport department. Select Learner License to New Learner License option.

Once you click on the link, you may sometimes find yourself unable to see the page opened, in that case you are always advised to go to advance and then proceed. You need to stay assured that clicking on "advance" is not going to harm anything.
Once you click on the link, the above page gets opened. In the "Learner License" column, you can see various headings related to Learner's License. Click on New Learner License.

Just after you have clicked "New Learner License", you will see the above page asking for self-declaration having some relevant points. These self-declaration points have been recently added after keeping in mind the current pandemic situation of COVID-19. Make sure you click to agree only if you satisfy all the points mentioned.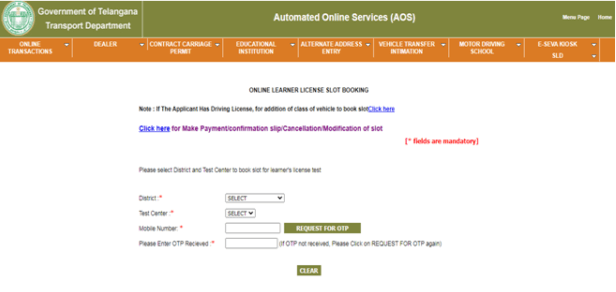 Once you have agreed to their conditions, you will be prompted to the slot booking page. Now, comes the time to book a slot for your Learner's License Test at the center. At this step, you are required to select the district and the center of the test of your choice depending upon your distance and preferences. After that, you will be required to enter your working mobile number to confirm by entering the OTP sent to your given number. Click on submit now.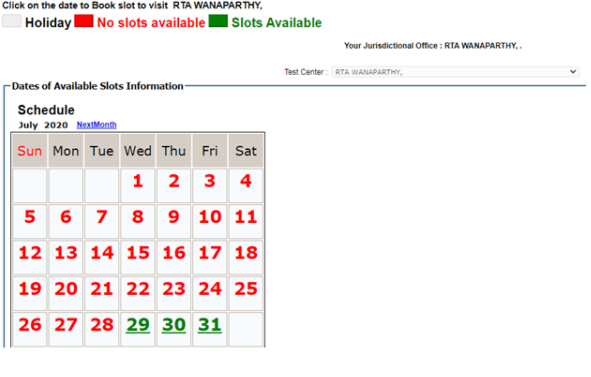 After you have submitted all the details, you will be prompted to the slots information which has vacant and unavailable dates. Here, the dates marked with red color represent as "already booked" or "unavailable". The ones in green represent the slots available. Moreover, the blank boxes represent nothing or as "holiday". After you have chosen your test date, click on next.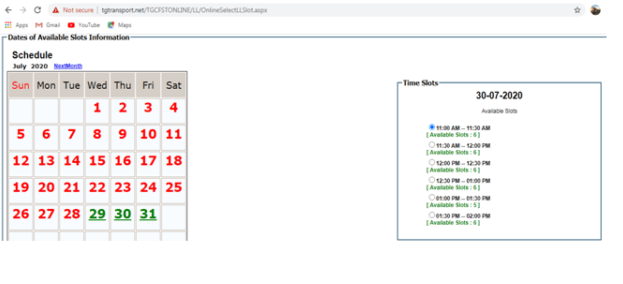 If you have booked a slot by clicking on the date, what next you will see is the time slots. Now, you have to choose a time out of various slots available in front of you.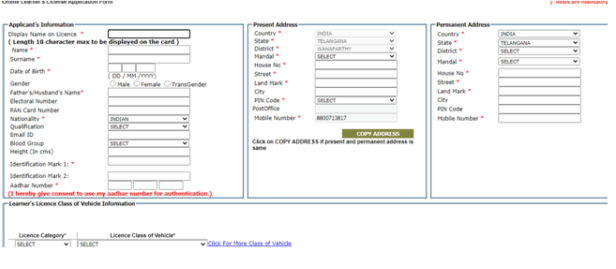 After you have successfully chosen your time slot, you will be immediately prompted to the Learner's License (LLR) application form. The online application form requires you to fill some of the most important details such as your name, surname, DOB, Father's/ husband's name, nationality, Identification mark, country, state, and mobile number, etc. You are required to fill in the form properly to avoid last-minute rejections at the office.
In the application form, you are also being asked for some information about the class of vehicles. Once the form is filled up properly with all the relevant details, click on submit.
Now, you have lucratively booked a slot and filled the online application form. What next you have to do is to visit the nearest RTO office for your Learner's License test along with the necessary original documents which may be asked to present.
Now, when you have performed your test at the office and successfully pass it, you will be issued a learning license. It is to be noted that the Learning License is valid for 6 months only.
Read More :