Driving licence online apply in UP | Uttar Pradesh Driving Licence Online
How to get Driving License Online Apply in UP | Driving license, online application form, registration | Apply New Driving License
The Central Government has released the facility of online portal to create driving license. People of the country will not have to go to the government office to get a driving license to drive their car (No need to visit government office to get driving license). Now people can apply online through online portal without anyone's help. Dear friends, today we are going to provide you the process of making a Driving License through this article, so read our article carefully.
Apply Driving License in Uttar Pradesh
Interested beneficiaries of the country who want to apply for making Driving License for driving vehicles like scooters, cars at home, then they can apply online by visiting the official website of the Ministry of Road Transport and Highways. The driving license will be given to the person who knows how to drive. If you drive, they must have a driving license. Driving License allows the driver to be able to drive. This is a kind of Identity Card. People who can also use it as their identity.
The main objective of this scheme is to provide all kinds of facilities to the people of the country. Similarly, the Central Government has to provide online facilities to make driving license to the people of the country. Earlier people had to visit government offices to get driving license and Many kinds of problems had to be faced. But now the people of the country can make their driving license through the online portal sitting at home. This will also save the time of the people.
Earlier driving licenses were made from the RTP office of your district, but now your driving will be issued from Transport Commissioner Headquarters Lucknow and your driving license will be sent to your home address through post. After applying online for your driving license, you will have to go to your RTO office. He will go and check your application, after that the photo and signature will also be checked, after which the RTO employees will take the test and will be approved after passing the test. Will be delivered
Types of Driving License
There are several types of driving license which we have given below.
Learning Licence
Permanent Licence
International Driving Licence
Duplicate Driving Licence
Light Motor Vehicle Licence
Heavy Motor Vehicle Licence
Fee for making Uttar Pradesh driving license
| | | |
| --- | --- | --- |
| 1 | Learner's License for each class of vehicle (on paper) | Rs 200.00 |
| 2 | Permanent Driving License on Smart Card | Rs 200.00 |
| 3 | International Driving Permit (on paper) | Rs 500.00 |
| 4 | Renewal of Driving License on Smart Card | Rs 250.00 |
| 5 | Driving test for each class of vehicle | Rs 50.00 |
| 6 | Endorsement of new class of vehicle on Smart Card DL | Rs 200.00 |
| 7 | Renewal of DL on Smart Card after expiry of grace period | Rs 200.00 + penalty @ Rs 50 per year or part thereof |
Required Document
Applicant must be resident of India.
Address proof (Ration card, Voter ID card, Electricity bill, Aadhaar card, Water bill, Pen card)
Proof of Date of Birth (Birth Certificate, Marksheet of 10, Voter ID Card)
mobile number
Passport size photo
First read this : How to apply Leaner Licence in Uttar Pradesh ?
How to apply Driving licence in Uttar Pradesh ?
Who want to apply online for driving license first apply for learner licence after you got learner licence should follow the below mentioned method.
On this home page, you have to select the Uttar Pradesh state of which you are resident.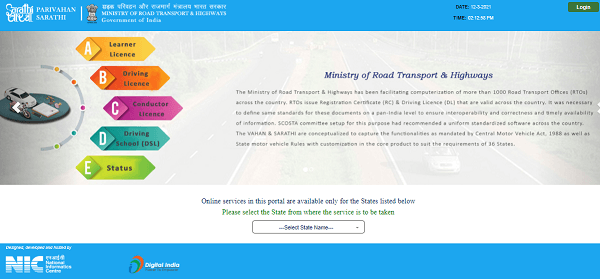 After selecting the state, you will get the option to Driving Licence. Click on this option. Clicking on this option, you will click on " New Driving License ".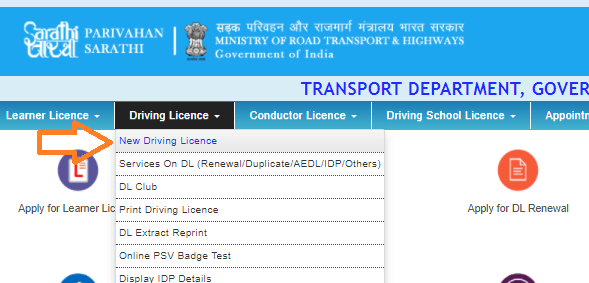 After this, the next page will open in front of you, on this page you have been given information, after reading it, you will have to click on the Continue button.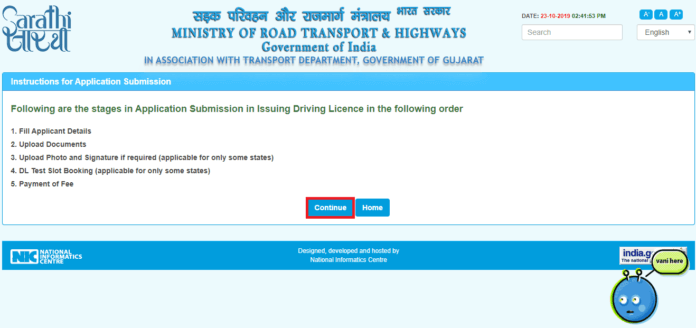 After this, you will have to enter some information like Learner License Number and Date of Birth on the next page. Then click on OK.

After this, the driving license online form will appear in front of you on the page. All the information asked in this application form will have to be filled correctly.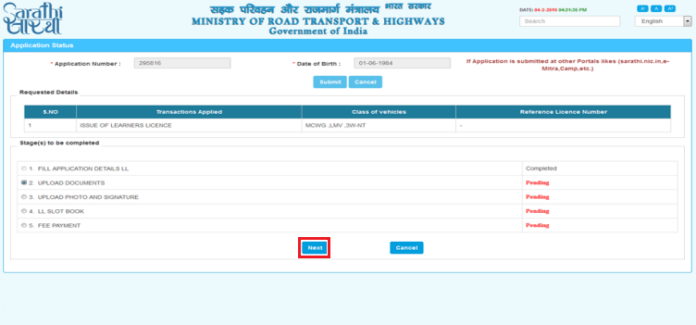 After filling the application form, you will have to upload all your required documents. After uploading all the documents, you have to choose the time for your DL Appointment.
After selecting the time and date, you will be available to go directly to RTO and appear for your DL test.
You have to pay Driving License Online Fees to submit your driving license application form. After paying free, your application will be successfully sent to RTO.
After filling the application form correctly, you have to click on the submit button.
Read More