UP Marriage Certificate – Registration, Fees, Document, Status
UP Marriage Certificate Download : Uttar Pradesh government services and nagar palika services have offer online and easy to use. Now day central government try to make all thing digital and transparent services for common people in India. Uttar Pradesh government also try to possible all services offer online. Currently, the municipality has launched many services online such as marriage certificate, birth certificate, death certificate, property tax pay online and etc. In this post we will explain what is process the registration for Marriage Certificate and how to download Marriage Certificate.
UP Marriage Registration Online
Marriage certificate is very importance document in Uttar Pradesh. Marriage Certificates are used in many places such as name change in every document, add name in ration card, passport, wife name change and etc.
Requirement Documents for UP Marriage Registration
It is mandatory to fill the application form in both Hindi and English languages.
To fill the application form in Hindi, install "Sancharcha Hindi Typing Tool", Google Indic Tool or any other Unicode enabled Hindi typing tool or use the attached Hindi keyboard.
Before filling the application form, do the following preparations-
New Photograph in JPG format of size less than 40 KB.
Identity Proof, Age Certificate, and Residence Certificate in PDF format up to 70 KB in size.
Please fill the address of residence for which you are uploading the certificate.
Photocopy, Identity proof, Age proof, Residence proof are required to be uploaded.
Identity proof, age proof, residence proof of two witnesses are also required to be uploaded.
In the option of Mohalla / Village, clearly fill the name of your locality / village.
It is mandatory for the bride and groom to upload the affidavit as well. The link to the format of the affidavit is given below.
After filling the complete details, please check the filled form completely in the preview, if there is any kind of error, then correct it by going to the respective option and once again check the complete details in the preview and save it completely.
After fully securing the application form, the application form number and password will be available. Please keep the application number and password safe.
After completely saving the form, select the relevant option for online payment of registration fee.
After payment take a print out of "Payment Acknowledgment" and keep it safe.
After filling the application form, you can register the marriage by visiting the selected office on any working day within 30 days from the date of application along with all your original certificates.
Click here link for Affidavit Format
Attach the affidavit only after it is attested by a notary.
Information: Marriage registration certificate can be canceled if all the attached certificates and affidavits are found to be incorrect.
Procedure of Marriage Registration in Uttar Pradesh
Anyone want to marriage certificate (registration) online in Uttar Pradesh then go to igrsup.gov.in website. open this website and click on New Registration Form.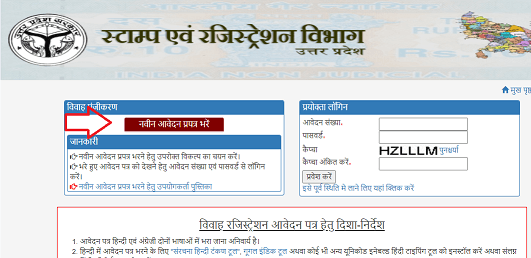 Fill groom details and click on save, next enter bridle details and marriage lace details.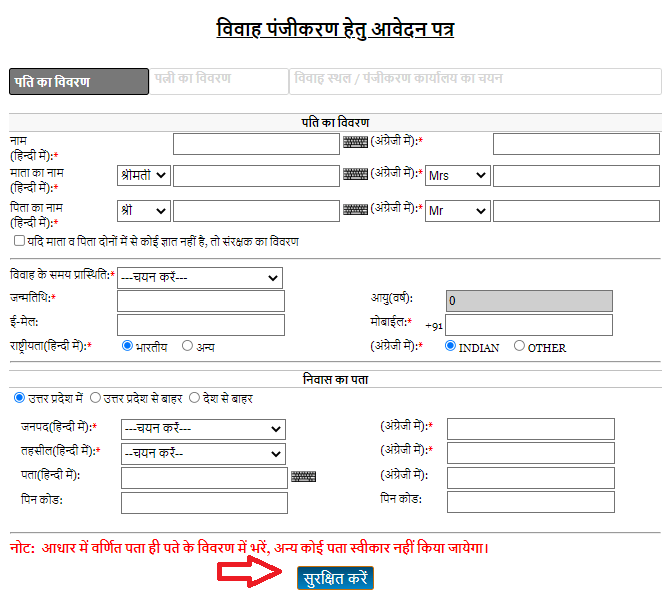 After submit form generate application number, this number save for further communication.
How to Check Marriage Registration Verification
A want to check your marriage registration complete or not then go to igrsup.gov.in website and click on Marriage Registration Verification button.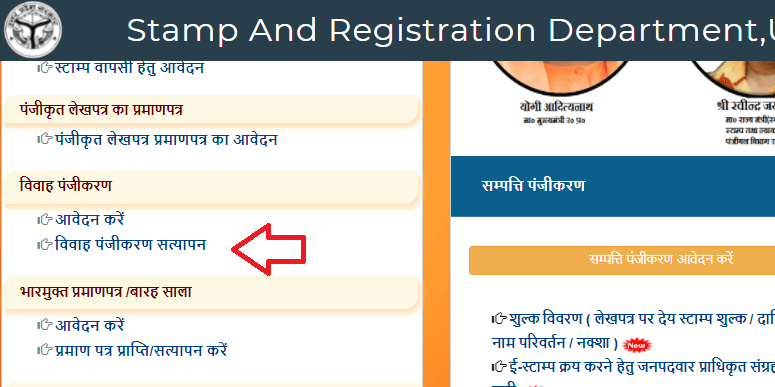 Now enter Certificate number or application number, Date of Marriage, Captcha code and click on See button.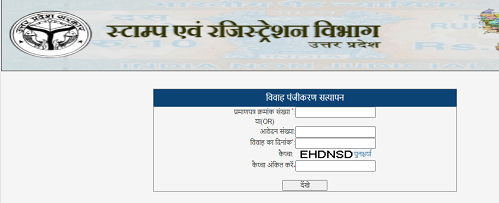 Show your application status on your screen.
Help Line number for igrsup.gov.in
Headquarters Allahabad, Revenue Council Building, Civil Lines Allahabad
Phone : 0532–2623667
Fax : 0532–2622858
Source of information : igrsup.gov.in