Aadhar card address change Online
Aadhaar card Address Change Request | Aadhar card online addres change | Aadhar card address change request status check
Aadhaar card Address Change : There are many people in the country who live in rented houses or have to change their house for some reason. In these circumstances, you can change your address offline or online (Change of Address in Aadhaar). change in Aadhaar, you not needed to go to the Aadhaar Center near you. all process make a online. The Aadhaar card is a very important document for an Indian citizen in today's time. Even today, there are many things that cannot be done without the Aadhaar card. Use of Aadhaar card is becoming compulsory day by day not only in the works of the bank but also in every government document. Aadhar card has your name, photo, mobile number and address. you can also see Aadhaar Address Change Status online. All the information in this post is given please read full post.
Aadhar Card Address Change Online
There is an option to change the Aadhaar card as and when required or any wrong information is entered. In Aadhaar, spelling of name, address and mobile number can be corrected. You can update your Name, Date of Birth, Gender, Address and Language Online.
Required Document for Change of Address in Aadhar Card
Proof of Address
Passport
Bank Statement/ Passbook
Ration Card
Voter ID
Driving License
Government Photo ID cards/ service photo identity card issued by PSU
Electricity Bill (not older than 3 months)
Water Bill (not older than 3 months)
Telephone Landline Bill (not older than 3 months)
Property Tax Receipt (not older than 1 year)
Date of Birth
Birth Certificate
Passport
PAN Card
Marksheet issued by any Government Board or University
Government Photo ID Card/ Photo Identity Card issued by PSU containing DOB
School Leaving Certificate
Aadhaar Address Update Fees
It will take ₹ 50 to update any type of Aadhaar.
Process to change of address in Aadhar Card
1. First of all visit the official website of UIDAI- https://uidai.gov.in/
2. Click on menu "my aadhar" to select option " Update Demographics Data Online " which appears on the home page.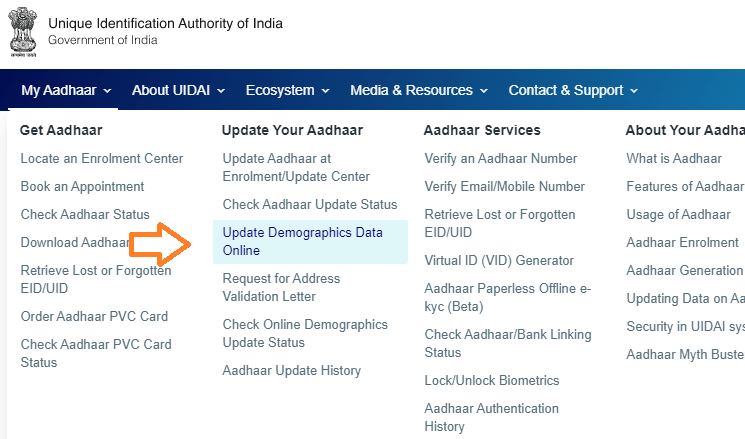 3. Second window open you have to select proceed to update aadhar.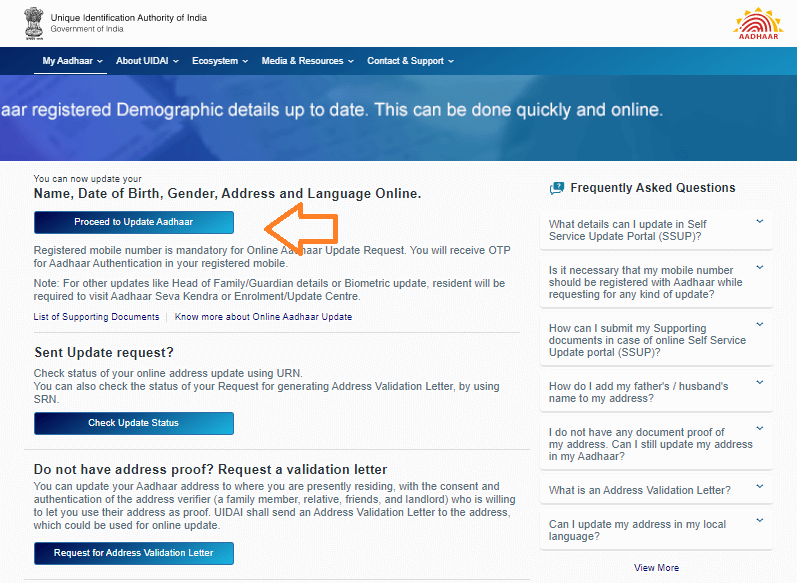 4. In the second window you have to fill your Aadhaar number and captcha and click on the send OTP button below.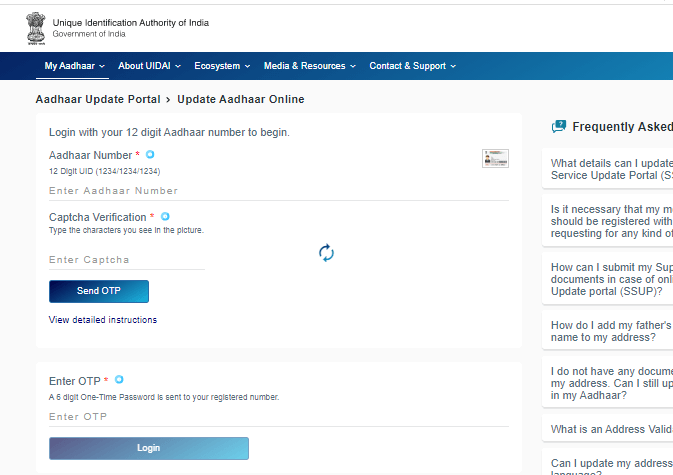 5. After this you will receive OTP on your registered mobile number. Enter OTP / TOTP where OTP is given below and click Login. After this you will reach the update portal.
6. Click on the Address Update check box here. On this page, you have to click on update address via address proof.
7. Now you have to fill the information of your new address in English and your local language.
8. Finally upload the picture of the appropriate documents and check the given information thoroughly.
9. After filing the form, your application will be verified.
10. After verification, your address will be changed on the Aadhar card and new card will be sent to your updated address by post.
Check Aadhaar Card Address Update Status Online
Open New page and select " check update status " option.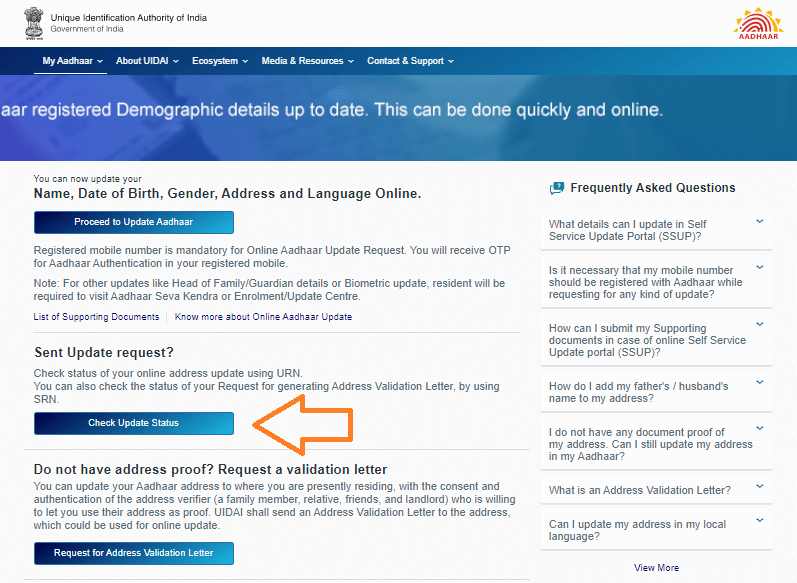 On the next page, you have to fill your Aadhaar number and URN (update request number).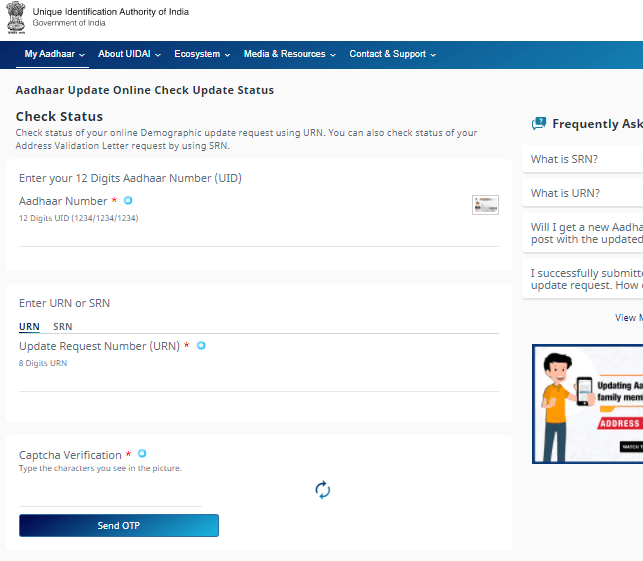 Fill the captcha and press the Send OTP button.
Enter You received OTP And press the check status button.
You will get information about your update request here.