How to Lock or Unlock Aadhaar Card Biometric online | Unlock Aadhaar biometric by UIDAI Website
Aadhar Card is very importance document in India. The Unique Identification Authority of India (UIDAI) handle all data and provide services. Aadhaar card is used everywhere in India. Aadhar Card is a Basic Document, Government has made Aadhar Card mandatory everywhere, It is used to open a bank account, ration card, voter card, every where use Aadhar card so need with a Aadhar card copy. It is good that everything is done online So save time and speed up but with the advantages there are disadvantages. A lot of Fraud happens with the help of online because people of India are not well educated. UIDAI has provide the way to prevent fraud, you can lock your Aadhar card Biometric online so no one can access your Aadhaar card data, or disable fingerprint access. If you want to unlock biometrics online in Aadhar card is very easy to do.
Read More : How to Download Aadhar Card Online using UIDAI ?
Lock or Unlock Aadhaar Card Biometric
Lock or Unlock biometric in your Aadhaar card online very easy process and also UIDAI provide SMS facility to unlock Aadhaar card. in this post, We Guide to How to Lock or Unlock Aadhar card Biometric online ? and How to unlock Aadhaar Card biometric by SMS ?.
How to Lock Or Unlock Aadhaar Card Biometric online Using UIDAI Website ?
If you want to lock or unlock your Aadhar Card biometric data online then first you need to login UIDAI website, First visit to UIDAI website uidai.gov.in. Open this website and select main menu to My Aadhaar -> Aadhaar Services -> Lock/Unlock Biometrics.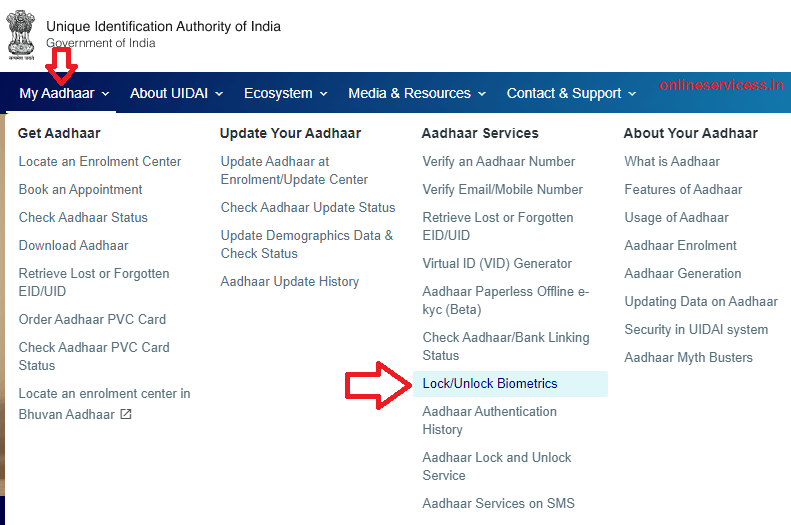 Now show login page and click on login button.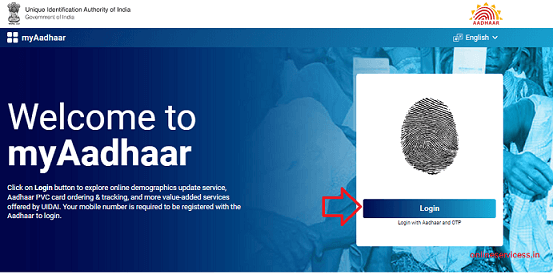 Enter your Aadhaar number and captcha code after fill details click on Send OTP button, you get OTP in your register mobile number and enter OTP, click on Login Button.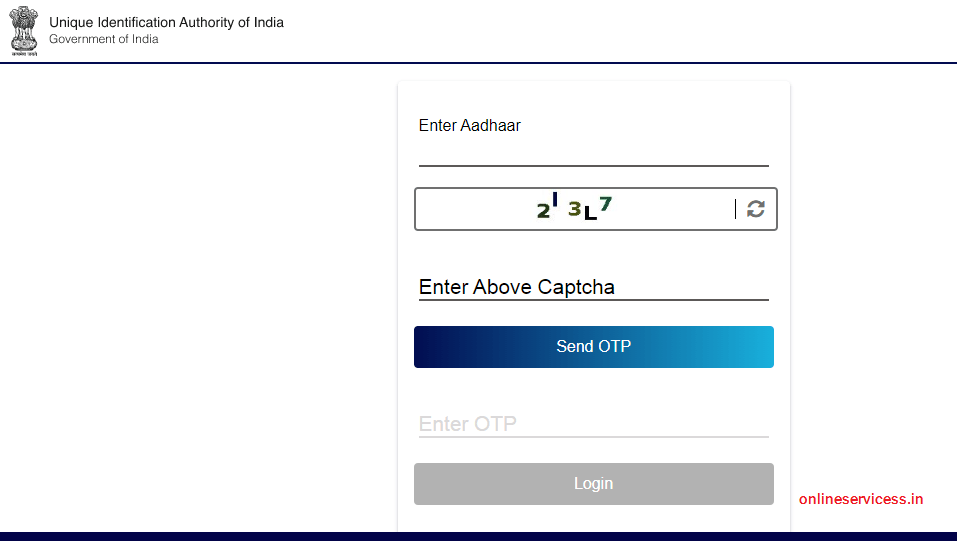 After login show dashboard and select Lock/Unlock Biometric Options.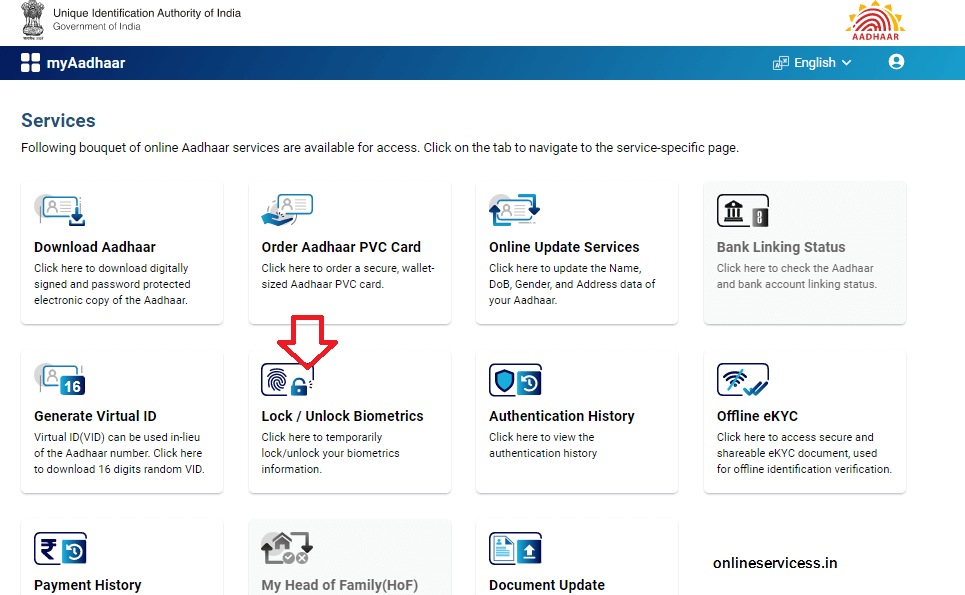 Open a new Page and show instruction and click on Next buttn.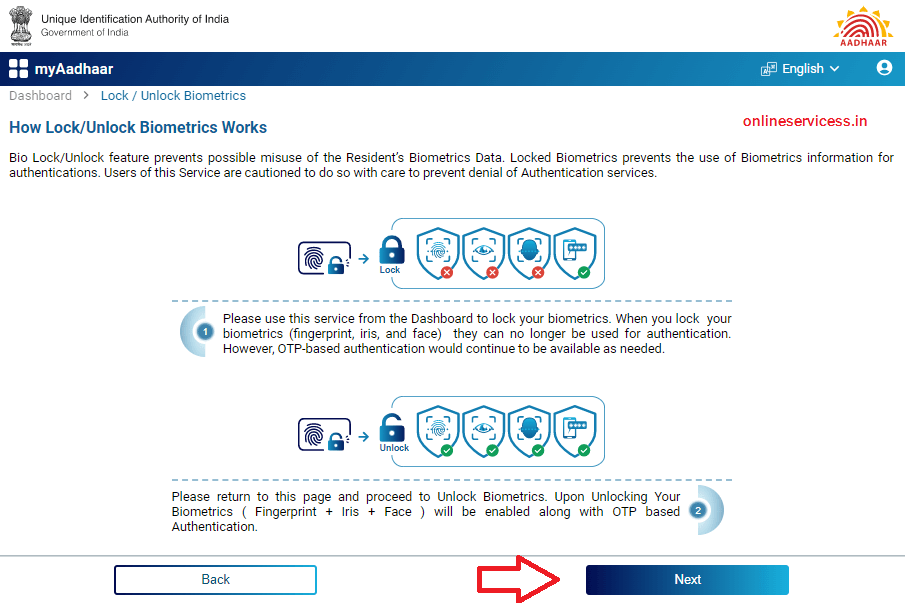 Select Lock Biometrics (if already lock biometrics then given option change and get unlock biometrics option show) and click on Next Button and you will done lock your Aadhaar Card biometrics. if you want to unlock Aadhar Card biometrics then you can do same step to do.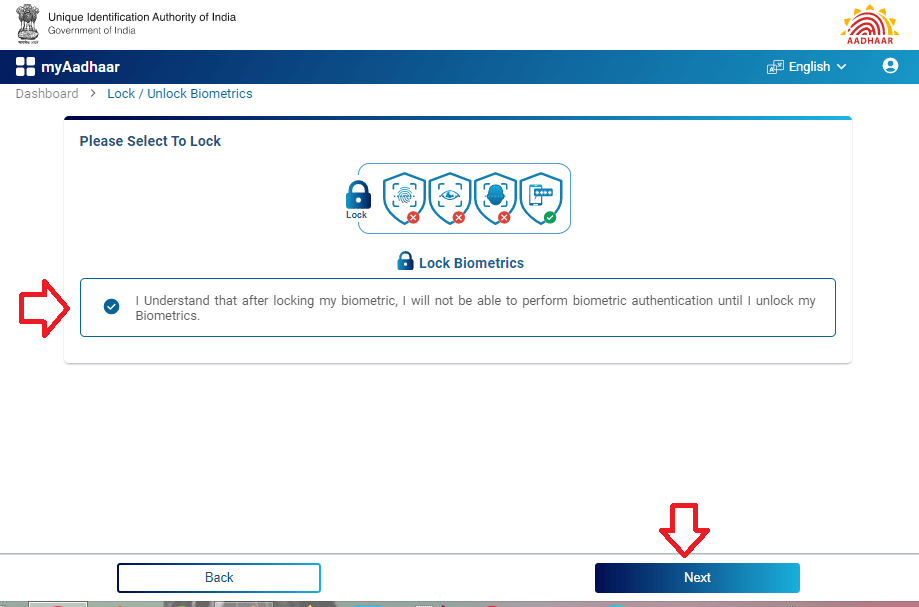 Please use this service from the Dashboard to lock your biometrics. When you lock your biometrics (fingerprint, iris, and face) they can no longer be used for authentication. However, OTP-based authentication would continue to be available as needed.
FAQ
1. What Biometric can be locked ?
Fingerprint and iris data in Resident's Aadhaar used for authentication can be locked.
2. What happens when Biometric is locked ?
Locked Biometrics ensures the Aadhaar holder will not be able to use their Biometrics (fingerprints/iris) for authentication.
Read More :