Book appointment for Aadhar card Correction using uidai.gov.in
Any one want to update or make new Aadhar card then need to book a appointment. The government is digitalizing all services and making them transparent, Even the common man can use all the services online like a Aadhar card, Pan Card, Ration Card, Voter Card and more. Aadhar card is very importance document now day, Aadhar Card manage by Unique Identification Authority of India. UIDAI is mandated to issue an easily verifiable 12 digit random number as Unique Identity – Aadhaar to all Residents of India. UIDAI is official website of Aadhar Card. This website offers as many services as Aadhar Update, Aadhar Download, Aadhar correction, Address change, PVC Card, Print Aadhar card, Book appointment for aadhar card, check status and more. This post shows you how to book appointment for Aadhar card.
How to Book Appointment for Aadhar card Correction ?
If you want to book appointment for new Aadhar card or update Aadhar card then need to visit Aadhar card official website uidai.gov.in. Open this website and select get Aadhar box to book an appointment.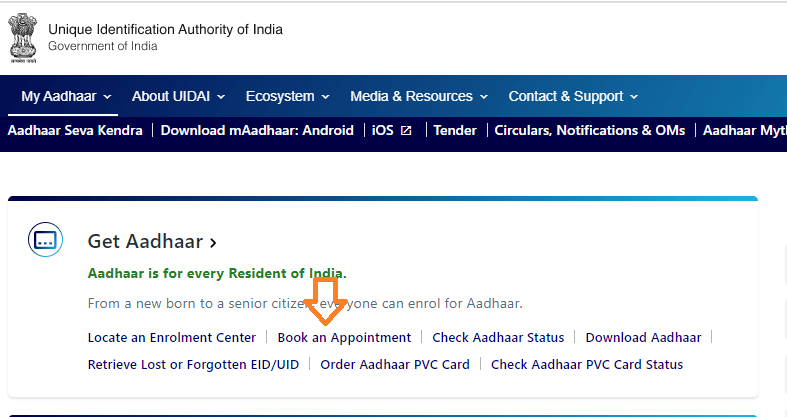 Now open new page and This facility is for booking an appointment at an Aadhaar Seva Kendra for Aadhaar services listed below:
Fresh Aadhaar enrolment
Name Update
Address Update
Mobile No. Update
Email ID Update
Date of Birth Update
Gender Update
Biometric (Photo + Fingerprints + Iris) Update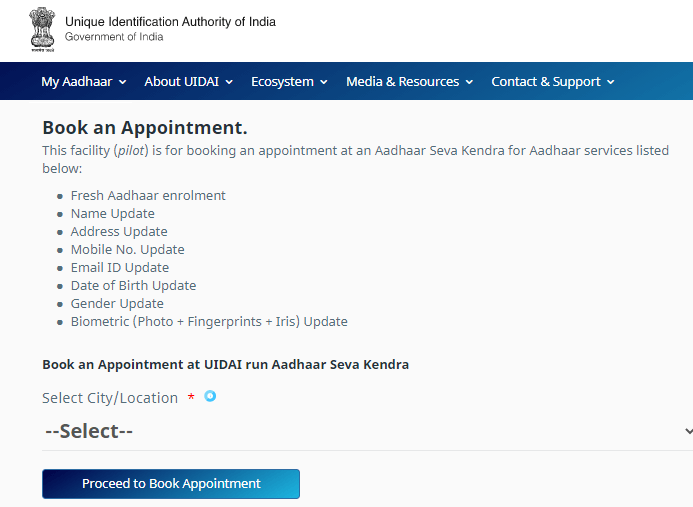 Select your your city or location from drop down menu. after click on proceed to book appointment.
Open new page, enter mobile number and captcha code after click on get code.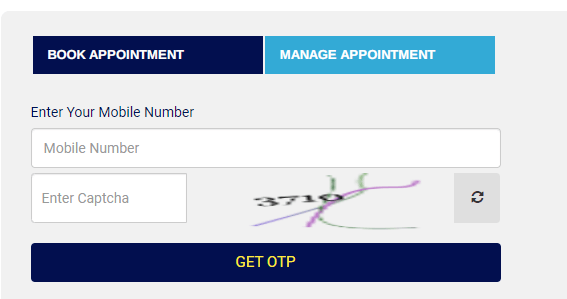 Select date and conform to book appointment. Now day you first need to book an appointment for Aadhar card services.
Read More: